Sort By Date
Sort By Rating
Customer Reviews
Good enough for live!
These are great cables that can withstand the abuse of the live stage!
Great Cables
Great cables with good ends.
Sweetwater is the Best!
Cables are awsome. I keep buying these, they are great quality, rubber does not crack over time, no oxidation. Tight fit these cables are the way to go . Thank you Sweetwater for providing great cables that do not fall apart. Solders great. tough. No feedback or buzzes.
Thanks Nick Church for being the Best Sales Person.
Ask for "Nick Church" he has the deal that last!!
Top Quality Product
I purchased this brand to check it out. I have used a much more expensive brand in the past, but I was looking for a less expensive option. These cables appear to be every bit as good, at a much lower price. Don't allow the lower price to mislead you; this is a top quality product. I will defiantly be purchasing more from this brand.
Good deal
Nice, sturdy cable at a great price and with a lifetime guarantee. What's not to like? A great cable, especially for the price.
Pro Co Excellines Microphone Cable
Very impressed. I was gonna buy Monster cable local. Cables are really excellent and quite in size. When I found out the price of Monster cable, for price of one Monster cable I was able to buy 4 of this cables. I have to say thanks to the sales rep for saving me some money.Plus life time warranty can't go wrong.
Pro Co XLR30 & M Rock-30A, M Rock-21A
I am a hard working steady working musician doing daily shows in small venues within about a 250 mile radius from my home.
I have been using my current mic cables for about 25 years. I assembled them myself using Belden cable and Switchcraft ends. Since these cables were 25 years old, I decided to get some new ones. They were not failing [or so I thought] they just had lived out their usefulness and I wanted new equipment for the security and peace of mind at the gigs. One of my guitar cables that was assembled at the same time was beginning to fail. I decided it was time to replace all of the patch cables in my live setup.
Without changing any EQ, the first time I used these new cables, I was suddenly getting feedback in the high frequencies. It seems to me my older cable had stopped transferring these frequencies to the board. A small tweak [about 5dB rolled off the highs] and my vocals were sounding clean and clear!
I'm glad I upgraded and thanks to Arend Raby for the advice in this purchase!!! You've always got my back on these issues!!!!
Nice cables
I like the size and flexibility of these cables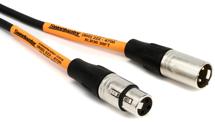 Microphone Cable, XLR Male-XLR Female, 30' Long