Sort By Date
Sort By Rating
Customer Reviews
Classy functional
I like the quality of the construction and enjoy the clarity of signal I get when recording with my condenser microphone.
Can't have too many cables
Like the title says, you can't have too many cables. Works great for my small home studio. No complaints.
Work well
It's hard to get excited about cabling, but these cables work well. The outside molding is quite flexible, but I did cut through the insulation by accident very easily with scissors when I opened the package. I repaired with electrical tape, but, needless to say, it was irritating to damage it so quickly.

Everything sounds good and clear on my system with these cables. They are good.
Always pleased with my Sweetwater cables
I've yet to have a Sweetwater house brand cable fail on me. I've had Monster brand cables fail, but not a Pro Co.
Pro Co XLR10(10')
Very good quality for the price.
As Advertised
Chord works well as advertised. No complaints so far. A pleasant buying experience through Sweetwater.
Top Quality Product
I purchased this brand to check it out. I have used a much more expensive brand in the past, but I was looking for a less expensive option. These cables appear to be every bit as good, at a much lower price. Don't allow the lower price to mislead you; this is a top quality product. I will defiantly be purchasing more from this brand.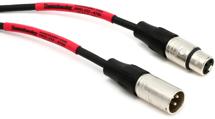 Microphone Cable, XLR Male-XLR Female, 10' Long