Sort By Date
Sort By Rating
Customer Reviews
Perfect, once youget it lined up.
As was stated in a previous review, building this piece requires NOT following the instructions.Install a piece of gear near the top of the rack, then mark the holes on the underside of the top. Then, drill new holes.

Beyond that, this is a great piece of furniture. A nice surprise was the included casters, instead of just having adjustable feet.

It may not stand up to rigorous use, or a lot of movement, but for my studio, it was a great, inexpensive choice.
Good rack addition to the WS7500. Extra setup effort required
I had bought this rack to accommodate the WS7500 to replace my old rack setup. It really adds an extension to the desk. Although this is a nice addition, it isnít without flaws.

The biggest issue is with the setup. I had to drill in new screws into the work surface, because the predrilled hole was not perfectly aligned. I would also suggest that you have some rack panels or gear handy, and screw it in before screwing in the work surface, because the rack alignment is not the best. The manual also had a typo in it, labeling the wrong screw that had to be installed in the step. This also wonít align perfectly with the WS7500 while perfectly flat. So expect some time aligning the desk. It does come with wheels, so you can install that instead of using the feet.

Otherwise, this is a good desk that looks good with the WS7500. There is ample space. I do think however that there could have been two more rack space (2U) added, as it seems like there is enough space on the top and the bottom.

Sweetwater is good as usual. Sales Engineer Trip Irish had called me and let me know that my order was complete, and that is was shipping. Good service.

Lots of holes, but 4 missing.
I am very pleased with the stability of the unit, and am glad it came with casters, but it was missing the four holes in the top, so we had to measure and tap them ourselves. Unfortunately we missed the first time, and had to redo them. I would have returned it but was behind schedule and needed it when I received it. I did mention it to my sales rep. Waiting for another back-ordered piece, the WSR7500 main unit. I hope all the holes are there.
Test off time
Feel apart way to quickly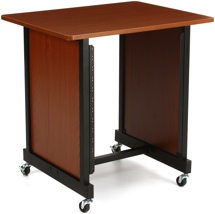 12U Rack for WS7500 Workstation - Rosewood with Black Steel