Sort By Date
Sort By Rating
Customer Reviews
Love this thing
Where have you been all my life? I have waited for technology to get to this point...and my point is, that this thing has my back. Literally!!! Al the back up harmonies, looping and toys a guy needs. Did I say I love it. You want to get your thoughts down quick and build off what you have?...Well here is your fun tool.
VoiceLive Touch
I'm just getting started with my VoiceLive Touch. Playing with the presets, and adjusting a few parameters at a time.

I've produced three fun covers using Harmony and my "Switch-3" footswitch to bring in the accompaniment on the chorus.

Watching the demos from T.C. Helicon, and other artists showed me so much potential I had to have it.



The manual is a good starting point, but it takes a while to test each function, slide the parameters back and forth and create "The Sound" you're looking for....

I'm amazed at what I've been able to do an hour after unpacking the unit,

I'm looking forward to using loops, getting more control over the guitar settings and learning to drive it hard and fast
include mic,microphone and stand
With TC-Helicon VoiceLive Touch include mic,microphone and stand or with out
StudioLive
This is so easy to operate out of the box. Hook up to your laptop/desktop and get the latest drivers and updates/presets. A nice looking piece of equipment. TC-Helicon have delivered and so did my sales engineer Dennis Konicki.

I get my pre-order in on all great products and even make a deposit and I know I'm going to be first cab on the rank on release date.
A mixture of great features and slick ergonomics make this a real winner in my book. Do yourself a favour and get this as it oozes quality and that pro touch for your vocal in the studio or on the stage.

Cheers
Sweet VoiceLive Touch
I love this device. I gave it less than 5 because it lacks the ability to send an already recorded loop to a DAW (via USB). TC says they are working on this, so maybe a firmware update will add this functionality. That would warrant a full 5 stars.

The touch screen is really responsive. I'd say as good as an iPhone screen. There's never any lag nor any need to tap the screen a second time. Really like this aspect.

The text display is a bit short in my opinion. I would be happy to sacrifice button size a tad, in exchange for a wider display. The text size could also be reduced slightly to afford more characters on screen at a time. However, it's not a major detriment.

The build is fantastic. This thing feels really solid and sturdy.

Using GarageBand, I do notice that I lose connection intermittently. TC states that there is no sleep mode on the Touch, so maybe GB is responsible, or even a faulty USB port on my laptop? I have not seen anyone else mention this so I'm pretty sure it's just my system getting old and tired.

The level dials on the RHS for mic and headphone are very useful and well placed. In a perfect scenario, I'd like to have these dials be "notched" so that I could feel how many increments were being added as I turned them. Hint, hint TC.

I found that getting the looping feature to work seamlessly took a lot of trial-and-error to get the timing right. If you start or stop the loop at the wrong time, your loop will either be cut short or have a blank space between cycles. A bit of practice to get this down.

I've been using my VLT mostly connected to a computer for studio recording and find it to be beneficial to my creative process. It never seems to be in the way of creativity.

I know I've been a bit nit-picky about some of my points, but hopefully this will help others in their decision making. Go for it, get one!
Well Worth the Money
This is an excellent product with regards to sound quality and what you can do with it. The harmonies track cleanly with a guitar part and there are plenty of presets that you can tweak on the fly so building the sound you want is pretty simple. The interface is easy enough to get around on but I would absolutely recommend that you spend some time with the documentation. Do the D/L to get the full user manual and learn the device. It definitely pays off. As for audio quality, I have used this as a studio grade effect to add harmony backup vocals and was told by other industry pros that the BGVs worked well on those cuts. Don't be surprised though if you ever get the chance to hear the harmonies on a track by themselves how robotic they sound, but when overlaid with a real voice, (i.e. YOUR voice) they sound awesome with all the swoops and warbles that make for a real sounding track. Earlier review about the limitation of editing specific scales/keys is wrong. It's in there you just have to dig a bit to get to that part of the system. As with any simplified user interface, every button has to wear a few hats. So again, read the manual to get the most out of this. Also this has the ability to drive the harmonies from just about any source, guitar, midi, audio, MP3, USB… it's got it all.

Overall this is a great sounding piece of equipment I knocked it ½ star because of the following shortcomings, that if didn't exist would make this unit worth twice the price. And I'm being VERY nit-picky here… so don't put too much on these next bits. I'm just playing "what if" here.

Physical design - the "clip on your mic stand" design is clever and keeps the unit in easy reach but the rubber they coated the unit with isn't grippy enough to keep it from sliding down to the extension clutch on most mic stands so unless you are pretty short, you need to tie a rubberband around the extension to keep it from sliding down.

-the space between the back of the unit and the mic stand clip is really tight to get cables with heatshrink reinforced plugs in the space. Even a standard XLR plug is just a tad long to fit back there without having the cable bent at a pretty hard angle.

-the wall wart power supply only has about a 6 foot cord, which isn't the most convenient for some stage applications. Four or five more feet would have made this much more gig friendly.

-the touch interface is very sensitive as mentioned before and this can sometimes be a problem when switching between banks and other functions where you have to press multiple buttons, vs pressing and holding a button.

-the plastic on the touch interface could be harder, or better yet, gorilla glass. The space over my scroll bar has dozens of micro scratches just from using my fingers. I never used my nails, (don't think that would even work) just the hardness/roughness of my guitar calluses scratched the plastic.

-The latest version of the firmware got rid of the ability to do a factory reset in the field, but if you have this version, you also have the voice control software and can easily restore a factory archive that way, just not in the field.

-The scroll function is nice, but would be great if you could type in the patch # you wanted instead of having to scroll thru hundreds of presets. Or design a future firmware that doesn't lose momentum once you are at maximum scroll speed.

-The USB Midi/audio function was pretty glitchy, I had much better results actually patching a vocal track into the unit with a piano or guitar part to drive the harmonies. Then I set the unit to mute the lead (your voice) and the guitar and so all I got out of it was the harmonies. This worked MUCH better than the USB function as described to set it as an outboard effects unit.

Add ons - Given the scratch resistance of its material, it would be great if TC Helicon offered soft-case designed for it that is big enough to hold the power supply and a few cables as well.

- This unit MUST be sold with the foot pedal. It is impossible for a single user to lay down a guitar loop, or any other instrumental loop if they are playing two handed with out it. Beatboxing works ok but for other efforts you GOTTA have the pedal.
Unreal
Unbelievable quality - so easy to use- looks cool on stage - sounds great for recording - looper is a ton of fun - and having your voice transformed into that of an insecure 85yr old woman is pretty funny.
I know its expensive, but if you run a lot of effects on your vocals, I mainly use reverb and delay, you need to buy this. I'm in an electronic band, and a lot of the time my vocals really need to carry the song, and this processor really accentuates that.
its nice
I like it but I think the auto tone could have been better. Its easy to use and has a line in for guitars. The loop rec can go up to 30 sec which is good but should have been more
Sound quality is good but no gain for mics
Off to a good start
I hope this will help someone considering purchasing a VL Touch.

I've had enough time to 'touch' every ability of my purchase. Overall I am pleased and this has become an interactive component of our live performance. I play in a band, not using this fro DJ or 1 man acoustic situation but I can see the uses in this area.

The Good

*Quality sounds
*Lots of effects buried under those 6 touch boxes.
*Easy access to rotary volume (good while your learning while playing - with so many effects combinations its quick access if you find your effects sound different than when you created them)
*Build quality seems solid.
*Looper - If your into this type of thing, there are oodles of hints and entries in the manual and TC online on how to create killer loops. IMO they spent too much energy on this feature. (see below)
*Guitar effects were pretty good for acoustic guitar. This thing makes me want to design a couple 1 man show party performances. Not really my thing but with the ability to sound like an entire band with just a guitar and mic it's very tempting. Don't tell my band...

The Bad
*The VL Touch is LESS editable than the Voicelive 2 floor unit.
*You can't create custom key / scale harmony.
*Manual is incomplete. TC has used names for the presets that will at least give you a clue but you have to look at all settings one by one, through over 200 presets to figure them out. Worse is that this unit has effect settings called "styles" that you have to figure out on your own. Not enough explanation around some of the other settings they use. For example, I copied this from the manual... "Choir engages the Choir effect." While I know what a choir is.. some definition (glossary) would have been appreciated. There are lots of examples like this where the manual lists a key parameter with a single word definition.. leaving you to wonder what actual effect is going on.
*Vocoder - Take this comment with a grain of salt. Hopefully others will speak about this. I thought the vocoder was terrible BUT 1-I don't know much about these and 2-I was using a 200 Yamaha keyboard / midi. I would be curious what others think about vocoder quality. For me it was monophonic and grainy sounding... not the quality I hear from professional artists.
*PC interface is extremely limited. NO ability to edit parameters with your PC. You can only move patches around update firmware and make an archive of your settings. (very handy as making accidental saves on this is very easy ) I hope they edit this later with an 'edit lockout' mode to avoid those accidental saves. I think this is a big deal as nearly every section of the top of this device is touch sensitive. A simple adjustment or brush of the hand can result in things being saved or new effects being turned on / off.

In summary

If you have your hands free to interact with this device I would recommend it. If you want every possible edit option / effect you owe it to at least look at the Voicelive2 or another product.

Of disappointment was the fact that TC didn't advertise the "less editable than VL2" until after all the launch hype and that the full manual wasn't available until after launch. Well, that's my own fault for being too excited to read the manual before placing my order. ; P I probably would have ordered it anyway.
The online community is slowly growing although most of the FAQs available are still very basic and not much help for advanced questions. Hopefully this gets better soon.

Sure I'm pointing the finger at some of this device's shortcomings but I'm hoping this allows anybody reading from avoiding any negative surprises. Overall this deserved a rating of 4 - Great! It's really fun to interact with this little device.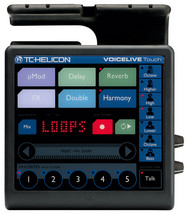 Vocal Harmony and Effects Processor with Looper, Touch Screen, Mic Mount Design, Guitar/MIDI Auto-Hamonies, and USB