Sweetwater Advice
The TC-Helicon VoiceLive 2 is the choice processor for many high profile musicians such as Imogen Heap. Take a listen to her song "Hide and Seek" to get an accurate representation of what you can accomplish with this amazing-sounding voice processor.
If you are looking for realistic sounding vocal harmonies, this is the processor for you. You can actually hear realistic voices singing the harmonies, as opposed to hearing cheesey, modified, pitch-shifted versions of your own voice. If you're looking for professional results, do yourself a favor and get the Voice Live 2.
Sort By Date
Sort By Rating
Customer Reviews
Amazing Top of the Line Service and Product
I felt that the representatives at Sweetwater were not only extremely knowledgeable and professional but very courtious. I've already recommended Sweetwater to all my musician friends and family and urge them to avoid dealing with store chains such as Guitar Center or Sam Ash who have in my own opinion have generally bad customer service and have little or no idea of the products they sell and deal with. Ask for John Ptak and I can guarantee you will have a great shopping and buying experience. I definitely will be a returning customer! Thanks again Sweetwater!!!
TC-Helicon Voicelive 2 - High praise!
i bought the VL2 just over a month ago and truly had every intention of returning it within the 30 day period) if it did not live up to my standards. I'm heavy into recording but i also wanted something to possibly play out with. i've always been into harmony. the first couple of weeks i put the VL2 up on my computer desk and put it through it's paces with my DAW (Cakewalk Sonar X1 Pro) and my audio interface (RME FF400 <-- also purchased @ Sweetwater). i used both the MIDI and SPDIF interfaces on VL2 and was able to send an audio clip with a MIDI clip TO the VL2 from Sonar and have a harmony come back in a 3rd clip that followed the MIDI clip. it was impressive to say the least.
i have used the Looper and it is VERY clear, the buttons on the VL2 and they respond very well - this is important in getting the Loops started at excactly the correct time. i've gone 5 deep with the loop and the original stays clear and present..
i've been able to use the Voice Support (software interface with the VL2) to move & copy presets around. i've place a bunch of "blank" presets at the beginning of the preset list so i can create customized presets.
the effects are many, and have enough editing capability (even for a picky user like me.)
again, i've had this for just over a month now and i have gotten to know it well enough to know that it will serve my needs for recording & have i mentioned that it sounds incredibly realistic on harmonies? it's also a super clean/quiet device. Downside? i wish the looping time was doubled (even with out "undo"). but i went into the purchase knowing knowing this timing limit and even @ that should not be a problem in 99% of what i want to use it for. all in all - i've looked around for a long time and at many other vocal processors, but this one exceeds my expectations. it may seem expensive for its size, but it delivers big bang for the bucks!
TC-Helicon VoiceLive 2
I purchased this item mainly for pitch control, and it will work wonders for
a vocal pitch that is led astray. The mic input range is unbelievable. I did not discover that untilI I learned how to adjust the mic volume manually.
There is so little that I have learned so far, and much much more that I look forward to learning in the future, when time permits.

Be sure to download the manual, and you will want to print all pages.
It is easy to read, and is well written. You can't go wrong with a VL-2!
voice live 2
What a great piece of gear. Although I had to return the first one, it had a faulty screen. I have only had it for about three weeks and I am still just going through all the presets, I must say they sound so real , I have become addicted to singing. This pc of gear actually makes you sing better because you can hear when you are off key. I am just a novice at this so trying to adjust setting will be in the future although I have tried it it seems easy but for me not necessary because of all the presets, there are plenty to choose from. you will not be let down with this purchase.
Incredible!
I have been looking at this type of thing for years. We have been trying to find a 4rth for our band for about a year now with no success, and I am the only vocalalist in the band, which is very limiting. After some research and reading a lot of reviews, I pulled the trigger. Man... was the the best decision I have made for a while. Incredible harmonies, and tons of choices. It's gonna take a while just to sort through all of the pre-packaged choices. Now our 3 piece power trio sounds like a 5 man band, and no cheese factor.
Over The Top
I never sounded so good and after starting to use the VL2 I opened up new doors to vocal capabilities. I have actually gained more confidence since starting to use this device. The people in my church were amazed at how much fuller the sound was and really appreciated the addition. The only thing I would do different on the design is make is so you can plug two different guitars in as I play electric and acoustic guitar and have to switch out cables during the set. (Maybe in the next design)
Beautiful
I'm so impressed with the elegance of design that went into making this system! Not only have I had a chance to try this out in a live format, but i've also experimented with it in the studio. Voicelive 2 did an exceptional job in both.

Just when I thought I couldn't be any happier with this product I found out about V Loop...wow!! Talk about a fantastic firmware update!!
Addition of V-loop
I have had mine since Spring '10 and totally blown away with the variety vocal alternatives, harmonies, and effects. Now that TC-Helicon has added V-Loop FOR FREE by just downloading the new 3.1 release, the VoiceLive 2 is even more amazing.
Great for Recording Vocals
The VoiceLive 2 is also awesome for recording vocals. It's a USB interface good up to 96K and has RCA SPDIF I/O. You have the adaptive compressor, EQ and de-essing available (all very good and musical sounding), and you have access to some fantastic TC Electronics reverbs, printable for demos or as an aux effect on your tracks. It's like an instant "THAT'S the pro lead vocal sound I've wanted" machine!
Amazing Technology!
Last December I purchased a TC Helicon Harmony G. It was so good , I immediately put it up for sale and started saving for the Voicelive 2.
I got it just in time to install the latest software update and all I can say is AMAZING!
All the video demos and reviews are accurate. This thing allows a singer to do amazing things with the voice. Everything is fully editable and you can create just about any sound imaginable. Start with the guitar effects. You can dial in the most amazing reverb, chorus, flange and compression and then easily edit them to perfection. My guitar never sounded better! Take any of the 200 + harmony effects and customize them in every way possible. If this wasn't enough, each harmony preset can have up to 10 step changes where you can change harmony settings, effect settings, add singers, etc. etc.
10 different steps!!! This thing is unreal.
I played professionally for many years with a small group that featured 3 part harmony. Well, my group is back, ( in a box) and better than ever. I perform solo now and people are stunned by the incredible sound and Harmonies.
This is something all performers dreamed about 10 years ago. It happened, and it's great. Thank you TC Helicon.
voice live 2
The voice live 2 greatly enhances lead vocals, and provides the harmony needed for solo gigs. I have not had it that long but i have found that i only use two of the presets for what i need. The instruction manual is terrible, the tutorials on-line have helped greatly, but they do not explain everything the device is capable of doing. Both the manual online ,and shipped with the product refer to a CD that is supposed to be included. I called and asked for the CD and I was told they don't make one for this product. Unfortunately a first time user like me is having difficulty figurig out everything it is capable of doing. Great device but a terrible instruction manual. I'm sure i will be calling tech support often to get help on adjusting some of the features for this product.
Amazed With TC Helicon Again
I bought the original VoiceLive back in 2004, and for it's time, it was a very good product. One of the first non-rack mounted harmony and vocal processors to hit the market. I still used it right up until I bought my VoiceLive2. The editing functions were a bit cumbersome and quite labor intensive, a very small screen, and plenty of menus to dig through! Now on to the VoiceLive2...awesome, bright display! And the like the fact that I can turn on/off all the effects without having to enter any menu screens! VoiceLive only had 100 presets and as you edited programs, you had to save over some of the presets. The VoiceLive2 has over 250 presets, and I haven't even been able to play with them all yet! The auto/hard tune feature is way cool...move over T-Pain and Kanye. The harmonies are a lot smoother than the original. The only drawback I have is that the processor cuts off if the vocal input levels are quiet. Editing is much easier thanks to a larger display and more user-friendly controls!
TC Helicon Voicelive 2
Fabulous unit, does a great job and you can always set the key if it doesnt work on the presets or guitar input for the job.

Saved on another vocalist or two.
Helicon Voice Live 2
Absolutely incredibly awesome!!! The only way to fully understand what I mean is for you to own one of these "bad0boys" and experience it for yourself. If you can "spring" for the extra dollars, avoid the lesser products and invest in the VoiceLive2; it is well worth it!
A great unit!
I have only had this unit a couple of weeks, but I have had some excellent results with it. The sounds are great! I used it to record some backing vocals via In-Track Sampling on my Korg M3, and it works wonderfully. It is also very easy to modify and store settings once you get used to the interface. I had to reluctantly deduct 1/2 star for the slightly "inexpert" instruction manuals. The detailed manual in PDF form is rather clunky, inasmuch as it doesn't have the "bookmarks" that you find on others, and lacks the in-depth detail of similar manuals. I had to go to their on-line tutorials for some answers. But buy the unit anyways; once you get the hang of it, you'll be hooked!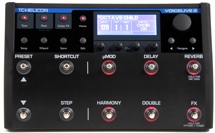 Footswitch-Controlled Mic Preamp with Harmony, Pitch Correction, Effects, and 250-plus Presets