Sweetwater Advice
I've been using this box for use in my live solo performances to give me a bigger sound onstage during key vocal parts, but I actually find myself using it in my studio just as much! The built-in reverb and multiple harmony patterns really allow me to be creative when writing or tracking and the intuitive controls and nine presets let me focus on the music instead of fiddling with the box itself. What a great creative and live tool!
Add real-time effects to your voice or use for creative processing in the studio! Consider the VT256 Vocoder and VoiceBox pedals from Electro-Harmonix. I purchased the Vocoder pedal myself and not only am I having tons of fun, but it's becoming an important creative tool in my rig.
Sort By Date
Sort By Rating
Customer Reviews
The Voice Box is awesome
I just bought the Electro Harmonix Voice Box and it rocks. The vocoder works great and sounds really cool when it's triggered by a guitar. The harmony modes work great, just as long as you sing on pitch. If not, there's still the octave and whistle mode that work great and don't have to follow the key you're playing in.

The Voice Box also sounds really cool when you put horns through it instead of vocals. It's definitely a sick toy.
wonderful sound
A fun and great sounding vocoder, the VOICE BOX is simple as can be and really versitile.
Great piece of equipment
This "Voice Box" is pure magic. I have a small (Yamaha) PA system which I use for small local venues, retirement homes, church groups, jam sessions, etc. I consider myself a semi-pro as I think I was actually paid once. Plugged the box in and had a great time entertaining myself for a couple of hours. A word of caution, use a good microphone for best results. A cheap mic produces a less than desirable sound and doesn't do "the Box" justice.
Excellent!!
Perfect for "doubling" my voice. Very smooth n realistic.
Freakin' Awesome!
Had my first play with this great pedal yesterday and I've never had so much fun (or worked so hard, jeez I need to work on my pitch ;-)

If you're looking for a simple vocal harmoniser, this is about as simple as they get and still work, and this works really well. Yes, you're limited to the standard presets and one variation of each, but the versatility in each preset should accomodate a typical 3 or 4 setlist.

The easiest way to use this is to give it it's own mic, just to one side of your main mic and set it to all effect/no dry, giving a whole channel on your mixer to harmonies, separate to your main vocal channel. Moving your mouth to equally between the 2 mics is easy than trying to stomp the pedal on and off for harmonies.

There are better units, but not at this price, and the ease of use makes it great for solo or small combo use. Seriously, playing with this is the most fun you can have with clothes on, and it won't drink the bar tab dry like real backing singers ;-)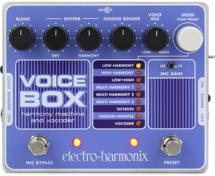 Vocal Harmony Processor/Vocoder with Nine Presets, Reverb, Formant Control, Mic Preamp, Phantom Power, and Balanced XLR Line Output