Sort By Date
Sort By Rating
Customer Reviews
Marvelous tone and detail
My performance signal chain is 60s Gibson Heritage -> Baggs Dual Source transducer/condenser blend -> tuner ->Genz-Benz Shenandoah 60 - direct outs -> board.

I LOVE the tone of my Genz Benz.

But it weighs 40 lbs and lugging it to the rehearsal space is killing me.

At a pound or so this baby produces AT LEAST that quality of tone and detail straight to the board, and, if anything, greater flexibility in tweaking the tone.

I was teetering on buying the ubiquitous Para-D.I. when our mando player bought one of these to use with his Schertler PU. He didn't like that combination much but I had him try a prototype Bryan Gumsher (BG Pickups) transducer Bryan had loaned me to beta, and now he loves it. I borrowed the Venue to try it out and immediately fell in love.

For me the configurable clean boost made the price spread over the Para-D.I. well worthwhile, eliminating the need to fiddle on the fly with the Dual Source's soundhole controls for a lead. As other have noted, the tuner is slow and imprecise. A standalone pedal tuner like the Digitech or my favorite, the 2-ch Korg Pitchblack, is vastly superior and belongs in your chain.

i still haven't done any extended tweaking of this thing because it sounded so wonderful right out of the box but I can only imagine it will somehow get even better with some quiet time alone with the board (hard to come by at rehearsals, so I'll have to set up a day for solo tweaking).

This might be the best gear purchase I ever made.
Incredible DI, Great Boost, Ok Tuner
Since I didn't buy this di specifically for the tuner, I won't count that against it. I wanted a di that sounded as good as my lr baggs para di, CHECK. I wantd a di that had a great boost feature, CHECK. It does amazing at both of those main tasks. The eq sounds phenomenal just like the para di. The tuner is very annoying to use. Even thought its accurate, it's slow and annoying live. Also sometimes, it doesn't even show up at all, and I have to unplug it just to get it to recognize the tuner. However, it's amazing at the rest of the things it's used for, and that's why I love it.
A Must-Have for Acoustic Guitarists!
I recently purchased this DI Pedal and have been thoroughly impressed. The sound is true L.R. Baggs quality; it sound crystal clear and the EQ functions perfectly. I was probably most impressed with the tuner however. It is very accurate and easy to use, but most of all it is extremely bright- I can see it from all the way across a lit stage. I have had several comparable acoustic guitar preamp pedals such as the BBE Acoustimax and this blows them all away. You can't go wrong with L.R. Baggs!
L R Baggs Venue DI is Awesome!
L R Baggs Venue DI is Awesome! I love being able to use the boost when I go from strumming to finger picking. So far, the battery life has been great, which was kind of a surprise.
Decent
This is a nice acoustic DI, depending on your setup. I had the chance to compare this to a couple other DIs in the price range, and I have to say, against expectations, I actually like the Fishman Aura Spectrum better. The Aura is definitely better if your guitar has an undersaddle pickup. If you have a higher-end pickup with a microphone then the benefit of the Aura may not be realized (the Aura imaging process sounds much better with an undersaddle pickup rather than a mic). If you really want to use a microphone pickup, you could probably use the Venue or the Aura (with no imaging) and get similar results.

One drawback that I've found for the Venue is that the audio signal is extremely compressed. I really noticed this when I recorded my guitar through the venue DI. When looking at the waveform you can see an enormous amount of compression. I've tried to find a way to change this, but I haven't found anything yet.

Despite my preference for the Aura, I do like the Venue, and you will probably be happy with it should you choose to buy it.
LR Baggs Venue DI
love the LR Baggs Venue DI, use it for solo acoustic gigs.
like the tone and the feel, feedback notch filter is great.
t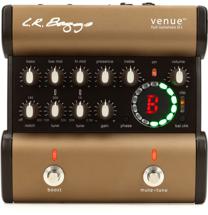 Acoustic Guitar DI and Floor Pedal with Tuner, 5-band Equalization, and Boost Switch