Sort By Date
Sort By Rating
Customer Reviews
Old School Good
Back in the 1970's I owned Leslie 825 and a vintage 147 for my Hammond M100. Today it's a Roland VK7 with a Leslie sim that is shrill and unsatisfying... so I bought a Motion Sound (real deal) but it's 80 pounds and problematic outdoors - the inboard mics are also shrill.

The Ventilator solves all that. It not only provides the best-I've-heard rotation simulation, it also models how the old 122s and 147s altered the tone, giving it body and rolling off the highs just enough to let this Roland just scream without the harshness. Pumped through my Mackie SRM450s my rig is now every bit as good as the old M100/147 combo at 1/10th the size and weight.

Happy camper.
Excellent
Bought it to use with my Roland VR-700 V-Combo. Amazing difference in not only the leslie sim, but the Leslie 122 modeling as well. Has that high end roll off modeled just right, and actually gives you that sense of swirling around you instead of just at and away from you. Also allows me to use the Hammond model in my Jupiter-80 when I can't bring the V-Combo. Very happy with the purchase.
Neo Ventilator with guitar
Getting back into playing, I was looking at Leslie simulator pedals. After previously owning a Leslie Model 16 (same as Fender Vibratone) and also a Hammond C3/Leslie 147, I knew this was going to be a long search.
I heard about Neo Ventilator on YouTube and watched clips with both guitar/amp and keyboards demoed. I was astonished by how close it sounded to a Leslie (both the Fender Vibratone/Leslie Model 16 and a 122).
Yes, there were less expensive options, but none approached the sound/versatility of the Neo. After receiving and using it, I was truly sold on it!! I don't have any keyboards right now, but I know that if I do get some, the Neo will have a place in their use.
Sweetwater's customer service is second to none, and It was on my doorstep two business days after ordering the item. When I have ordered from other online retailer's it would usually take 5-7 business days to receive.
Happy Camper!
I haven't been this happy in a Very Long time! When you run a hot signal into the ventilator (which they recommend), the typical hiss that you hear coming from your stereo PA speakers slowly pans back and forth (as the Leslie horn simulation spins at slow rotation). This is the (exact) sound of the great "Hammond Beast" waiting to be let out. It will inspire you to play a screaming solo as you change the rotation back and forth from fast to slow. Raising the "overdrive" slightly past 12 o'clock puts just the right "edge" on your tone. It reminds me of the time I ran two microphones from my Leslie into a Marshall tube amp, placed the Marshall amp (facing me) on top of my B3 as it blasted me right in the face (while I pretended to be Rick Wakeman, Keith Emerson, etc. This is the exact same thing (minus the ear damage).
Perfection and more!
I've owned a Leslie 147 for many many years. I know it inside-out! I recently had my Hammond B3 modified so I could hook up the Ventilator at the same time as the Leslie 147 while switching rotor speeds on both from one switch. Recording both outputs allows me to do instant A/B comparisons between the Leslie and the Ventilator. For me the results were quite surprising! I expected there to be some tonal differences for at least these reasons: the Ventilator was modeled on a Leslie 122 (not a 147), plus there is the factor of microphones and mic preamps on the 147. Nevertheless, with relatively neutral settings on both units, the sound was so close to identical that I could not tell the difference! Well actually there are certain undesirable artifacts from the 147 (relay switching sound- not usually perceivable in a music track) which gave it away since the Ventilator does not produce these artifacts (which is good!). The Ventilator also has a variety of very useful controls for altering the sound, including a tube overdrive knob which can produce more distortion than my Leslie cranked all the way up. Along with this, you can overdrive the input which also adds up to a classic overdrive effect. All in all, the Ventilator is pretty much perfect and I would never hesitate to use it on professional gigs and recordings.
SUPERB!
I cannot believe how great this sounds with my Korg SV1 organ sound I use. This thing is the bomb! Even through a crappy 20 year old Peavey amp, it sounds good. Love this thing!
Neo Instruments Ventilator
What a killer!!!!!!!!!!!!!!! Leave it to the Germans for getting that sound right on the money. As a old school keyboardist having a Hammond B-3 and two 147 leslie cabinets on stage was a monster sound and I was forty years younger. Now at 58 I get tired just thinking about lifting those boat anchors. With alittle adjustments and experimenting you can get the sound and feel of a 122,147,or 145 leslie simulation even in a mono setting and be pleased.. There is nothing out there like this on the market, trust me I spent an extreme amount of research. Its alittle high in price but I glad I purchased the unit it was a painless life time investment.I didn't purchase the remote pedal if you have a stereo 1/4"input jack sustain pedal it works with out the added cost. My band members couldn't believe I was going to get that leslie sound they were speechless at the end of the gig.Once again what a killer!!!!!!!!!!!!!
The Neo Ventilator is the best Leslie Simulator I have ever used
The Neo Ventilator sounds like a real 122 Leslie Speaker. The Neo Ventilator is smaller in size, weighs less than a 122 Leslie Speaker.
They've nailed it
I don't often write reviews about the gear I buy, so this is special. I had heard Jim Alfredson playing an XK3c with the Janiva Magness band and was blown away by the tone. I have an XK3c, and it's a terrific clonewheel. But it never sounded like that! I checked out his website and his demo of the Neo Ventilator. Had to try it for myself. Bought one from Sweetwater and plugged it into my amp (Motion Sound KP200s) before my band rehearsed last night. I know this is going to sound like heresy, but...I like it better than the 122. There, I said it. You can customize a Leslie, but certainly not this easily. And the tone and punch this box adds to my sound blows my mind. A welcome addition to my rig!
Neo Instruments Ventilator is excellent!
I purchased this product as a birthday gift for my husband. As youngsters we would haul around his giant leslie cabinet when he played out. A few years back he sold the leslie. Missing the effect of it, I saw him researching this ventilator and I took advantage. We are both amazed and very pleased with the awesome effects it puts out. Now when he packs up his gear, he picks it up with one hand, chuckles, and says..."should I take the leslie or leave it home...right...I'm taking it!" I highly recommend this product.
Very merry-go-round
And you can just say it again. Wow! I'm a-blown away, like in an Oklahoma twister?
Man, do I know leslies, not actual organ leslies, mind you, but almost every rotating device for guitar the market has had to offer, even a bheringer 50 bucks pedal, I' m the sucker for the thing, I'll always give it a shot, or in the bheringer case, won't give a a shit.
This here ventilator...( wonder if they got the title from 'Ventilator Blues' a murky leslie'd piano sounding track on The Stone's Exile on main street. I, myself, owe a lot of my rotating desire to, first and foremost, George Harrison on Abbey Road, Something et all, Clapton's signature rotating Badge riff, and surely Mick Taylor ...or was it Keef? on Let it loose, the fast speed rotation on the descending bass d maj arpeggio still gets to me. Well, yeah, and then there's Gilmore, Floyd did record at Abbey Road, after all. I'd guess probably the Mecca of all rotating speakers for guitars (and vocals) would be the ole' 147 cabinet they kept there, now the opperation's been sold, and you know how these things go...mon, did I get sidetracked )...is the ultimate experiece. Period.
I've had Boogie Revolvers, loved the progressive speed pedal, found them hard to mike, andI have been using Hughes & kettner's Rotosphere for over 10 years, apart from the more complicated and thorough Motion Sounds, they're the best serving units I've come across. This Ventilator thang goes a couple of notches over, and as far as fooling my ears and brains, I'm looking no further, for now...
What I did was split it stereo on the new EC Tremolux and an ole tweed Champ. Do that and you are in a room with the actual walnut monster, in your mind, it's that real.
I' m sure getting another one, I fear it might break down, or run out, and I just can't be without it any more. The mike distance parameter makes a lot of the difference, but it doesn't stop there. It's a typically hearing to believe case, don't take my word on it.
You think modelling won't fool you, well think again, smart-alec, or don't, just do it, get it, you' ll thank me.
Seen?
neo ventelator
I USED 2 122 LESLIES IN THE 70'S AND DECIDED TO TRY THE NEO AND I AM AMAZED AT HOW ACCURATE THE REPRODUCTION OF THE LESLIE SOUND IS COMING OUT OF THE NEO AND A ROLAND KC 550 AMP, THE OTHER MEMBERS OF THE BAND CAN NOT BELIEVE THE QUALITY OF THE SOUND EITHER. IT CARRIES IN A EQUIPMENT BAG. HOPEFULLY IT HOLDS UP AS WELL AS IT SOUNDS. THANKS
ventilator rotary simulator
After hearing about this product from a keyboard player at the Tamworth country music festival i contacted sweetwater and arranged purchase and delivery to Australia.The service from sweetwater was spot on and the sales person i dealt with Zach Neals was excellent.The ventilator arrived in Australia spot on time as promised.When i coupled it up to my Hammond xk3 i was blown away how realistic it is.No more lugging leslie cabs for me anymore.
Great Pedal
I've been searching for years for a pedal like this... no more lugging around bulky Leslies.... This thing is amazing... when I kick this thing in on my Korg CX-3 you can't tell the difference between the Korg and a Hammond B-3 w9ith leslie... I LOVE IT
Neo Ventilator
I am currently playing in a band with three other band members who have all played with piano legend Larry Knectel. Larry used an authentic B-3 and a real leslie for most of his organ work. All of us are familiar with the true leslie/B-3 sound. We are all blown away by the performance of the Neo Ventilator. So what you are getting here really is four votes. The guys in the band are just a pleased as I am with what we have affectionately come to know as "The Unit" . The authenticity of "the unit" can easily satisfy even seasoned professionals who know what a real leslie sounds like. well worth the money.
Great Product
This is a powerful addition to any musician's gig setup. Very powerful and authentic Leslie sound...Highly recommend!:)
Awesome product
This little digital leslie122 in a box was worth every penny I spent. check it out
Amazing Pedal- well worth the price
When I first set up my Ventilator I dialed in the Keith Richards "Let It Loose" sound and could not stop playing it for 30 minutes or more. I have not had a chance to play through a Leslie before but have tried several simulators. This is by far the richest most authentic sound I've had a chance to play with. The slow speed can provide a nice subtle texture to your tone that enhances without being obvious, kick in the high speed for a more dramatic effect.

It is not inexpensive but if you love the Leslie sound and don't have a roadie to carry a real one for you this is the way to go.
The Leslie Rotating Speaker Sound
There have been many attempts at simulating that rotary speaker sound with varying degrees of failure. Some, like the Uni-Vibe are really viable sounds in their own right. But that true Leslie sound has never been available aside from the real thing until the NV. This nails it and weighs under 10 lbs. It works with keyboards and guitars and other instruments and mics. It is worth your time to research it if you have any interest in this effect.

Search for Lance Keltner's review and a fine demonstration of the Neo Ventilator tastefully used in his band's performance.
This thing sounds REAL!
Wow! Don't settle for bad onboard rotary simulators anymore! I ran this through my Nord Electro 2, and it was all over. The search for authentic Leslie tone has ended. I tried getting that sound and tone through the Motion Sound PRO-145, in which I was seriously disappointed. This baby sounds ten times better, is a third of the cost, and is a mere fraction of the weight! As others have said here, if you're chasing after that genuine Leslie tone (that doesn't require a hand truck to transport), your search can end right here.
You will NOT regret buying it!
Unbelievable I have a Hammond A100 w/Leslie 251 and there was always something missing in the sound. Well I found it in the Neo Ventilator . My A100 into the Ventilator out to a Mickie mixer that is out putting in to a pair of Mickie SRM 450's and my sound is HOT.

Sounded so good I thought about putting my Leslie 251 out side with a sign on it that says FREE.
But I didn't do that! It's in the corner and I have no intention of plunging up/using that Leslie.

If you have a Hammond or other keyboard and something is missing! Buy the Neo Ventilator and you will kick your self for not buying it sooner:-)
neo ventilator
sometimes it actually sounds better than a real Leslie. If that is possible. No miking problems, and no weight problems.
Closest simulator I've heard
The best I've come across.
Best Sim Yet
I've tried several electronic simulators and this is the closest I've heard to an actual Leslie.

I played a 147 for years and just can't practically lug it around any more. I've tried the Voce Spin and the Boss pedal. They were OK but did not have quite the space and motion that I loved. I finally settled on a Motion Sound KBR-M. I love this little cabinet with a rotor of its own! I got it in 2000 and have beat the heck out of it for the past 12 years.

I've recently been llaying in a louder rock band and blew the horn out of the KBR and needed something that would have the sound I love and play at level I needed.

After reading several good reviews and listening to all of the youtube videos I thought I'd try the the Neo Ventilator. I'm glad I did.

In a nutshell, it has a superior sound, is built like a tank, and can be configured in a number of ways. It's not perfect, but it's really, really good.

I have a Nord Electro 2 and it's sim is extremely lacking. But I love the portability and programmibility of the unit. With the right cabinet, it really gets the B3 sound.

The Vent does the job well. It is a bit bright when it's run flat, but with available adjustment, you can dial in what you need.

The only down side is the cost. It is, by far, the most expensive sim available. However, if you weight that against a real Leslie (figuratively and literally) it's a reasonable investment.

I also got the remote control pedal. It's an additional cost. but I don't want the Ventilator underfoot where drinks and dancers can get at it.

If the sound matters to you, this is the unit. Also, kudos to Sweetwater. I've been doing business with them for over 20 years. They are the best by any measure. Service, price, product availability and product knowledge... they have it all.
Can't Stop HyperVentilating
The ventilator is awesome. There are so many bad leslie simulators on the market, well it's about time they made a great one! You get complete ability to control every little nuance of the sound. Any organ player who is not using a real leslie, has to get this. Only issue is that the unit comes set up with a mono in and stereo out but Neo says you can re solder the wires for stereo in and out. Why not just do that then? Especially for what they are charging...
Neo Instruments Ventilator - The best, so far!
Love this device! I'm using it for guitar, and when set in the "Keyboard" mode, it nails the Leslie sound heard on so many classic recordings.
Neo Ventilator
After demo'ing the Neo Ventilator In a live-performance situation, the Vent was so conviencing, that I immeditately SOLD my Lesile 147 to purchase this pedal. My sound source was a Numa Organ; and, the combiniation between Numa and Neo is incrediable.

But, the real compliment that I can give to the to Vent is not from me but from the FOH engineer. After the show, he had totally forgotten that I had replaced my 147 with the Vent and during the set tear-down, the sound engineer had walked back to the keyboard position to where I normally housed the Leslie to remove the mic's from the cabinet and realized that the organ was running through the Vent...not a Leslie.

The only reason I did not give it a 5.0 star rating is because the pedal does not have a Rotor Brake control. Although, it does have By-Pass switch, this does not simulate the sound of a fully stopped rotor. Though, I have talked to Neo's tech support and voiced a few minor tweeks to the Vent....one being making a RackVersion....in which, will be a reality...Yes!
Great Leslie Sim for Guitar & Live Application!
I got one of these boxes from Germany when there wasn't any organized US distribution yet! Love it! Glad to see that Sweetwater picked up distribution. Folks on YouTube wre saying "where can I get one of these?" Running it stereo into 2 amps live provides the killer "Badge" Leslie sound.
Ventilator
If you want very realistic Hammond/Leslie sound, the Vent is exactly what you need. Well worth the investment.
It was easy to set up with my Korg Kronos. I programmed the Kronos to have the organ sounds go through a separate channel to the Vent. This achieves an excellent stereo effect of the Leslie sound.

The Vent has a wide variety of setting for you to get the precise sound your listening for.

The Vent has a "substantial" feel to it - Seems well made.
More than adequate
Good enough to allow you to ditch the Leslie and buy a really powerful keyboard amp. Portability and high volume after all these years... Strongly recommend the foot switch. Lack of a power switch is a little weird. Makes any keyboard with a half decent organ setting sound great. The overdrive is a hoot.
Ventilator Adapter Design
The Ventlator is very good in recreating a real Leslie 122, but their is several Design flaws that should be considered. First the unit should have a on/off switch; second the AC adapter barell jack and plug doesn't really fit right (loose) when plugging in the cord. The barell shaft is too long for the jack because it has to accomadate the frame opening and length to the PCB Board.
a must for keyboards, but over priced.
FOR THE PRICE OF THIS FANTASTIC GADGET, THE OPITIONAL FOOT SWICH SHOULD COME WITH IT.
Don't break your back with a Leslie
I have tried every Leslie simulator on the market for decades. I own a Leslie 145 but it stays put on the stage of the main club where I play. I used the Motion Sound Pro-3 and then their KBR-M amp, but they sound muddy compared to the Ventilator. The best feature of the Vent is the distance knob - the closer the virtual mic is set, the greater the "throb" of the rotors. I use the Vent with a Hammond Suzuki XK3c and even used it with the organ patches on a Privia PX-3 digital piano for a couple one-keyboard gigs which made those patches much more usable.
neo ventilator
i think tihis is a great unit, not having anything like this before i did not know what to expect, as soon as i hooked it up to my keyboard and turned it on i loved it. it did everything they said it would do. thank you.
Better Leslie sim than most
GUITAR ONLY Review
Pros: Realistic Leslie rotating speaker sound. Unit PCB can be modified for 2 channel input. Quiet operation if first in line. Good speed change effect when switching speeds or engaging pedal.

Cons: Unit gets muddy easily behind OD/distortion/sustain pedals, so has to be put at front of signal chain- negating the stereo capability (unless your sc is all stereo). Speed control makes the pedal difficult to set because the slowest/fast speed is too fast, and the fastest/slow speed is too slow. I played extensively with it and finally gave up and accepted the speed compromises. And an $85 remote pedal to stop the rotating?!! IT NEEDS AN EXPRESSION PEDAL TO CHANGE SPEED 0-20RPM. Balance control works well to get critical T/B balance. Distance control has no discernable effect. Too expensive for effect on guitar. Would probably be worth it for keyboard.
Ventilator
its not what i thought it would be. I play guitar and keys. I was really looking for something for guitar that sounds like a phase shifter pedal i have that is getting really old. I don't think it has a good sound on the guitar at all. Sounds more like a chorus. However on the keys it sounds great. But I'm still a little disapointed that it does not have a left and right in and a left and right out that would swriling the soung separatly like two leslies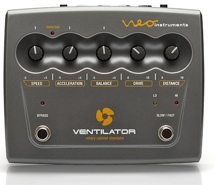 Rotary Speaker Simulator Pedal with Bass and Treble Rotor Emulation, Drive Section, Virtual Mic Placement, and 2 Footswitches