Sweetwater Advice
The Novation Ultranova is a piece that all serious electronic musicians should have! The sounds are incredible and the unit is extremely easy to get around.
The sounds on the Novation UltraNova are custom-tailored for the electronic musican who's looking for either genre-specific sounds or the ability to sculpt their own. If you produce Electro-Pop, Dubstep, Trance (or any genre requiring deep bass), then this is for you. It's got vocoding and complete sound control and manipulation. I love the touch response action of the UltraNova's rotary encoders. They allow instant access to what is usually a buried synth feature. This synth is sure to satisfy your synth appetite!
Sort By Date
Sort By Rating
Customer Reviews
Ultra Nova!!!
This synth is really great! Some of the best sounds I've heard on a VA Synth. Great real time tweaking .Vocoder is a cool feature(Gooseneck Microphone is included. Lighted Mod and Pitch Wheels also.Love the color too!
Fantastic Synth
This was my first hardware synth purchase in several years, as I've decided to get back into hardware (because of price and ease of use). I can't rave enough about the Ultranova. I wanted a synth that allowed me to get my hands dirty. I wanted to construct sounds with the intuitive ease of a soft synth, but have the hands-on tweakability of hardware. The Ultranova is just that.

I could go on and on about this, but it would be regurgitating a lot of what you can find in the specs. I'll say this, the best thing about the Ultranova is the modulation possibilities. You have three LFOs, several envelopes (at least four, I currently forget the number) and you have 20 ways to route all these! So you can have LFO1 mapped to a filter or oscillator then map LFO2 to modulate the LFO1 frequency and then the LFO3 to modulate the LFO2 frequency (and so on) to create some very random sounding pads and FX.

The VST is great too. Load it up in your DAW, create a separate AU channel, and there you go. You can record MIDI and audio at the same time, and use the VST to make adjustments to the sound if you don't feel like using the synth.

This synth is worth every penny. The only knock is that it's not multitimbral, but there are ways around that.
Awesome, especially with VST control in studio
Novation is ahead of the curve with the integration of software and hardware in a very, very capable and versatile instrument. Analog modeling is pretty damn crisp and overall great value in any professional studio.
Awesome and easy to use synthesizer
Ultranova is packed with features and deep synthesis ability. I love the sounds of it. I can make anything from deep phat basses to beautiful pads to all types of electronic music fare. I think you could use it for any type of electronic music. The interface is very easy to use. It is obvious that it was designed this way. I learned it in a few hours. Very easy do what you want. The keybed is high quality just like novation says. Modulation is extensive as are the numerous wavetables. I like the vocoder and the assignable knobs. Effects are good and I appreciate the panning effects this synth has. I don't subscribe to the mindset that says only top dollar gear is pro – at all, because this reasonably priced synth will not dissapoint. The filters are reasonably good. Many filter modes, routing options, very chic looking VST. A few notes: You can route audio through the synth but only to the effects and vocoder (not the filter, arp, etc) . The frequency knob flywheels, IE the position of max cutoff will move next time you turn the knob down and back up. These are not big deals to me. It's reliable and built well. I'd gig with it without any worries. It does have some character to the sound and a classic Novation blue appearance. Manual is decent. This board is reliable, never had a problem with it. Support was helpful when I had questions. I'd recommend it to friends. Sweetwater shipped it fast and asked how I liked it weeks after the sale.
Creative Monster
Beyond all of the extra features is the sound. I have built a custom pc(sort of my own version of a sound rack) dedicated to the massive amount of vst's that I own from omnisphere to komplete 7 to Nexus all of the Arturia stuff and so much more. I had been using a interface known for pretty decent conversion, but the sound out of it still felt like it was lacking. I decided that I would go with a hardware synth cause I wanted a fatter sound, so a friend told me about this synth. I was familiar with novation from their awesome controllers and automap. So when I read that this thing had automap on it (even in its limited stage automap is really handy) i was really interested. So I ran down to my nearest music store and started playing around on the demo, even through the whack monitors they had this thing hooked to it was sounding good. Now it was on par with the Roland Gaia and the Venom from M-Audio and the Korg synths they all had nice sounds but the reason I bought this one is because of the features. So when I got it home I hooked it up to my PC loaded all of the software, pulled up kore 2 loaded some of my performance patches with some of my fav plugins. hooked this thing up to some yamaha hs80ms and played a chord. WOW!!!! the sound that came out of the UltraNova interface was fat and lively. So this is what my soft synths were suppose to sound like huh. So then i started playing with that lil mix knob beside the volune knob and it started mixing in the sound capabillities of the UltraNova and yeah just like that I was up til 3 in the morning playing around with the mixture of software and hardware sound creation possibillities this thing provides. First I tweaked the UltraNova then switched to automap and tweaked the softsynth I was having so much fun I almost forgot that I had to be at work at 6 that morning.
Blows microKorgs away
I took my time deciding between this, the Microkorg, Microkorg xl, and Korg R3. I wanted polyphony, Ultranova won by a wide margain. I prefer normal size keys, so I automatically favored the R3 and Ultranova. But I auditioned the micro-keys, and they weren't as big of a deal as I thought they would be, but still I prefer normal sized keys. So the keys were only a small edge for the R3 and the Ultranova. The main issue is, of course, is sound. If you judge just from the presets, Korg holds its own. If you like to tweak, however, and I do, the Ultranova blows all three of the Korgs away.
Some nice features are the editor and librarian software - very cool. Some minor draw backs are lack of multitimbrality, but midi solves that quite easily. Ultranova's keys are a bit stiffer than standard, it doesn't bother me at all though. One other thing, I wish the editor came available in standalone. For now it operates only as a plug-in. I don't like having to open the DAW everytime I want to use the editor. If you just want to edit from the hardware is much, much more doable than all the menu-diving with the Korgs (even the R3).
The vocoder is really cool, but I can't say that this is any better, or worse. All l four of these synths come with pretty okay vocoders.
All things considered, the Ultranova offered more bang for the buck.
Powerful Synth w/ Amazing Value
This synthesizer's fury gets truly unleashed when used with the VST Editor Software. Using the VST helps avoid a considerable amount of menu diving, and really speeds up the sound design process.

The sound of the Ultranova is brilliant! The modulation parameters are extensive, and the variety of performance features are useful and fun to engage. The keyboard feel is in league with synths 5x it's price. The added vocoder is a nice touch, and everyone loves a versatile arpeggiator.

IMO, the Ultranova is an amazing value, and is a great addition to anyone's studio & live rig.
Nifty ear splitting nastiness!!!
I've owned the UltraNova for about a month now and I really like it. I used to use a Remote SL 25, but there just aren't enough keys on it. I feel like I can lay down parts a lot easier with the 37-key. I use Automap a lot for controlling the compressor in Live too. For that, its an indispensable tool. I use it with a Native Instruments' Machine and a Novation Nocturn, which is a must have utility(only $100 too :-). It is so nice to have a completely bus powered keyboard and drum machine rig. I've got the UltraNova bag too and its pretty sweet. The headphone output on the UltraNova is really loud too so all y'all deft DJs and keyboard junkies out there will be happy. The synth is pretty bad ***. Its meaty like Massive. The filters a great. Its pretty easy to navigate the sub-menus. Its mono-tabral, but if you have a Machine, you use that to create unlimited multi-timbral parts with other soft-synths. Maschine is perfect for switching keyboard patches too. You can load up a VST on each pad and switch between them on the fly. You can even load up the UltraNova Software Editor in Maschine and it will tell you what all of the knobs do on Maschine's screens. You can MIDI learn all of the params too. And if you set up the Nocturn right in User Mode, in combination with the Maschine, its just as good as having a full sized synth. Just set up only 1 or 2 (maybe 3 but no more) pages worth of dedicated controls on Maschine and the Nocturn and use the sub-pages on the ultra nova for everything else. The best part is is that the Maschine, Noturn, and UltraNova all fit in the UltraNova bag. The Nocturn has LED rights and smooth encoders too. I actually use the UltraNova's SPDIF to to into my MOTU Ultra Lite MK3 Hybrid SPDIF in and I have Maschine in stand alone mode running in tandum with Ableton Live... that's whats up!!! I haven't had any crashes yet. You can sync them up with a MIDI cable. I would give it a 5 but its mono-tamral. Can't rightly do that. You can plug another synth into the audio inputs(like a blofeld), so for $700, you can't beat it.
Not good for mobile recording
I've had this synth for about 9 months as of this time. Initially I was really excited about it and I still like it in the studio and for jamming, but I'm on the go all of the time and I've found it be a sad disappointment for mobile use. I like the synth and would rate it at 4.5 stars for the studio and for live performance but 2.5 for mobile use. First let me say what I like about it:

Pros:
- Its portable.
- USB bus powered.
- Great synth engine that is deep and meaty.
- Vocoder = two thumbs up.
- It has a good audio and MIDI interface with SPDIF output.
- Affordable.
- Headphone amp is LOUD (makes deft DJs happy :-)!
- Easy to use interface with lots of nice features.
- SPDIF output lets you use inputs as additional inputs for another audio interface with a SPDIF input.
- Excellent AD/DA converters.
- VST GUI editor and patch librarian is useful.
- Can sort patches by genre and tambre.
- Novation's keys are some the best action on the market.
- Automap is AWESOME! Indispensable tool for controlling compressors with.
- Lots of cool blinking lights!

Now lets get the cons:
- NO TRANSPORT CONTROLS!!! This SUCKS! I want to record a part and don't want to click play with the mouse... that just doesn't work for me. . This only sucks for mobile applications but not a big deal in the studio. Using a Launch Pad with it would probably fix this issue for most Live users but its another piece of gear and another USB device.
- Synth is monotambral. This is a major hassle and usually stops you dead in the water when using the UltraNova alone. It wouldn't be an issue if you had another synth, but for mobile, its not good. You only have so much table space.
- No VST version of synth... Its monotambral so you kind of need one. I'm presuming they will come out with one though and I will buy it!
- Patch Librarian doesn't save the patches right each time.
- VST GUI editor causes audio drop outs when changing patches (REALLY annoying and makes it unusable). Its been out for a long time this should have been fixed by now.
- No SPDIF input or word clock so you can't sync to external device!!! Sucks if your using an audio interface with another ADAT device.
- Can't record synth and external audio input at the same time.
- No analog direct monitoring on inputs (gets converted to digital and back to analog).
- No phantom power on mic pre.
- If you have a mic connected and your keyboard is in front of your monitor, the cable obstructs the view of the monitor (get right angle XLR cable to fix but still a hassle).
- Only 400 memory locations! Come on guys! how cheap is memory?

So in closing, I like the synth, it's phat... it sounds good... it looks cool... Automap is da bomb. Novation rocks! I'm just burnt on the brick walls I get from this keyboard as MIDI controller. It has not helped further my music because its monotambral and I don't have another hardware synth. The audio interface is sufficient but not ideal. But...! If you had another multitambral synth and an analog mixer... this synth is totally awesome and you'll love it! I'm dreaming of buying a Prophet 08 and a Moog and summing them together in analog. But the major buzz kill for me is I can't use it on the go and I'm always on the go so music just isn't happening right now with this thing.
Disappointed
I have had lots of problems with this synth. I worked with the product specialists a couple weeks to no a availe. It is a glitchy board with cool features that don't not live up to expectations. If I could have worked out the glitches it would have been a good deal for the money.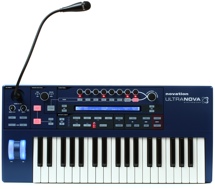 37-key Synthesizer, USB Controller & Audio Interface with Touch-sensitive Encoders, Built-in Vocoder, and Included Gooseneck Microphone