Sort By Date
Sort By Rating
Customer Reviews
Absolutely Fantastic !
This program gives you the sounds that you have been trying to get through different mics, and mic placement, compressors, gates, etc......The program is so easy to use and you DO NOT lose the feel of the drummer. This has made my job easier with better drum tracks and saves my clients money because it cuts down on edit time.
Slate Digital "TRIGGER"
In my opinion Trigger is definitely the best in its class. Very easy to use, perfect timing and a great idea of Leakage Suppression. Sound mixes perfectly with the live sounds. Saves me a lot of time and gives me fantastic results.
Can't live without it
Excellent and easy to use. Great samples. Wouldn't wanna mix without it...now that I've tried it.
A must have for anyone editing live drums
Absolutely incredible tool give you every parameter to track accurately. The drum sounds sounds are incredible and sit well in the mix with little to no additional processing.
Phenominal
Great results and best yet ya barley even need the manual. I took to it right away. SOOO easy to use. Good for enhancing A drum track or Completely replacing stuff that wasn't tracked here.
So happy I got this!!!!!
Drum Triggering Bonanza
This easy to use Drum Trigger just works as it is described. And is really simple. Make sure you unpack all the files properly. The samples are outstanding and strait forward. The latency is very good. I use the samples with very little post processing. Good to go right out of the can. I wish I could import more of Steve's samples into this plug in.
Slate Digital Trigger Platinum
This plugin will give your wimpy sounding drums the Muscle that they need , easy to use , Trigger kills all other drum replacement plugins
TRIGGER
A dead easy interface with a bundle of samples and an instrument creator to make your own drum triggers? It cannot be! I used to be a drumagog user, and don't get me wrong, it was awesome. But Trigger just does what drumagog does much easier and more accurately. The fact that you can blend multiple samples in one instance is just amazing. The controls are so simple, and I haven't even tapped into it's full potential for "anti-bleed triggering". If you aren't proficient in editing live drums and getting the sound that you want, Trigger is definitely the way to go.
The Greatest Product Ever Created
5 Stars are not enough to rate this! This is the greatest studio product I have ever used and I have used a lot. I truly feel sorry for the competition. In a nutshell this software will make your original recorded drums sound like the greatest drum set in the world. To put it in perspective I would have easily paid $5000 just for this program. It adds an element to the entire song that cannot be explained in words (Listen to a you tube video for a small sample that does not do as much justice as it deserves). From my understanding the software replaces your recorded Toms, Kick & Snare Drum! It is extremely easy to use. Simply Record your drums on to different tracks and use the "Trigger" Plug In on the Toms, Snare and Kick tracks. The interfacing is user friendly and each knob makes sense in relation to its purpose (Each knob has a very specific meaning and makes a difference to the drum sound). You can mess around for hours dialing in great sounds or just use one of the many super professional sounding presets generated by Steven Slate and his staff. All the drums sound real, natural and authentic not fake or generic. The sounds fit perfectly into the songs mix. Within 5 minutes of using this product I thought the drums sounded better than most songs on the radio! Every serious recording artist should have this. I still can not believe the price is so cheap and coming from a guitar player the sound of these drums are making me wish Jesus gave me drummer talents! LOL
AMAZING!!!
I didn't want to believe the hype and I was an idiot. This is BY FAR the best triggering software out there. Drumagog's tracking is horrible, apTrigga's options are kinda limited, this just crushes. Tracks flams, phase, sloppy rolls, dull transients, & more better than I could ever imagine. The sample library is solid, and the ability to make your own dynamic triggers is amazing. Perfect product. No joke.
Drums Savior
Best triggering solution. Great sounds. And lots of presets ready to be used.
Drum replacement made simple
Easy to use, yet flexible. Nice collection of samples based more on quality than quantity. Very vrey nice!
Killer...
From someone who is used to hand editing drums and cutting actual triggers, this plug-in is an absolute life saver. The phase alignment is excellent and the ability to use multiple samples and blend them together is a great feature. The bleed rejection is great as well. I don't often have to use it, but it works well.
It's not a perfect system, but what is? Sometimes you have to fiddle with the settings or even automate/adjust the source audio to get Trigger to behave like you want. However, these cases are often the exception instead of the rule. If you have a decent drum recording and a fairly consistent drummer, it's a breeze to get Trigger to work for you. Money well spent!
Slate Digital Trigger is a winner
This is an excellent product. Very easy and quick to make a poor or even a good drum recording sit in a mix perfectly. A great range of drum sounds with excellent room ambience mics, all easily controllable. Well worth the money.
Fixed our flat drums
When the drums were tracked for our project, there was way too much dampening on the heads. The toms sounded like cardboard boxes, and we just couldn't get the snare EQ'd quite right in post production. Using Digital Trigger Platinum fixed all that! Drums sound great now!
Works good
Nice plugin. Far from perfect but very nice. It is very versatile too.
Make the job
this is a good software, i will like a large drums bank.
Best Drum Sample plug in currently in the market
I found this to be the best drum replacement program available in the market. Of course there are improvements that can be made. None others i have used actually phase align correctly. Slate Trigger is reliable, set it and forget it, dont second guess your phase alignment on each sample. Not to mention the Steven Slate samples that come with it are highly usable.
My only negative feedback is that if you import your own wav format files, it will not be able to rotate through the samples randomly or at all to create a natural sounding augmentation/replacement. You need to further create a TCI file which is more time consuming. Also, i find the samples menu bar slightly primitive.
The transient designer in this program is very good. All in all, this is by far the best drum replacement program available.
Professional studio owner
Great product and would suggest this to anyone in the recording business. Far better accuracy then any othe drum replacement programs. The samples are beautiful and very pro!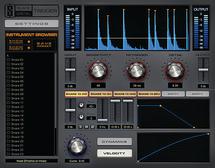 Drum-replacement Plug-in with Steven Slate Drums Platinum Samples and Live/Accurate Modes — Mac/PC RTAS, AU, VST