Sort By Date
Sort By Rating
Customer Reviews
Very good Trigger plugin
This is an excellent plugin to replace drum sounds. samples has very good and software works very well.
I seriously recommend for quality works.
Trigger Rocks!
Trigger is dead easy to use, sounds fantastic and is the only drum replacer I use now. All the Slate stuff is as good as advertised. It's not hype! Try the demos and believe.
The best drum trigger plugin you can get
This plugin is simply the best. The leakage suppression lets you totally replace a terrible sounding drum set with amazing accuracy. All that with the Slate drum samples?!? Bellissimo!
Effective!!!!
I was using SPL Drum x-chager and then I tried this. Simply put...it does what it says it will do.!!!!
Not a drummer? .............start here
So simple, intuitive and good. If you are looking for fuller drums.....this is it. Makes any drum set sound like it was recorded in the best room with the best mics. If you happen to have that best room and best mics, helps EQ drums. You can shape that snare, get the rounded kick that fits in the mix and let's the bass be part of the mix. The separation is great.
Really Nice plugin
Got it on promotion, $49. that was a steal. Really good plugin very versatile. The only issue i find sometimes is to get the kick triggered properly, but few turns of the knob and its good to go.
Solid drum replacement tool
I really like the interface and the controls on Slate's Trigger plug in. The sample accurate replacement works great! There is a small learning curve for the sensitivity and retrigger knobs, but once I figured them out, it was smooth sailing. Perfect for metal and rock records. Saves me a load of time manually tabbing to transient :)
Astounding Quality and Performance
Like any plugin, this requires a bit of training and practice to get it right. I did this through the included training guide and videos on their site. Once I learned how to use leakage suppression and printed the kick and snare tracks I was astounded by the sound I achieved. It is very good at blocking out false triggering because you are able to bus in the drums that tend to cause false triggers (for me the snare was false trigger for kick, and high tom and hihat false trigger for snare) and that feature makes this stand on it's own- you basically fine tune that then print the triggers tracks to a separate track. I did found I had to drag them back a bit so they were perfectly phase aligned but this only took 5 seconds then it was PERFECT. I really have to say say- I am going to upgrade to platinum now because the sound samples are insanely good. It really transformed the quality of the bands tracks I was working with. I highly recommend this.
Simple and Effective
I'm a big fan of Slate Digital products (I can't say enough good things about VCC and VTM). I've seen nothing but positive reviews from pros and enthusiasts on Trigger, so when it went on sale I figured why not... Initially I wasn't in love with the idea of post production replacement of drums as I wanted to keep the live vibe and feel of my drummer. You can certainly replace it all, but this is more flexible than that. Some time back I set out to make a serious effort to record my band's first album... on our own and with a tiny budget. After doing the drums, I came to realize the limitations of our budget, and we just flat out didn't have a good kick drum mic. I captured a loose low end that got lost in the mix. I fixed it as best I could via eq and compression and moved on at the time. After picking this up, I went back and added a kick sample to one of our songs and was amazed at how easy I was able to find a usable sample, and blend it with my original kick, keeping my drummer's feel and timing. The tracking of the instrument by Trigger is spot on with plenty of leeway to either go surgical or be "creative". I was able to cut the low end of the sample and just keep the beater hit for some high end snap to add some punch. I ended up using it on our floor tom as well with success (it was also lacking top end). I would say it's worth taking 10 minutes to browse the included documentation to make sure you are using it to its full potential. The Slate samples are top quality, but it's really the flexibility of the tool itself that makes this a worthy purchase for me. I learned my lessons on mic'ing drums, but I can see this being useful in the future to compliment a mix, even on non-drum parts. Used with Sonar X1/X2 with no issues. Although I didn't need to take advantage of it, It's also worth noting that Sweetwater made available all kinds of product support along the way for the download, install, and use of the product. Great company and fast turn-around with online processing/registration process.
Does what it is supposed to!
I've recently used TRIGGER on a mix I did for a band where the kick drum and snare mics were distorted...some nasty digital clipping...

I triggered the snare with a mix of 4 different snares and same with the kick. They transformed the track into a pumping rock track!!

My clients were very impressed too! And, I'm just learning how to use it.

The only thing that wasn't so cool was the snare track was triggering also when the bass drum was hitting, so I had to go in and edit the snare track and delete all the kick drum hits...A bit of a hassle and a bit time consuming. I played with the sensitivity, but it didn't help that much. I hope I learn how to fix this...Or - I hope SLATE DIGITAL fixes it!
Easy to use, Great Sounds
I bought this and used it prior to upgrading to Trigger Platinum. For a drum replacement/enhancement tool it does its job really well. To get it to work correctly you only have three knobs which makes it really easy to use. The included samples are very good, and useable in a diverse range of styles. The only downside: the EX version comes with the samples, but no presets (except for one snare) which means to load a sample with its room mic/multiple samples you have to load each slot individually and then save your own. The platinum version comes with all of the signature drumkit presets which makes trying out different sample sets much easier and faster. Its really great, but trust me you'll want to upgrade to the Platinum version.
Trigger
Latest & greatest software for supplement / replacement does the job well. No complaints except you can't use your existing Slate samples. Bummer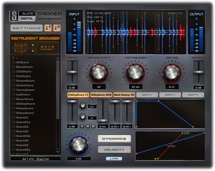 Drum-replacement Plug-in with Steven Slate Drums EX Samples and Live/Accurate Modes - Mac/PC RTAS, AU, VST