Sort By Date
Sort By Rating
Customer Reviews
Mark Tremonti Morley Wah
This wah wah pedal is seriously under-rated! The wah is fantastic, not only does it sound great, but it also lets you control how much wah you want to use! It's perfect for hard rock, classic rock, metal, blues and much more! I have owned tons of wah pedals and this one is by far te best! There is a reason why Mark Tremonti uses it live and in the studio! Seriously, don't waste your time with a Crybabay, it'll drench your signal in wah, This one compliments your tone in so many ways, the only way to explain it is to show you! BUY IT.
Morley Mark Tremonti Wah... I LOVE IT!
What's to say. This wah is just flat out incredible. Everyone who hears it just smiles and raises their eyebrows. It's super easy to use. No clicking on and off.
100% Pure Distilled WIN
Been playing guitar for 14 years and have used quite a few wahs, but the Tremonti Wah is exactly what I've always wanted to hear from a wah. It gives such a liquid, organic quality to your playing that other wahs just don't touch. This thing is a real compliment to your tone.

After years of going through wahs, I had settled in on the Original Crybaby, but there were always a few things about it I didn't care for. First it was a bit too sharp at the top. The other problem is, I hate the way you have to engage it. I never knew with 100% certainty whether it was engaged or not. This was frustrating. With the Tremonti you get the optical sensor so you just have to start rocking and it turns on. You stop and it turns off. Its that simple. Oh yeah and there is an indicator light. Idiot proof and it is just a cool looking piece of gear.

For those of us that are looking for that Mark Tremonti sound, this pedal is a must have, and even if you're not wanting to be Mark, this pedal is versatile enough for you to create your own sound, as well. The characteristics this pedal adds to your tone will be very satisfying, in my opinion. I am very satisfied with this product.
Highlights your leads
Very nice wah for both subtle enhancement of leads and dramatic wah excursions. Ideally suited for high gain stuff and can really help add just a bit more urgency or kick you through the mix when you want that. The extra gain boost can be overpowering for cleaner tones but I've found that I can roll back the boost with my toe when I need to. Contrary to some reviews, I find this a pretty good wah for clean (funk, 80's cop show stuff) sounds but it does have its own character (it is voiced pretty specifically). Doesn't have the really pointy high frequency range but works better for my skill level.

I totally love the lack of a toe switch and just rocking all the way back (or more typically, just lifting my foot) bypasses the wah. I now find I use this wah much more often almost as you might with tone control. I seem to have more expressive options when soloing but without the tap dance fear with my other wah. Pretty cool - reach for it for just a bit of spice, then let go for (almost) instant return to your bypassed tone. I thought I'd miss being able to engage the wah and leave set to some mid setting (Santana style?) but I don't. I find this wah secure and consistent enough that I can have that effect while riding it but it turns out that even when I think I want a set of frequencies boosted, it is great to have the ability to slowly sweep them.

Best of all, my band mates love the sounds I'm getting (when I don't over do it) and the fluid easy to find tones are a blast to play through.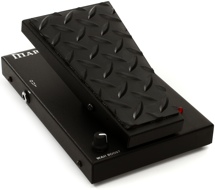 Signature Mark Tremonti Wah Pedal with Boost Knob for 20dB of Wah Gain, Electro-optical, Switchless Design, Diamond Plate Style FootPad, and "Clear-Tone" Buffer Circuit for Guitar or Bass