Sort By Date
Sort By Rating
Customer Reviews
Love it.
I Recently purchased this product from Sweetwater, and was very pleased with everything about the transaction. I ordered two of the white, and two of the blue, and will probably order more in the near future.

Beyond their obvious aesthetic appeal, I found these next-generation MK2s to be far superior to their predecessors. While I ordered them mostly as replacements for the originals, which were wearing down/skipping after a good 6 month run of heavy usage, I was pleasantly surprised by several improvements (please note, I have not researched any of this, but rather, am speaking subjectively of my experience with them):

-Superior tracking.

-Improved "glide', especially on the 15 minute, "LP" /"B" side (the longer of the two).

-Improved grip—this may have just been because they are new, but they seem to be slightly more rubberized in composition. They get better "hand-traction", if you will.

-Improved stickers to mark the record (two per timecode, one for each side). These new stickers are much thicker than those of the past, and are shaped kind of like slim arrows, just a hair longer than the record's center diameter. Furthermore, they have a pre-punched pinhole at one end, which fits that of the vinyl, to a tee. These seem somewhat rubberized/grippable as well.

Great product.


Lastly, the service was great. My order came quickly, was well packaged, and I was politely updated via phone messages throughout all stages of shipping, and even got a call on arrival, to make sure that it got to me.

Great customer service.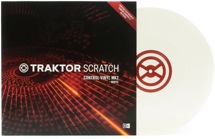 Replacement Vinyl for Traktor Scratch Pro System - White