Sweetwater Advice
Finally my own chair that feels ok for guitar playing, with foot and back rest!
Now I don't have to worry about bar stools anymore...
Sort By Date
Sort By Rating
Customer Reviews
On Stage Stand D T8500 Throne with Backrest
Throne is every thing U say & eve more!!!!!!!!!!!
Comfortable, stable, convenient
I was surprised at how comfortable and stable this chair is. The seat is comfortable with just the right amount of give and the back rest provides enough adjustable range to find the right fit. The folding legs and knob make it portable and easy to transport and store.
Nice Solid Chair
When you weight 300 lbs like me (God help you) you need something solid and dependable under you. This chair does just that. It doesn't fold completely flat like some of the others but it does fold up enough to transport okay. I like it a lot and feel it is a great buy at Sweetwater Music..
i just wish bought it earlier
It is just silly not to have this chair. After you sit in it you feel like an idiot because you didn't have sooner.
Good Throne for Guitar
Sweetwater advice was very helpful with this purchase. Nice throne for use when playing guitar. Very sturdy and easy to assemble. Folds up in a snap. Just the throne that I was looking for. Sweetwater service and delivery always the best.
on stage dt 8500 throne, the perfect addition to your private studio
very well made, no cheap plastic here, built for years of use. very well made (all steel tubing). height adjustable,well padded seat and backrest. if your playing guitar sitting on abar stool like I was ,ditch the stool,this is great and a lot more comfortable
Great guitarist throne!
Very impressed & happy with this comfy throne! Great for anyone with a bad back who needs to sit through hours of studio work or teaching. This chair is also less expensive, & better looking than others I compared it to. Wish I could have gotten one of these years ago!
The On-Stage Stands Throne with Backrest
Having three rods and 4 screws in my back, this chair comes in handy, It is very comfortable, money well spent! Very handy for my last gig!
Great throne for muli-instumentalist
Very versatile stool with backrest. I've had a severe spinal injury and this really. helps me get through longer gigs. I play keyboards, saxes, flutes, clarinet and guitar, and this gives good support in a semi-standing or sitting position allowing for good breath support and comfort.
The only drawback I've experienced is that it's not designed to break down for travel and therefore takes up a lot of room in the van or trailer.
Great chair for the price....
Nice chair for the price.
I purchased two chairs for our guitar and bass duo.
Its nice to be able to fold up the chair, and to have the "same" chair at each gig, rather than have to use a bar stool or stand.

The foot rest is about two-four inches too high for the average person....your knees are bent too much for comfort. I am 5'9", and I have to raise the seat height to the last notch to use the foot rest. I plan on having it removed and welded lower.

Knowing that, It's well worth the money and I would recommend it to others.
A good product. Easy to use.
I really like this product. It was easy to put together and very comfortable. I use it both for practice and performance. The seat/back cushions are very comfortable. The only improvement I would like to see is to design the product so that it will be more compact for travel. Although the legs fold up, you have to take the seat back off in order to make it more compact for travel.
I just LUV my new gig stand
I frequently play gigs that last more than 2 hours...and because of a bad lower back (jumping out of helicopters in the Marines years ago) after a long gig end up with lower back pain. This seat/stand is a God-send, it gives me back support and I don't have the pains now that I used to have after a 2- or 3- hour gig. I play guitar, mandolin, and hammered dulcimer, so I use it for several different venues and it just works. Best purchase I've made in awhile, and Sweetwater's price is better than anyone else's. If I could change ANYTHING about it, I would make it more collapsible, or foldable, but it fits nicely in my RAV-4 among my other gear, so I won't complain about it.
Throne with Backrest
I am a beginner bass player and a big guy, over 300 lbs, and up to this time I had been playing in a computer chair. I felt that I was resting my left arm too much on the arm rests and was unable to move that arm as fast as I needed. The Throne gives me that much needed freedom of movement while still comfortably handling all my weight.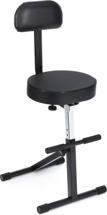 Padded Throne with Backrest, Adjustable Height, and Braced Legs