Sort By Date
Sort By Rating
Customer Reviews
Awesome Quality, Versatility and Value!
After literally decades of owning and playing a variety of sculpted, maple-quilted-capped mahogany uber-guitars of one kind or another it's a pleasure to return to the comfortable simplicity that is the Fender Telecaster, which remains one of the great playing guitars, even 60 years after they were introduced!!! That said, I grabbed this $399 guitar off the store's rack with low expectations, expecting it to be something like a Squire; useable but clearly 'budget' in tone and feel although likely to also be acceptable for the money. Instead, I was completely blown away by its unexpected goodness; had it been missing it's price card I could easily have thought it worth north of $1,000. So I made sure then to try out several other Tele's in the store (and other stores) for comparison, certain that the higher priced models would reveal this guitar's every flaw.
They didn't. In fact, the high-priced guitars were often the ones embarrassed!
The neck feel, overall quality and playability of my particular 'Modern Player Plus' is second to none. In 43 years of guitar playing I've seldom encountered a more holistically satisfying instrument, regardless the price, and I'm including just about every popular electric guitar you can name. I've owned or at least played them all. Beyond the fit, finish and playability, the tone, clarity and airy vibe from the pups is surprisingly good, though for sure the more expensive American Tele's have hotter output (but not better 'tone', IMHO). Counting the bridge humbucker's coil-tap feature you get seven different, musical and useful tones from this thing, including those much-loved 'in-between' Strat tones in positions 2 and 4. Even in full humbucking mode the bridge pup has that unmistakable Tele-twanginess though much thicker and fatter; I really like it! With the coil tap engaged the sound does get a bit weaker and thinner but also brighter, snappier and even 'twangier'. A little boost from my MXR Custom Comp is then added to coax the same singing bridge pup tones you expect from the traditional single-coil Teles. Paired with my newly acquired Fender VibroChamp XD, this thing produces all the Brad Paisley and Danny Gatton Tele tones you could ask for, and plenty more. My five other guitars are all now collecting dust because this one is by far the most comfortable (it has a belly contour relief!), the most playable, the most tonally versatile and the most satisfying of the lot. And for only $399!!
The pine body seems to matter not in its influence on the guitar's tone and makes me wonder what the fuss is all about with all these other exotic 'tone-woods'. The maple neck is a gorgeous piece of craftsmanship and the mid-jumbo frets a delight. The thing was set up beautifully at the factory and required no further action adjustments. In fact, hanging from the neck was a small Q.C. card showing the action settings; 0.5mm and 1.5 mm for the 1st and 12th frets on the first string and 0.55 and 2mm respectively on the 6th string. And it's finished with that classic old tinted smooth laquer finish Fender uses on their 'vintage' high-end stuff and which I absolutely love; NICE!
I've learned that these Modern Player series are all made in China and my sample suggests that their operation there might well be world-class (would need more samples to know for sure). I haven't 'popped the hood' to look at the electrical connections but I don't expect to see anything unusual there.
Simply stated, this guitar can't be beat for $399. Heck, it probably can't be easily beaten unless you spend $1,500 or more (and maybe not even then)! I've read other early reviews of this instrument where I've seen complaints of one kind or another but if my guitar is typical, then I have to conclude that those critical reviews are fueled by a heavy does of American biased 'snob-ism'. Or perhaps folks are out there trying their best to justify why having spent $1,000 or more didn't truly get them a better guitar than this one. This guitar, in a 'blind' playability and sound test, would delight anyone IMHO. Like I said, you 'might' want to provide a slight boost to raise the pups' output level or, maybe not. I know some players (like me) prefer the lower gain, more 'pure' and clean signal and prefer to let the amp do the heavy lifting. I use a MXR Custom Comp(ressor) on a light setting and set its level to drive the amp just a little harder, at least when I want to play country with that little extra bit of front-end grit. But the tones are otherwise airy and produce those classic bell-like Fender ones very nicely indeed. Give this guitar a long, serious listen, ignore the country of manufacture, and see what you honestly think.
Oh, and go out and buy the Fender VibroChamp XD ($150 as of 2/25) while you still can. It's the best tone bargain on the planet for small practice/recording amps, and currently at the price of a single pedal. Together this guitar and amp make an awesome combination for Fender tones for under $600!!
Great guitar for intermediate, or guitar hobbyists!
I absolutely love this guitar. Great versatility. If you're looking to move up from a beginner level guitar this should be your next purchase. I have no complaints of this guitar at all. It's beautiful and feels great. Purchasing this from Sweetwater was probably one of the best decisions I've ever made haha. Every penny worth it. Be sure to buy a guitar case for this guitar too!
Best quality for value guitar
Really nice build quality, fit and finish. I own three American Stratocasters and the neck on this MP Tele feels of equal refinement. Bought primarily for clean guitar tones. Pickups are just OK - I have nice amps, so it sounds good, however pickups are not stand out. Overall, this guitar is much better than you would expect for an import - especially build quality and neck. Great value (I own many guitars, some classics & this will be a keeper) - which should indicate how much I like this guitar! (Also, great props to Sweetwater - their customer support is superb!)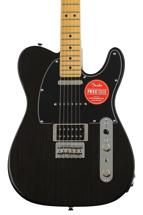 Solidbody Electric Guitar with Pine Body, Maple Neck and Fretboard, 2 x Single-coil Pickups, and 1 x Humbucking Pickup with Coil Splitting - Charcoal Transparent