Sort By Date
Sort By Rating
Customer Reviews
WOW - what else can I say
Just received this guitar this morning - took it to the guitar shop tonight and played it ... what a great experience ... sounds great - plays well ...I just love it ...
Fantastic Guitar, great bang for your buck!
I've been a longtime Gibson guy (over 20 years to be exact), but I decided to take a flyer and try this guitar out on a whim. Needless to say I was completely floored by the feel and its tone. Picking up this guitar, you can feel the weight - it's a solid block of wood. The pickups give it some real bite when you plug it in. I also love how you can go from a nice jangle to a hard edge. This is one great guitar that can play a variety of styles. At under $1,000 and made in America, it's a great guitar for your money.
Moi Bueno
This guitar totally rocks...
Save yourself mucho deniro and buy the American Special.
Sounds great...one change, pickguard to white makes it look
even more beautiful.
Wow!!
I have quite a few guitars here at the studio, but all have been bought secondhand over the years. This is the first "new" guitar I've ever purchased. Buying something like this online is kind of a crap shoot since you can't get the feel of the guitar. When it arrived and I got the chance to actually play it, I was blown away! Finish is just awesome and it was setup really well. No buzzing, intonation was right on and it plays like a dream. Two thumbs up Sweetwater for having the guitar gallery so you can at least pick the finish you want. Totally stoked with this purchase.
it's now what I play
I live in the desert boonies, so I asked my son in Reno to test some new Teles for me in Reno. He reported that his favorite Tele in the bigger stores was the American Special. He's a LP player but he owns a nice American Standard. I trust his taste, so I searched online and took a shot. Unfortunately, I only learned of Sweetwater's service before the sale, like showing the actual guitar, often giving weight, etc.

I immediately liked the feel, and the "Greasebucket" really is slick and eminently useful. The weight feels around 7 1/2, same as my 08 Am St Strat. Same 3T sunburst with maple board.

I really like the dead-flat finish on the neck. As I play, it takes on a natural feeling and look. I don't care for speed bump frets, however I'm learning to reckon with them, only because I like this guitar a lot, in spite of my usual preferences. It is what it is.

II always clean and polish frets, change strings to what I use, make whatever adjustments need to be made after a little playing time. But I liked it immediately. I'm not a big fan of Texas Special Strat pickups that I've heard, but I am once again surprised at what these over-wound pickups are capable of sounding like,especially with the Greasebucket rolled down keeping the eq nice and consistent and sounding convincingly traditional Tele.

My 3 dislikes:

Not a big Schaller tuner fan. Swapped them for Schaller locking tuners, only because I wanted something locking that would retrofit, requiring no new holes in the headstock, just yet. My dislike for the the Schallers, their shear weight, and the new Fender/Schaller staggered tuners are made in Taiwan, on a a guitar that touts made in USA. hmh... ah well, they work well so far, and I never notice them or their weight when I'm playing.

Also the the string ferules fell out when I changed strings; only spot glued in place. Didn't disturb me. For this money, I'd expect a few cut corners in a MIA Tele. I just Elmered them in place, strung up and been playing the tar out of it. The honeymoon is either long on this one, or else she's a keeper.

I'm looking forward to buying my next guitar from Sweetwater.

That said, there has to be a lot to like to put up with what I don't normally care for.
Awesome
Gorgeous, easy to play, with the smoothest neck I have ever played. Great tone, a total joy to play. Well worth the money.
American Special Fender Telecaster
Great Guitar! Had to get used to the jumbo frets a little bit. It is the first guitar that I ever bought that I had to pay extra for the strings. I like the tone even better then my Strat Deluxe.
Awesome Guitar
This is an awesome guitar, I love those Texas pickups., I use 10-48 Flatwound strings, which gives it a little deeper tone. I changed out the pick guard with a black pearl pattern, talk about good looking, I also used a anti-static foam to total eliminate the Static feed back., I have always played the Strat, but this one is now being played the most. Great service Sweetwater, your the best I have dealt with.
inSync Review
Mitch Gallagher
8-26-2011
"Built by the people, for the people & within your reach" is the slogan on 's website describing the new American Special line of guitars and basses. And it's an apt descriptor: the new instruments are made in the USA and come in at stellar prices. I had the chance to check out five instruments: a Telecaster, a Stratocaster, a Stratocaster HSS (with a humbucker at the bridge), a Jazz Bass, and a Precision Bass.

All five instruments were top notch. They were solidly constructed, well set up right out of the box, and primed for making music. I ran them through a Fender Mustang III amplifier (see sidebar for more on this amp). Each one produced the tone I've come to expect from a high-quality Fender instrument, from the twang of the Tele to the quack of the Strat in the in-between position to the crunch of the HSS humbucker to the rolling thunder of the two basses.

We're talking classic good looks combined with classic tones. Each of the instruments rang well, with plenty of sustain. The pickups were solid, offering full, rich tones. And the hardware was of the quality you'd expect from an American-made guitar or bass. These were U.S.-made Fenders all the way.

How much did I like the American Specials? Well, I ended up spending my hard-earned dollars to buy the Precision Bass for myself, and I couldn't be happier. It plays great, it's light, it rings like a bell, it sustains well, and the tone is true P Bass all the way. The same can be said for the whole American Special family; they all deliver the real thing at a great price, and they're made in America - very nice!
BONUS: Mustang III
I had the opportunity to play the American Special guitars through the new amplifier. This is a pretty amazing piece of work from Fender: 100 watts, 12" speaker, built-in effects, and excellent-sounding amp models of all types. Whether for home practice -- yes, it sounds great at very low volume levels despite the high power rating -- rehearsal, studio work, or live performance, there's a ton of tone in this lightweight, highly affordable amp. It's the first Mustang I've played through, and I'm sure it won't be the last -- Mustangs rock!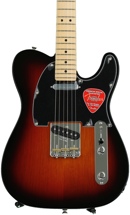 Solidbody Electric Guitar with Alder Body, Maple Neck, Maple Fingerboard, and Two Single-coil Pickups - 3-color Sunburst