Sweetwater Advice
This pedal is an absolute lifesaver when you're on stage. I can't tell you the amount of times my bass has gone out of tune after I've been really laying into it for a song or two. Just look down, stomp the box and get yourself back to sounding like you should.
The Boss TU-3 is bright, accurate, and keeps you in tune. Simple enough, right? It's a tuner, it does what a tuner is supposed to do. Of course, it can power up to SEVEN OTHER Boss compact pedals too! Plus, it has a variety of modes to meet your needs, and is built ridiculously tough. I used mine to drive a few nails when I was hanging pictures the other night (true story). This is the one pedal you cannot do without. Even if you never use another stompbox for the rest of your music-playing life, you should use the TU-3 every time you pick up your guitar.
Sort By Date
Sort By Rating
Customer Reviews
Great tuner
This is the best, most reliable, most usable tuner I've ever owned.
Boss TU-3
The Boss Tu-3 is unsurpassed as a pedal tuner. It's already saved me at least a $100 in set-up fees because it's easy to fix a guitar's intonation without going to a guitar shop. Plus Kurt from Sweetwater is great to work with.
The Boss TU-3
Swapped out my old Fender battery operated tuner for this Boss model.
I should have done this a long time ago! Silent tuning for everyone else to not hear! If your looking for a new tuner, this is it, look no further.

Buy it!
Wonderful tuner for playing live.
I love this pedal, it is easy to use and helps when playing live. It keeps me in tune and sounding good.
Boss TU-3
Just started using the Boss TU-3 on stage for live performances ... should of purchased one a long time ago ! accuracy, readability, reliability are top notch it made stage live a lot more pleasurable .
Boss TU-3
Simple to use. Easy to see. Most important fact: More accurate than any other tuner I have used. Durable and rock solid. The streaming mode reminds me of the old Conn tuners in the High School Band rooms back in the day.
Invest the money
This pedal is perfect for me as a frontman in the band. the quality of this pedal is what i expected from boss. strong and road ready. thanks to sweetwater for advising me with my purchases. this thing lights bright on stage and takes zero quality away from my other pedals and over all sound. invest the money in this, you won't be let down.
boss tu-3
Very quick and dead on tuning ,good for stage and home use
Absolutely the best tuner in any price range
Try the others and then buy the best foot pedal tuner on the market for the price
This pedal can be configured to your needs. Bright LED display with multiple modes.
Comes with a five (5) year warrenty
±1 cent tuning accuracy
Boss TU-3 Chromatic Tuner
Outstanding addition to our "toolkit" especially like the bright display and the fact we dont have to balance it on our knee or anything. Just what we needed for our guitars. .
Tuning to the Nth degree!
This tuner is all you need indoors or out! Easy to use and fits perfectly on my pedal board. My only 1/2 star downside is that sometimes electronic tuners can be TOO accurate. When I first used this tuner I caught myself "micro-tuning" to satisfy the dial. But when you hit that 'tuned' indication, brother you are in tune! Wouldn't trade this product for 10 others. Boss has this stuff figured out. Good Luck with yours!
Never do a gig without one!
Every guitar player should have a tuner in their pedal board. Period!!! You can't go wrong with a Boss tuner, or a TC PolyTuner, or even a Korg tuner. Doesn't matter which one as long as you a have a tuner. But for me I always fall back to the Boss TU pedals. Their TU-3 is one awesome pedal you can count on - well in this case, "step on." Ease of use, rugged, dependable, never lies to you... I love it!!
Good, but not the best
This tuner has always worked great. I used to have the Tu-2, and then a buddy of mine got the new TU-3. When we played shows it was great, except for one part. Anytime we were outside on a bright day it was impossible to read this thing.

I have switched over to get a peterson classic stomp now so that I can see it outside during shows, but otherwise this product is amazingly accurate and did a great job for many years at keeping me in tune.
Excellent
This is an excellent tuner with all the features you need. Highly recommended.
Great tool and a must to stay in tune!
Received this tuner and immediately began using it in line which was why I wanted it. No disconnecting or stopping for tuning, just step on the pad and you are off the amp line. Vision of tuner is easy to see for old eyes too!
Boss TU - 3 Tuner
Great pedal so far, great construction.
rugged but needs power
This reliable tuner/disconnect would get 5 stars if the package included a power unit. When things are plugged in to the input, it is "on" so the battery will run down if you leave it plugged in. I guess I could go find an aftermarket transformer, but I'm unsure what voltage to use. Boss needs to make this a plug-in power unit straight out of the box (without jacking up the price...transformers are inexpensive).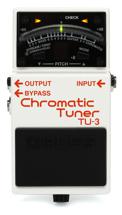 Guitar and Bass Tuner Pedal with High-Brightness Mode for Outdoor Visibility, 21-segment LED Meter, Drop Tuning Support, and Guitar/Bass Mode