Sweetwater Advice
The TLM 103 is nothing short of amazing and for the price, such an affordable way to get into the pro league. Once you have had the Neumann experience you will understand why these microphones are such an industry standard and sought after by many. From the moment that you open the elegant wooden Neumann box to the moment you put the TLM 103 to bed after a session, you'll notice that you have been smiling from ear to ear!
One of the best mics on the planet for the price! AND it's a Neumann! Super clean and super great on any musical instrument. Voices sound good on it, singing and voiceover. Many v.o. talents across the country swear by the TLM 103 and there's good reason - it sounds rich and full and compelling yet is relatively accurate and transparent as well!

Sort By Date
Sort By Rating
Customer Reviews
It's everything I hoped for
I been looking for the magic bullet of microphone's for quite sometime. The moment I tried this microphone I fell in love. The warmth is present, the high end is clean but not harsh and the voice is captured true and natural. The TLM 103 is well woth the investment.
Outstanding Mic!
Now I known what my studio has been missing...you should not record vocals without this mic.
The Truth
This mic IS THE TRUTH. I own a studio in Clifton NJ. I heard great reviews on the mic and I couldn't be any happier. I run it with a Focusrite Saffire Pro 40 mic pre and its clarity could almost bring a tear to your eye, well worth the money.
Needs Great Preamp!!!
I've been building a home recording studio, did the research, and was super excited to get my hands on this mic. I bought it and was EXTREMELY disappointed with its sound. My Shure SM57 sounded just as good if not better on vocals. Why? Because through low end to average preamps this thing sounds no better than a 57.

Months later I bought a Daking Mic Pre One and this mic literally transformed into a golden goddess of audio pleasure before my ears.

The TLM 103 NEEDS a good to great preamp to play with before it becomes useful at all (not quite true.. I still plug it into my Behringer Tube Pres from time to time for drum overheads = not bad).
The Magic Microphone
The TLM 103 is remarkable. I've used it on alto saxophone, upright bass, female vocals, male spoken word, a Steinway piano, an acoustic nylon string guitar, a clarinet, and a toy accordion. In every instance, the sound lept out in the mix with clarity and life. I often pair it with a UA Solo/610 Tube Pre for added warmth. What a killer combo. I LOVE this microphone!!
sounds great!!!!!!
had a couple of neumanns now(tlm 49 and the 103)i must say i like this 103 better for vocals sounds real good well at least on my voice
A MUST HAVE
this is a must have microphone, it sounds perfect, just like a very expensive tube mic. especially if u use it with a solo 610 tube pre amp from Universal Audio.
Amazing Mic!
Absolutely incredible sound. Be ready to be blown away by this mic. I use it for vocals and guitars, sound is incredible. I have owned mine for 5 years now and have not had one problem.
amazing mic
beyonce and justin timberlake use this. granted they have probably the best mic chain ever (neve pres, la-2a compression) but u can start with the same mic and created ur own awesome mic chain. just buy the mic.
Best Kept Secret!
I've owned my TLM for seven years and have used it on hundreds of acoustic guitar and vocal sessions. I also rely on David Royer's unparalleled Mojave Audio MA-200, AKG and Rode mics. I must say that I love Neumann, in particular the TLM-103. I find it fascinating how lower-priced gear can alter someone's objectivity. I advocate rejoicing at the luxury of this price and then let your ears be the judge. If it were four grand, everyone would be enthralled and impressed because it's a Neumann. It's amazing how the price can play with your head, yet this mic is not what I consider inexpensive simply because it's under a grand. It's a great mic. I'm proud to own one and am grateful that I got mine for less than a thousand. I feel proficient knowing that I've done so and try to place my efforts into talent and capturing the moment more than unnecessarily depleting my savings. I'm not George Martin producing Paul McCartney, but I sure have gotten some sweet recordings using the TLM and nobody knew the distinction until now. Go for it!
Bold & Beautiful
I'd been wanting to step up to an excellent condenser mic after many years of recording on a Shure SM7B. I love the Shure, but had been craving the increased detail and richness of a condenser--I do storytelling/narration, so I wanted something that would allow me to be more vocally adventurous.

I narrowed my choices to the 103, the TLM 49, and the Shure KSM 32. I'm fortunate enough to live close to B&H here in NYC, so I went to the store and demo'd all three. I went in expecting to like the TLM 49 the most, but ultimately found the 103 and the 32 to work much better for my voice--I am a somewhat tenor-y male. Both the 103 and the 32 provided much more clarity and detail for me, and in the end I decided to go with the 103 for it's superior richness and sparkle. Don't get me wrong, the 32 sounded great, but it just seemed boring and dull compared side-by-side with the 103.

I then ordered the mic from Sweetwater (can't say enough about their excellent customer service), and have been working with it the last few days paired with a Grace m101 pre. I continue to be thrilled with the specificity and detail I'm able to get out of the mic that simply wasn't there with the SM7B, and also find it to be extraordinarily versatile--it responds well to every EQ/compressor setting I've thrown at it. The central tonal quality is irrepressible.

My only note of caution would be to keep in mind that it's a hyper-sensitive mic, and while I'm satisfied with the recordings I've been able to make thus far, it really exposes any weaknesses in your room's set-up. Even in my office with the door shut on the sixth floor, I can hear the cat meowing two rooms away, the clink of a fork on a plate in the kitchen, and cars passing on the street below. That's actually a testament to the quality of the mic I suppose, but something to keep in mind before you spend the money.

All in all, I'm very pleased with this mic and look forward to continuing to master it.
Superior value
My go-to mic now for vocals. It's also quite sweet on acoustic guitar. Very warm and loves my Digitech VTP-1 preamp. The only reason it doesn't get five stars is the lack of a pad - although it's rated at 138 dB SPL.. I've heard others complain that the mids are harsh, but that's not been my experience at all.. I suspect it's their preamp/monitor set up. In any case, you get the Neumann name and sound for a very reasonable price. I'd buy another with no reservations.
Can Anyone Say "Versatile?"
I have had TLM 103 for about 7 years now, great mic. It will do just about anything well. Well worth the money. I think that any mic that would honestly earn 5 stars (if such thing exists) would cost many times more than the TLM 103.
Phenoms for the price... actually for any price.
The absolute only reason that these don't get a 5 is because they lack the 'industry standard' reputaton of the U87. These mics are amazing, I use a pair for drum overheads and then pull them down to use on guitar cabs! So versatile, so clean, just some solid Neumanns for a grand a piece!
If it sounds brittle and harsh then you're doing something wrong
Mic is great. If it sounds bad don't blame the Neumann. I work professionally in the recording industry and I've never been disappointed when I've thrown this mic on a vocal or instrument.
Great Mic!
Gearfolks poke fun at the TLM 103 and say it's like buying a huge diamond with poor clarity and color, but when you've spent $4k on a vintage mic, any legitimate competition from a sub-$1k piece will make you break out in hives. I've used this thing with fantastic success on a rapper with overly sibilant Ts and Ssses and on a nylon-stringed guitar with very dull strings. Ignore the jealous vintage guys and just get it. Incredibly versatile mic for the project studio owner!
Pro Mic - Great Value
I use a TLM 103 as our studio's announcer mic.
It's been heard on a slew of national broadcast commercials and radio programs for NPR, BBC and CBC.
Most recently featured on promos for Indiana Jones and will be heard opening the Indy 500 broadcast on ABC. Not the most expensive tool in the rack - but you never have to apologize for using a mic this good.
Yes, it's a Neumann...but don't let that fool you
I bought this mic thinking that I was FINALLY getting a THAT Neumann sound. Well, I was wrong. There are at least 10 other mics in this price range that absolutely clean the floor with this mic. It is harsh and brittle in the high end. Sounds incredibly thin on female vocals and barely usable on most vocals in general. Gritty and harsh on acoustic guitar, I sold mine 2 months after buying it. Disappointing.
not good
mic is too harsh or too bright..not good to capture the highs on anything..but mic under this price range sound way better than it....don't recommend it...
Love my TLM103
I have a matched pair of these microphones. As the recording engineer for the Huntsville Symphony I can attest to their wonderful sound. My best project so far was recording the 150 piece chorus on Carmina Burana. WOW! I used a pair or Schoeps on the orchestra and the TLMs on the chorus.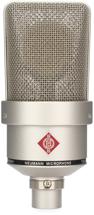 Large-diaphragm Cardioid Microphone in Wooden Jeweler's Box with 20Hz-20kHz Frequency Range