Sort By Date
Sort By Rating
Customer Reviews
Practical
It accomplishes the mission, perfectly.
A Blast! A must for any singer!
If you already sing good, this will give you unlimited effects. The presents are simple and already built. Start selecting them and have fun 10 minutes after you unpack it. VERY user friendly and instructions are simple – for such a complex processor. Some things you need to know: Get the optional 3 button switch here. Item ID: Switch3 – you will want one, and a small mic cord (12 inches) to go from the mic to this box, then a long one for the PA system. My SM58 mic works fine with it. It does not need a separate microphone amp. It has a small know on it to adjust output which is very handy. Get one now as the price is dropping and there's a new model (pre-ordering). I can't for the life of me understand how a new model could be any better.
My 12 year old set mine up and was using all the features in 10 mins – watch the videos on it here while you await shipment. The whole family loves sign through this – it's like magic. However, it's also well suited for a good singer to simply add some gentle effects to their voice – all at your fingertips.
I've started relying on Sweetwater – better salesmen (that care); excellent stock; excellent packaging of materials so everything always arrives without damage. This is now my "go to" music supply house.
Used With Nova Sysytem
I use with my Nova System. I use it to change presets and the Nova System switches to turn effects on and off. Gives me the best of preset and pedalboard mode. Solid metal construction. Does what it is supposed to do.
T.C. Helicon Switch-3
The Switch-3 makes my VoiceTouch Live even more wonderful.

Being able to switch harmony in and out, start and stop loops, and change the programing of each switch at will lets me play my guitar uninterrupted while getting the most out of my vocal processor.

I'm still exploring the default settings and the Switch-3 has already proven itself an absolute essential.
tc switch 3
excellent value and construction. works great
To control looping requirements of TC Helicon Voicelive 2 product.
Pretty simple device. Does exactly what its suppose to.
its does the job
It does the job but its some how heavy and the switches could have been better
Dinosaur
If you play solo this pedal makes alot of noise and you have to stomp on it real hard to push the buttons, TC-Helicon needs to make a soft touch pedal similar to the Digitech GNXFC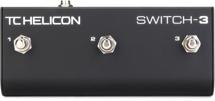 3-button Footswitch for Use with TC Electronic and TC-Helicon Gear