Sort By Date
Sort By Rating
Customer Reviews
Awesome Synth at an Awesome price!
This is a really awesome Bass synth! Solid Bass sounds for all genres of music, dub step, hip hop etc. Rob Papen really has some great synths, and always great prices too. Try Blue and Predator from Rob Papen too. You will not be disappointed .
40 hz love
I had high expectations for this. Predator is my go to synth and I could not be more pleased with dubboombass
Best Bass Sounds EVER!!!
SubBoomBass has a very huge library of bass sounds that can be modified and customized in any way possible. This Soft Plug in, has regular bass sounds, 808 bass sounds, rhythmic bass sounds, and much more. Definitely my go to Plug in for BASS!!!
Huge
Rob Papen is such a pimp. These presets are so money I've rarely even changed one. If the patch isn't suitable I just look for another one and I'm always able to find something huge. There are some incredibly deep, earth-rattling bass tones in this instrument. If you want huge bass get this. If you don't want huge bass consider yourself a square.
Great for Hip hop!
You can synthesize any urban low end from old school hiphop bass that sit well with you sampled drums, to modern day 50 - 55Hz thumping, distorted 808s on this thing. Better control than using 808 samples.
(I may have other choice vst's for Dubstep bass though)

Plus dont be afraid to tackle some leads with this thing too!
Not Bad for the Money
The interface is pretty user friendly and comes with a lot of awesome presets. It's worth the money.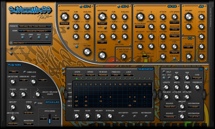 Virtual Bass Synthesizer with 16-step Sequencer and Tuned Drum Samples - Mac/PC - AU, RTAS, VST