Sort By Date
Sort By Rating
Customer Reviews
Deceptively Powerful
I got this as a birthday present in January 2013. I finally got a chance to dig into it. This is a very deep plugin that allows you to work with drum grooves in several different ways up to and including midi editing in your DAW. You can edit grooves in the slice mode, trigger with a midi controller in the groove mode, process with a huge effects rack, change the feel, pitch, and time signature, import REX files, easily assign parameters to control surfaces for automation, run in stereo or multi-timbral mode and process each drum or loop separately, and much more. If you own Omnisphere or Trilian there is more. Spectrasonics is a top shelf company. Their instructional videos on their site are helpful, the product has a complete manual and first and foremost, you can get meanigful help from actual English speaking, knowledgeable staff people. They're prompt and helpful. This is a great piece of software from a great company, with excellent customer service. It doesn't get any better than this.
WOW SPECTRASONICS STYLUS RULES!!!!!
I play guitar, trumpet, and keys........The Stylus Xpanded is flexible, intuitive, easy to use and sounds FANTASTIC.
I have Omnisphere and Trillian and with that arsenal you can create TOP FLIGHT , PRO music . The barrier for sonic perfection has been broken and Spectrasonics is the champion.....ALL their products are worth every penny....
Buy This!
I can't say enough about Spectrasonic's stuff. They'll take your music to another level. It's the real deal.
Amazing drum sounds even 6 years later!
RMX is a fairly old product by VST standards, but still ROCKS. For my money it still has some of the phattest drums out there, dripping with charisma and character. There are tons of inspiring loops which can easily be re-arranged to suit your own purposes, in addition to hundreds/thousands of one-shots, including fantastic metals and booms that are great for cinematic work. The majority of the drum sounds are of an electronic nature, though the expansion packs fill out the acoustic end of things. The FX are great as well, and the sounds are very tweakable, everything from filter/pitch/volume envelopes to the Chaos Designer.

All in all, even approaching $400 this is still pretty great value for the money. You can buy lots of mediocre loop/one-shot drum packs in the quest for phat drums and percussion, or get Stylus RMX and be happy!
How'd I ever work without it?
Eric Persing and the Spectrasonics designers always do an amazing job and Stylus is no exception. I originally bought the first Stylus classic back in my OS 9 days but in the transition to OS X it slipped through the cracks and I never upgraded it. A couple years later I finally upgraded to the RMX Xpanded version and I don't know why I ever went without it in the first place.
First of all the drum sounds are fantastic, very cinematic. Some are huge, some are middle-ground and others are clicky; there's something for any type of music you're working on.
Secondly it's VERY stable. In fact, it's the most stable instrument plug-in I own. Even with every slot filled, FX on some of the slots and aux's and the Chaos tool on (which is pretty sweet) it didn't choke or crash ProTools. I can honestly say I use this plug-in every day on both sound design and music; it's extremely flexible! When people ask me what are the main plug-ins I recommend and couldn't live without, Stylus is on the list.
Think or wait no longer. BUY IT!
Stylus RMX by itself was already a killer buy, but now with this Xpanded offer its simply too great to pass out! If you are looking for a drum and groove module for your music which covers a great spectrum of musical genres at that; its a no-brainer! Just get this Xpanded bundle!!
Best Groove Module Available!
I love the ease at which I am able to build loops, patterns, and grooves. I cannot believe I have been producing without it for so long. This is a definite "must have" for any serious producer/arranger/composer--no matter the genre!

The libraries sound great, and there are many note values in which the beats can be altered...Various time signatures, and a number of parameters that can be adjusted to your preference.

This is one of the best purchases that I have made.
Really Cool Effects but....
I really find this product to be amazing in its capabilities. I think Spectrasonic is way ahead of its time! But, I find that almost every single one of the sounds are outdated. They all seem bit-crushed, and seem lo quality. I love spectrasonic, so this is a very honest review. I own Omnisphere and Trillian, but Stylus sound bank sounds way to retro for me. Yeah you can import your own sounds, but only as a REX file! Which for me isn't worth buying the propeller head's software to do so. The file hierarchy is pretty poor as well. They are all filed by their names, which are just titles, no descriptive aspect to the drum sounds whatsover, for instance, the drum sounds will have names like, Florian, Rider, and so on. So you need to sample each and every one.

In conclusion, the effects in this software are amazing. You can drag and drop midi performances into just about every parameter to fit it's groove. But the sounds for me, are just awful. I have found useful sounds maybe 3 or 4 times. Hope this helps anyone who's looking to purchase it.

Also with this midi instrument, if you want to use the Multi aspect then you need to have an 8 multi timbral channel. So you have 8 tracks running one drum software.

I'd rather go somewhere else. This was probably mind blowing back in the early 2000's....
Stylus RMX
I bought Stylus Rmx and I was very disappointed. There was no sequencing at all, just loops. I want my money back. Stylus sucks!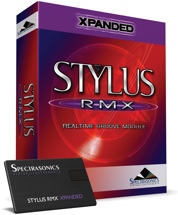 Groove Modules with Xpander Sample Libraries - PC/Mac RTAS, VST, AU