Sort By Date
Sort By Rating
Customer Reviews
The perfect hardtail strat
I've been playing for 38 years and have owned many strats including 5 ECs...I like to buy , trade and sell. But this Mexican Robert Cray has no flaws , the setup was perfect, and it sounds great through my Fender Blues Junior. The neck pocket is the best I've ever seen. The tuning keys work great...it really stays in tune. The wood on the neck is plain and I believe they dyed the fretboard darker, but it is functional and looks great. Its a keeper. The service was excellent too...they but on Earnie Ball .010s for me at no charge.
FENDER ROBERT CRAY STRAT
First of all, I would like to say that Sweetwater is the finest on-line music retailer in the US, hands down--their customer service is virtually second to none!!
On to the R Cray Strat--The first thing that impressed me is how well put together it is--The sunburst finish is perfect, as is the neck pocket, tuners, bridge, pickup layout and pickguard fit--I would describe the sound as a vintage 60's strat sound with more muscle and girth, owing in part to the bigger C shaped neck and jumbo frets--The radius, at 9.5", is very bend-friendly, unlike a lot of vintage inspired strats--The hardtail bridge is an uncommon feature on most strats, but the tonal difference, as opposed to a tremelo bridge, is considerable--It sounds punchier, more stable, in general, bigger--I have looked for a strat with these features for quite a while, and cannot recommend this one enough--It can easily cover virtually any kind of music, whether R and B, fusion, contemporary, blues, and the more modern genres of jazz music--
I played one of these around 4 years ago in southern california and wasn't able to purchase it then, but the memory of the R Cray stayed with me--When I saw it in the Sweetwater catalog, along with photos of the actual guitar, I knew I had to have it--
Great work, Fender!!
On a final note, it is made in Fender's Ensenada, Mexico facility, thereby making the cost very reasonable--And the Ensenada Fender's just keep getting better and better--Go and buy one!!!
Robert Cray Strat
I played a Robert Cray Strat today and could not believe how great it sounded. Don't let the fact that it is a Mexican Strat stop you from passing up
one of the best sounding strats Fender makes.
Yes it plays as good as a American Strat and because of the price difference it is a guitar that is affordable. I also have played a Gibson for the last
30 years and woul not feel limited if the Robert Cray strat was my only guitar on a gig.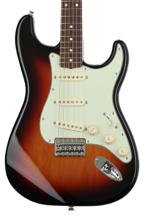 Solidbody Electric Guitar with Alder Body, Maple Neck, Rosewood Fingerboard, and Three Custom Vintage Strat Single-coil Pickups - 3-color Sunburst