Sort By Date
Sort By Rating
Customer Reviews
Dude just buy it!
Got this beast just before Christmas and have been having a great time with it ever since. It was set up right out-of-the-box just like the folks at Sweetwater said it would be. Great tone, feel and that awesome surf green. I have a 1974 Les Paul Custom and a Fender Telecaster B-Bender. Both are great guitars, but the Jeff Beck is my favorite.
Excellent
I've had the guitar for several days now, although it play extremely well I decided to replace the pickups with Fender Custom Shop Texas Special pickup set. This is not saying the pickups that come with this guitar are not good but not what I was looking for in a sound. IMHO if you are looking for a great guitar without alterations seriously consider this guitar. I do like the C shape neck also. Lastly I also own a American Classic Strat, couple both of these guitar together and there is not much you cannot do with them. Cudos to Fender, Jeff Beck and Sweetwater.
Outstanding Guitar
I was really not prepared to ever buy a guitar online: unseen, never played, without any type of demo whatsoever,

I've played guitar since I was in 6th grade--honestly played thousands of gigs--did the road thing for years--it's not my first rodeo.
I presently own an early 90's Beck Strat loaded with Lindy Fralin Real 54 pickups; however, I always had trouble living with the color--Purple. Having a few more Strats lying around--I thought I'd sell those and pick up another Beck. I love the features--you can use the whammy tastefully, and not worry about tuning!



I live just outside the Bay Area, in N Cali--I searched for a Beck Strat, none to be had--not close anyway. I wanted to play at least 5 or more. I gave up. Out of sheer frustration I decided to give Sweetwater a try--due to their outstanding reputation and service--it was my last hope.
Sweetwater did not have any Becks in stock--none coming for a few months; nevertheless, I placed my order. My sales engineer, Matt Kreager told me the tech would pick the nicest of the next shipment.

I cannot verify that happened; however, I did receive the best Strat I've ever owned. I've perhaps owned 10 Strats since I began playing. This one 'ain't goin' no where.'
Having been a professional musician for many, many years--did the road for far too long--I feel I can judge guitars really well. This Strat is the one. Unplugged, it rings and sings like a bird--beautiful tone. This guitar plays in tune up the neck better than any guitar I've ever played. Just amazes me! Plugged into a vintage blackface Deluxe Reverb--I have the full range of Strat tones that make the Strat an American icon. The hotter pickups are nice--turn down a bit and it cleans up well. They're not over the top distortion--just a nice midrange bump. Of course, its also quiet. I bought this guitar for a stage guitar more than anything .Often I need more crunch--more hair. Generally, I plug a Beck Strat or '52 AVRI Tele straight into a vintage Fender amp--due to low volume gigs or just the tune, at times I wouldn't have enough harmonic sustain to suit my tastes. This guitar overdrives the amp much better than my 50's style Fenders. Weight wise--she's a wee bit heavier than I hoped--nothing to whine about. My other Beck weighs more and its never been a problem.

I haven't tweeked the whammy yet--it goes up 1/2 a tone--l'd like to see it go a whole tone. On the other hand--I have no tuning problems. I love the locking tuners, the modern attributes are a plus for me. The 9.5 neck radius C shape neck is outstanding, the LSR roller nut and having taller frets than the vintage style Strats all add up to a gigging machine!
I can't say enough about how well my experience with Sweetwaters went. My new Beck meets and exceeds all my expectations. I wanted a gigging Strat that is versatile and not a "shred machine." This is it!

I'm not into the tweed cases--they get very shoddy looking fast, Nonetheless, it goes in storage. I don't like to open the case candy bag--I keep it intact with the receipt in the OHC. I did forget to order a new Levy's Signature Series leather strap for this jewel--I use a separate strap for all of my guitars, next order. Also, I keep the nice tweed case in the closet and use an ol' beater HC or a high quality gigbag.

Thanks for coming through in spades Sweetwater!
What a beauty!!! Honeymoon forever!!!
This instrument is a charm!!! I just got mine. It arrived on a friday and went straight to a really wild two gig weekend. No broken strings, perfect pitch, wonderful tone. The finishing is awesome, the tone's got all you'd expect from a GREAT strat ...
It blows away many higher priced Fenders. Harmonics come out wherever you touch the neck. It's unbelievable how many sounds you can pull out of this beauty.
I'm kinda old school about guitars. I have a Custom Les Paul and a 1966 Telecaster. I know what a good guitar is all about.
I really trust Sweetwater and my sales engineer Dan VanAmerongen so much ... They made me feel comfortable enough to buy a guitar ONLINE for the FIRST time.
Well, Fender and Jeff Beck together ... What can I do but trust it blind folded...
Thanks again, Dan. I can't stop playing it. It's honeymoon forever!!!!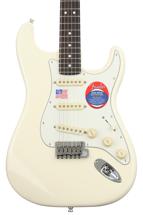 Solidbody Electric Guitar with Alder Body, Maple Neck, Rosewood Fingerboard, and Special Design Dual-coil Ceramic Noiseless Pickups - Olympic White