Sort By Date
Sort By Rating
Customer Reviews
Great Version of the Stratocaster
Looking for a great Strat? I've owned 3 EJ's, and still have the last one. Like all guitars, they each have there own great sound, but still in the same "ballpark". I was looking for a Fender with a PRSish W/F neck carve. Not too big, or super thin. Very comfy for my average hands. All EJ's seem to have some slight variations in the carve (like PRS), but slight V to full C is a great blend of 2 Fender classic shapes.
The guitar's all stay in tune with slight to medium Trem use, and thats real cool. Big 2 step bends seem to return to proper pitch as well.
The PUP's work great for my Blues/Rock/Hard Rock band... The bridge pickup is the best "Fender" bridge sound I've played. No need for Fralins, or some of the other makes.. Plenty of Quack as well, but not as much as some of the other RI's I've owned.
The neck tone is nice as well. Very good match with the bridge pup.
Nitro can be a pain to keep nice if you like super clean guitars. I like that the guitar "ages" the more I play it, and I do play it on stage 3-5 times a month. It's worth it to have the thin old school finnish. Ive kept them all %100 stock as EJ seems to have hit all the "little" details that make good strats great. I run 2 Fulltone OCD's into a 65 Amps London 18w combo. The EJ works great with my simple set-up, and they get a good variety of tones.
The only major issue Ive had is the first 2 EJ's had some slight sticky neck issues if I did not keep my hands clean (1 in 10 gigs). They seem to have improved the (neck)finnish on the current ones, and they feel "harder".
I've done 100's of gigs with the EJ's since they first came out and only one broken string! Some nights I do the whole night on 1 EJ!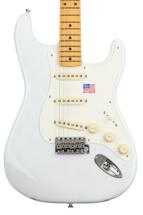 Solidbody Electric Guitar with Alder Body, Maple Neck, Maple Fingerboard, and Three Custom-wound Single-coil Pickups - White Blonde