Sort By Date
Sort By Rating
Customer Reviews
Superb twang with low noise
I love this guitar, but I should mention that I'm not using it with the standard neck. I added a custom Warmoth baritone Strat neck (a perfect fit) because Fender doesn't make a baritone Strat (grrrrr...), but that's the only difference. Otherwise the guitar is a standard, stock Deluxe Player's Strat.

I specifically chose the Deluxe Player's body because it has the push-button switch that gives the two pickup combinations that are missing with the standard 5-way Strat switch — namely, all three pickups, and the bridge and neck pickups...which happen to be two of the coolest sounds on the guitar. All three pickups is a great sound for rhythm or accompaniment guitar, and the bridge+neck combination is just fabulous for twang leads with lots of chime (especially on a baritone).

I also chose this guitar because of the Vintage Noisless™ pickups. They're not completely noiseless, but then no pickup is. Even a humbucker will pick up electromagnetic fields that are strong enough or close enough. But I have to say that these noiseless pickups are a huge improvement over standard single coil pickups, noise-wise.

The big surprise for me was the sound of the middle pickup. On my '63 "L" Strat, it's the single-pickup sound I use the least. On the Deluxe Player's Strat, it's the one I use the most. In fact, it's the best single-pickup sound I've ever heard on any Strat I've ever played.

Oh...and for those who care, the bridge is American-made, as are the pickups. The volume and tone control set-up is standard Strat configuration, and the pots all have a nice, smooth, even taper. I wanted this guitar specifically because I needed absolutely clean twang, and it delivers that, big-time.

The finish on the body is perfect, and the drilling and fit are good on the pickguard and rear vibrato bridge spring cover (...er, you do know it's NOT a "tremolo" bridge...right?). I have to use all 5 springs and adjust them for greater tension for the heavier baritone strings, but the guitar easily accommodates that set-up. There are no intonation problems, either. Hitting the whammy bar doesn't knock the guitar out of tune.

The Deluxe Player's Strat is an impressive guitar -- well-made, superb twang, and great sound at a great price. In fact, I'm thinking about getting a second one and just leaving it set up for standard tuning.
great guitar
great guitar, sounds like a single coil but without the hum also, it has a great neck feel. 600 bucks for a $2000 guitar
GREAT guitar
I bought this one used (BARELY used at that!) from a store after trying different strats (American, Mexican, whatever). I was going for overall tone and feel.
Now, maybe the fact that it was used, and someone took the time to set it up properly, had something to do with the feel and tone (and maybe the others I tried were new and NOT "broken-in" yet), but this guitar immediately became the standard by which all of the other strats were compared.
A couple of others were nice, but this one did all that I wanted it to, AND at FAR less money! I bought it and have been using it professionally for almost a year.
True, the gold hardware is wearing thin at the bridge where I palm-mute, and a little wear on the vibrato arm, but the rest looks great. BUT, I should point out that it wears very evenly and subtly, so it's more of a patina-smooth look than just the "gold coming off" look. It's actually kinda cool.
I play a very clean sound with deep reverb and a bit of delay...sort of a Jimmy Wilsey sound, if you will. I play through the clean side of an American-made Hot Rod Deluxe thru an Earthquaker Ghost Echo, a Boss DM-2 and a hint of amp reverb...and I play pretty loud. This guitar just SINGS!!! Lots of tonal variations and QUIET! I love the vintage noiseless pups)! The only thing I did was change strings to 10's and intonate it, and adjust the string height just a bit.
(3 color Sunburst with rosewood fingerboard)
So, especially for CLEAN playing, this guitar is a TEN...no, make that an ELEVEN!!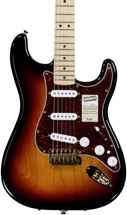 Solidbody Electric Guitar with Ash Body, Maple Neck and Fingerboard, and Three Vintage Noiseless Single-coil Pickups - 3-Color Sunburst