Sort By Date
Sort By Rating
Customer Reviews
Vox StomoLab IIG
I have got say this pedal gives all of the best sounds Vox has to offer! The Pedal works perfectivly! You will NOT be disappointed a must have! This pedal rocks!
StompLab IIG a great investment
Lots of good tones from this baby. Well built and looks much better than others I have seen. I would give it a 5 if the pedal was a little bigger, but overall you can't beat it. Great service from Sweetwater too!
Compact Very Usable Sounds
Never had a multi effects unit before and wanted one that would be compact to use with my pedals. The StompLab 2G is perfect for that. Also the ease of use was great. Within my first hour I had already programmed 3 presets that were easy to tweak. The expression pedal is a bit small but space was an issue so my size 13 Doc Marten may not like it but my pedal board does an it gets the job done. Effects are really good and I run 2 Vox AC15's and the modulation effects really shine in a stereo set up. Also dig some of the high gain sounds this makes even though I dont use them that much. Along with my pedals and the 2G my effects pallet has been expanded. I really like the option to plug in headphones for private playing so I can sit on my couch and play and not bother anybody. .
Liking it so far
I wanted something for open mics / vacations etc that I can stuff anywhere. This fits the bill, so far I have managed to get a few usable sound saved (usually I use a POD XT Live). Pretty straight forwards to use - the only time I looked at the manual was to read up on assigning the wah parameters and range. Very versatile sounds, and flexible pedal assignment. I am still wrestling with the amps / overdrive settings - seem a bit harsh, but I have a lot of models and combinations to try out.. It will certainly do what I bought it to do and at a very good price. Another plus is that I can use batteries - again really useful for open mic setups and travelling abroad.
Sure is Cute, but consider this before you buy
I bought this unit on a whim as something to use to practice at night.
The tiny expression pedal is pretty cute and actually more usable than expected. The metal chassis is not tank like, but sturdy enough. The tuner is easy to use, hook ups are easy. Drawbacks; the power button is tiny and requires you hold it in until the unit fully powers up, which isn't major, but more fussy than it should be.
I found the sounds more limited than most and the editing scheme makes the unit almost unusable for me. True it's reasonably priced, and if you like the stock sounds it may be a good investment.
Vox Stomplab IIG Modelling Effects Pedal User Review
So mine arrived a couple of days ago, and so far I have mixed feelings about it.
I guess the first thing to remember is that it's cheap, and as all things in life, you get what you pay for.
The presets aren't too bad, I've certainly heard a lot worse on more expensive pedals. Depending on your rig, I'm sure most of us would be looking to set up our own sounds pretty quickly.
There's very little unwanted noise too, which is a definite bonus compared to some of the stuff that Digitech or Behringer churn out.
Once again, I know it's cheap, but man this thing is small! The expression pedal is smaller than most mobile phones! In a live situation with limited stage space it might be handy, but anyone with adult size feet would need the grace of a ballerina to operate this.
It does not come with a power pack, once again a cost saving exercise I guess. And to put batteries in, you have to remove the back plate exposing all the inner workings, I certainly wouldn't want to be caught low on power during a live performance.
So, to summarise: Sounds pretty good and very inexpensive, but ergonomically impractical.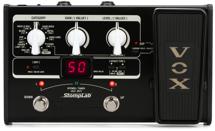 Guitar Effects Pedal with Modeled Amps and Effects, 100 Presets, and Expression Pedal