Sort By Date
Sort By Rating
Customer Reviews
Cool little pedal CHEAP!
Comes nicely packaged, four 2A batteries included. Any standard 9v adapter works too (I used one from an old zoom). Very simple to operate, manual only needed for ciphering LED readout. Check out the Vox website forum for a pdf a good soul has posted with the parameter list you can print out on one page-otherwise you have to flip to the end of the manual all the time.

the PDL stuff I haven't messed with much. Mostly stuff that would be useful with the other version. Wish they would have put in a way to plug your own expression pedal in to control some of these functions. They pedal on a unit this small is useless (no throw). Have not had a pedal with this cool little feature since my old 505, could use an insert cable and an old (non powered) full size volume pedal to control wah-wah, etc.

Amp/Drive section - Vox amps are named, others you gotta guess at (not too hard). I liked the low to med gain models and the 'AC-30 BM' model with the gain down.

Speaker section - 12 models go thru them all when starting a new sound.

Modulation - No mix control, will not be using this section. Mix set too high for me.

Delay - Mix control! Can set time and mix 3 presets for each type. Works fine for me. Sounds good.

Reverb - Sound fine, not gonna ever use em.

Noise Reduction - Did not mess with it.

Global - Output select (A2 has sounded best on my own patches, so far)
Master volume, turn it up.

Too many factory presets, too few user slots. Can't get a patch of each amp model. 20 is a measly amount of user presets.

Decent little unit for the price, took a bit of tweaking to get a sound I liked, but worth it.
Really Nice Pedal
I'm rating this pedal at its price point. For $70 this pedal is well worth it. I also bought a Zoom MS50G pedal earlier which I lke better because its easier to use (user friendly). But the Vox pedal seems to be more sturdy and the sounds are great. There are 20 locations for storing your own presets but it is not a "without manual" affair. A bonus is that you can use this pedal with headphones only if you wish.
Stomplab Effects
Very easy to use. I used to have a Large DigiTech Pedal Board and trying to find my sound on the board was a nightmare. Way to complicated for someone that is not sure what each setting is for. This stoplab you just plug and play. This box is perfect for the casual guitar player vey easy to use and produces a great sound.
LOVE THIS "LITTLE" PEDAL
GOT THIS JUST FOR BAND PRACTICE, PRETTY GOOD SOUNDING PEDAL, SOUNDED SO GOOD IN FACT I DECIDED TO USE IT ON A GIG . GIG WENT GREAT(PLUS LITTLE FOOT PRINT)
THE OTHER GUITAR WAS EMPRESSED ENOUGH TO ORDER ONE
& ASKED ME TO PROGRAM HIS LIKE MINE....DID IT. NOW I JUST ORDERED ANOTHER FOR PRACTICE SINCE I'M GOING TO BE USING 1st PEDAL FOR GIGS.......THATS IT
Great pedal
I couldn't believe my ears for this price. I had to plug into my line 6 hd500 to make sure I wasn't crazy. I am not saying you can't tweek the pod alot to get your sound, but this vox sounds great without tweaking.
I don't know exactly what amps they are supposed to emulate (they don't say). But the sounds of the amps and cabs sound awesome. And the effects are great too. No wonder Guitar Player raved about this pedal.
You can't tweak your sound like more expensive multieffects, but the sounds are great so you may not have to.
I plug it into a tube poweramp (spidervalve I power amp in).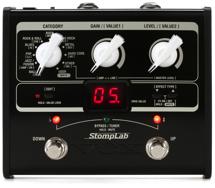 Guitar Effects Pedal with Modeled Amps and Effects, and 100 Presets