Sort By Date
Sort By Rating
Customer Reviews
loving it
this is by far the best pop filter I have use, it really does make a different, the S's and Pops sound so clearly now, I had another metal pop filter that came with my mxl genesis but wasn't big enough, but this Stedman really gets the job done,
do yourself a favor and just buy this, I still have another things to worry about in my studio, but the pop filter its no longer one of those things.
Like it so will I got one more
Like it so will I got one more . It Is made good and I like it .
Top Pop Filter
Nicely made works well and it looks good. Will hold up for a long time.
My pop filter
excellent for articulation and clarification when doing complicated, complex and multi-tempo lyrical compositions. Helps to cut way down on editing time.
Does what it is meant to do, and looks good doing it!
The Stedman Proscreen XL is a sturdy piece of elegance that every voice-over studio should have as an industry standard in professional sound reinforcement gear. I won't project a word without one!
Awesome screen!!!
This screen stays in place, is large enough to really work, and stops all the little bugging noises in the recorded vocals. We have used it so far on four people...3 males and 1 female, and everyone loves this screen.
What a clean sound and huge difference it makes!!!
Noticeably Better
I've A/B tested these against the "nylon stocking" type pop filters with several professional singers, and on playback every one of them was impressed with the clarity of the highs on these filters. We don't use any other pop filters now, just these.
Great pop filter!
Great filter, its washable with a long neck and a nylon tip on the stop to prevent stand marring. The metal screen is extremely effective at directing the air down and away from your mic capsule. I gave 4.5 stars because its a bit pricy, but I guess you get what you pay for.
Nice Pop Filter
Not much to be blown away about, but this is a definite improvement over the flimsy "panty hose" filters I have always used. Just tried this on a lark, but it really does work quite well.
Couldn't hear the difference at first but then...
I could hear the difference in the p's. The goosneck is very flexible and STAYS in place. I would have to adjust my prior pop filter numerous times throughout the session. This saved me time, in which saves me money.

I know the price is some what high for a pop filter, but you won't regret having this in your vocal booth.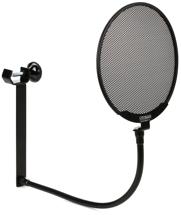 Pop Filter with 6" Diameter, 13" Gooseneck, and Nylon-tipped Clamp - Black