Sweetwater Advice
In my opinion, the Eventide Space Reverb Pedal is the best available. Buy quality, buy once, add more Eventide pedals to your rig... it's that simple.
Sort By Date
Sort By Rating
Customer Reviews
A+ Pedal
Eventide Space is:
- MIDI controller for your rig
- Chorus (mono)
- Flanger (mono)
- 1500 ms delay pedal (mono; digital or analog style repeats)
- Equalizer
- Tremolo
- Reverbs that sound like Synth
- Pitch Shifted Reverbs
- Traditional Reverbs (Hall, Plate, Room, Spring)
- Reverbs that sound like something out of a horror movie
- a few other trippy effects

This pedal has unnoticeable latency and does NOT suck tone like so many of the other digital processors out there.
Space Sounds Very Good!
Eventide Space is an excellent pedal. It has some of the most amazing presets and every one of them is very musical in its own right. Making adjustments on the fly is very easy to do with the knobs. I have not yet delved into the midi control functions so cannot comment on that. I will say that the footswitching function is a big improvement over the ModFactor which I purchased over a year ago. I plan on setting these two up together and making the Space master over the ModFactor.
The sounds this pedal produces are just fantastic. I was a bit apprehensive about spending this much money on a stomp box but after hearing how good it sounds I plan on using this as an insert in my protools rig as well.
Workhorse for the Final Frontier
How much room do you need? This little box is like the Weasleys' tent at the Quiddich World Cup. 12 magical algorithms that can contain a screaming genie in a bottle, to trekking around the universe at warp factor 9. The Hot Switch allows you to create an alternate universe of the same algorithm to switch between. Add an expression pedal to create varying degrees of control over the parameter settings of your choice. Easy...heel down, change the settings for one extreme..toe down, change the settings for the other extreme, SAVE & enjoy.

I put this in the loop of my Line 6 HD500 to avoid DSP limit issues. Use MIDI to make program changes. Like Tremoverb? Got it. Need a little chorus, distortion, omnipression, EQ or other creamy goo? Its here too. 100 presets to tweak and have at your disposal.
space reverb
I have tried many different reverb units and this was suggested to me by alan @ext 1339.This unit was the answer for a great sounding reverb that has total control with other effects that you might run.Hands down, its the last one you will purchase.
The Eventide SpaceFactor Reverb pedal has a very high performance/price ratio....
I was looking for a great reverb pedal, and the Eventide SpaceFactor Reverb (ET SFR) is it! This pedal's got the basic reverb types (room, hall, plate, spring) plus 8 other valuable types in which these other effects are mostly applied to the reverb component, not to the actual dry signal. I compared this pedal to the Nova Reverb pedal, which was an excellent pedal itself, but for the money, the ET SFR is by far the better buy. Further, it is a tweaker's delight, having 10 knobs to modify any of the 12 algorithms. It's a dream pedal for reverb effects. It possesses heavy-duty construction.

The only things I don't like about the ET SFR are [1] the cable connections on the back are bass-ackwards from the other pedals I've used (the I/O cables cross and aren't split apart where they don't cross, like on the BOSS RE-20 and RT-20 and most other pedals) and [2] many of the factory presets.

The documentation is adequate and informative and should be able to withstand a lot of use.
The Final Frontier
I'm an effects-junkie from way back (never mind how far back). This is a stompbox that rivals the quality and features of many rack mounted units...with all the excellent presets you'd expect from Eventide. You'll spend at least two days going through all of them, even more if you pop for an expression pedal. Truly, worth every penny. Great for guitar or bass...
So Much More then a Reverb Pedal
To call the Eventide Space a reverb pedal is a joke! This pedal can do so much more. The sound is fantastic, and the control and tweekability is second to none. As they say " You get what you pay for" and this is so true
with the Space pedal. Don't even think about it, just buy it!
Boldly Going Where No Pedal's Gone Before
This thing is just amazing! It does a lot more than reverb, too. Several modulation effects, delays, distortion, tremolo, and compression (based on Eventide's Omnipressor). The sound quality is excellent, as expected from all of Eventide's products and it doesn't seem to add any unexpected noise (it will amplify any existing noise when using the Reverb EQs to boost treble or at higher gain setting with the distortion).

Hall and Room reverbs sound very realistic. Spring nails the sound of any "real" spring I've tried to match it to (I've AB'd it with Fender Deluxe Reverb, Fender Reverb Unit, Mesa Mark IV, and Marshall DSL, so far, all dead-on accurate). Plate is really good, too. DualVerb allows me to run 2 reverbs at once (parallel or dual mono). Reverse is the best I've heard by far. ModEchoVerb is my favorite, so many sounds in that algorithm alone. BlackHole is amazing (none of the demos really capture its sound, at least not to my ears). MangleVerb (containing a distortion effect) and DynaVerb (containing the Omnipressor) are useful for creating strange textures. Shimmer is just beautiful... often imitated and overused, but perfectly implemented here.

I own all the Eventide Factor pedals and this one is the crowning jewel. It's the missing link in that system. MIDI implementation is great, allowing bi-directional control via MIDI CC. Adding a 3-way auxillary switch helps, and an expression pedal can be used to control any or all of the knob parameters. The Hot Switch can be programmed to switch between 2 settings of as many knobs as you wish, just like the expression pedal can.

Eventide really knocked this one out of the park! It's not harsh at all like so many digital reverbs can be. No matter how extreme the settings, it's always musical and very inspiring. It's so much better than my expectations (which were really high). I know it sounds cliche, but if I could only have one pedal, this would be it.

Finally, just wanted to say thanks again to Kurt and everyone at Sweetwater!
Eventide Space
First, a comment on the the Space... its really hard to challenge Eventide when it comes to reverb effects. The pedal has some of the best presets from the H8000 and Eclipse (100 in all). The controls allow the user to tweak the sound and actually offers a number of control parameters to get the sound you want. And I really appreciate the left and right outputs which is critical to any eventide gear. I like that it has the midi control as well.
Lastly, over many years of buying gear from Sweetwater, I cant stress enough how much I value having the same sales consultant working with me on every order. Mark Bruhn has been taking care of me all these years and I have come to actually think of the guy as if he were in my band!
A Big, Smeary Paintbrush for the Guitar
Let me start by saying this product will be most appreciated by sonic explorers, ambient musicians, composers, and those who seek more than an excellent spring or plate reverb. True, Space includes programs that cover more traditional reverb sounds very well. But, if that's all you are looking for there are other good products for less money that will leave you very satisfied.

No, Space shines when you want a reverb to function as an instrument itself, something organic that you can incorporate into your own sound. The sounds can be gorgeous, edgy, mysterious, vast, and evolving according to your needs. Space gives you plenty of knobs, pedal and control inputs with internal programmed features to make reverb into an art form instead of just a box at the end of the signal chain. If this kind of approach intrigues you, then Space is for you.
Great fun!
A real gas to play with. Run it in your pedalboard system or on your desktop – the only disappointing aspect of the Space is the "built in China" declaration on the bottom. Hence the spongy knobs? But even so, this baby really delivers!
A mixed bag
I was looking for another reverb unit mainly for processing vocals. I figured this would be a step up from my existing rack units as the brochure claims "studio-quality sound" and "drawn directly from Eventide's standard-setting rack units". Well after hours of comparing this to my Alesis Q2 and Lexicon MPX 100, I hear no difference in quality. Both those units mentioned cost considerably less than this and perform just as well.

However, I do like this pedal. It's fun, easy to tweak, and there are some decent sounds (if outer space is the tone you want). I would have liked this pedal more if there was just one tone that really stood out and had that wow factor. A sound that really came from a Eventide rack unit. Overall, a little pricey for what it does.
Disappointing
Ok, here is the Minority Report. I had high hopes. Not a single usable preset. The documentation is weak. Not only does it suck tone, but it isn't unity gain by default. It is eminently capable, no doubt, but I don't want to have to spend 100 hours learning how to get 3 usable effects out of the thing. For a few $$ more, you could have a state of the art boutique analog spring tank. If you want to play around and make noises out of a science fiction film--have fun--some of us are looking for practical tools to add a little spice to the process of making music.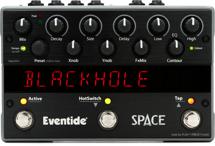 Reverb Multi-effects Pedal with 12 Reverb Combo Algorithms, Mono/Stereo Operation, Guitar and Line-levle Inputs, and MIDI Control