Sweetwater Advice
The Blue Microphone Snowball really packs a punch! All the clarity and versatility of a studio quality condenser mic meets the versatility and ease of use of a portable recorder. The multiple recording patterns are great for podcasting or full room recordings, and the USB interface makes the Snowball ready for any situation you can throw at it. I was blown away by the quality and versatility of this microhpone - it redefines what a USB microphone is capable of.
Sort By Date
Sort By Rating
Customer Reviews
Clarity!
The Snowball gives great results for recording videos and for live webinars! I love it!
Works with Vista!!!
I just got my Snowball in the mail last week (5/28/09). It works with Vista...they have fixed the problems. In fact this Snowball works better than an older one I used with XP. It does such a great job for so little money.
Great Mic!
Wow, i was just amazed with this microphone, combined with the service of Sweetwater.

The BLUE Snowball has great quality for voice recording and guitar, i used it nonstop the first night.

This was my first time using Sweetwater, and i ordered the Snowball. I even got a 500 pg catalog and some candy in the box ;)
Snowball is just cool
I just received my Snowball and am just amazed. Here is a low cost, high quality microphone just perfect for voice overs and other recording with Garage Band, SoundTrack Pro, iMovie, etc. It is true that I needed to put the input volume all the way up on my Mac, but there is plenty of dynamic range available.

We just recorded some Hallowe'en sound effects in Garage Band and the results are terrific. The Snowball just plugs in a works. I'm pleased that a proper USB cable and the nifty tripod are included now.

My usual recording environment is ProTools TDM Mix 24+ with a variety of high quality microphones (Rode, Shure, Neumann, AKG, Beyer et al), but now for simple stuff or even single mic remotes, I'll use the Snowball and.

It's just cool.
Excellent Piece of Hadware
All I can say for this product is... wow.

I'll be honest, it works EXTREMELY well. Plug and Play this definitely is. The sound quality is leaps and bounds above what I expected out of a product in it's price range. The additional cardioid and omnidirectional modes were also fairly useful.

I only really have two gripes. First, the included cable could be longer - I would imagine it to be fairly difficult to use a full sized microphone stand with it. Second, the desk tripod could stand to have a bit more height to it. But of course, this all amounts to nitpicking.

Overall, this is probably the best thing I've purchased in a while. The service from Sweetwater was excellent, the product is excellent, and it even shipped earlier than expected! (I'd be forgetful if I didn't include the candy that was in the box.)

All in all, a worthwhile purchase. Pleasure doing business, I'm definitely a patron now.
Great Kid Mic For YouTube
I'd highly recommend this snowball mic and a point and shoot hd camera for kids who want to get into youtube videos and commentary. The package would only cost around 200 bucks for great video quality and audio quality. I'm a 25 year old man and have used 500 dollar mics and equally expensive fancy DSLR cameras with results that could have been achieved at a much lower cost for youtube. the blue snowball is definitely not a studio mic and is borderline quality of expensive headset mics with how bright and harsh it is. It gets the job done and I know of a lot of serious grown men adults who use the setup I just recommended. No complaints from anyone. I should have done this. I've downgraded from a dslr to a point and shoot but I still use expensive mics. In all honesty for what I do the blue snowball would have saved me a lot of money. I had too much money and not enough brains.
Perfect for beginners
As someone who has zero experience with audio this microphone was a godsend. I just plugged it into my computer and started recording with only minor tweaks to the levels. It's been well worth the money and made voice actor audio quality one less thing I need to worry about on a project.
Great Purchase
Great mic and I'm very happy with it overall. I do a lot of recording on my PC and it's really easy to get a good mix with this mic plus the ease of plug and play is even better. With all the demands on my USB hub I can just unplug it when not in use and plug it back in when I'm ready to record. Sound quality is very good, clean, clear and picks up on the nuances in my playing. Bass response is pretty good but probably could have been a bit better but that's just how I hear it. Blue makes outstanding mics and this one is no exception.
It works with Vista!
It works with Vista now. I have vista, I have the Snowball, it works fine!
Worked right out of the box...
I needed an affordable mic to lay down voice overs for TV at home and on the road. Sweetwater suggested the Snowball to run right into my Mac Book Pro. I set the line in level as talked about here. Set the mic in posistion one, worked up close and boom! Audio on an MP4 emailed to my producer and she was thrilled! Great audio quality right on her flash drive straight into Final Cut. Got it over night just as promised. Happy camper here.
well hey.............I like it!!!
The mic seemed to have some gain issues when I first got it. But after setting the gain levels properly via the info included in the package and their website,everything worked fine. I've recorded lead vocals that sounded pretty good. I,ve had to adjust the levels AFTER i recorded them, but still it sounds good.
NOT FOR VISTA!!!!
The sound quality of this mic is actually quite good, however, I am a vista user and Blue has not released a snowball driver, I've used it on a mac and an xp machine and it worked just fine
A Great Mic for the PRICE
I have been using this mic since 2005, and I have been impressed with what I have had too this day. The Vocal production of this mic is great for the price, and the look is Astonishing! Every Client I've had drops there jaw when they see the mic.

I do recommend only vocals because it does not pick up bass or guitar frequencies that well.

As far as noise the mic does pick almost everything, so you do need a good environment. I have the sE reflection filter also which helps out with that aspect.

For the clearest vocals make sure you turn down the mic volume in your computer before recording it helps out alot..just use a vocal compressor program to bring it back up.

I just bought the Rode NT1-A and have yet to use it, but when i do i will tell you what i think about that mic.
Avalanche
This mic has some serious distortion at setting one which is uspposedly for regular vocals. setting 2 is just too low for vocals and if you shout no matter the input level it will distort. as for 3 it picks up everything so using it for clos eup vocals is bad cuz it even picks up sound when you blink.

i hope this is just a faulty one and will be replaced with one that works, but a similar complaint on this site makes me doubt it.

also for people who sing on beat it records ya vocals delayed and there is no monitoring.

i feel seriously let down.

:(
Steve
from Portland, ME
April 19, 2006
Great Mic!
I've had the Snowball for a few months now and I'm amazed at how good it sounds. I've used it to record my band and a friends band as well. For vocals it gives you a clean and crisp signal that naturally brings the vocals to the front of the mix. I often times find myself using the Snowball to record things over more expensive mics I own, because it's so easy and convenient to use. I leave it on my computer desk and when I want record I plug it in and I'm done, there's no fussing around with big mic stands and XLR cables. It's simple, it sounds fantastic and it's inexpensive. What more could you want from a mic?
Anonymous
April 18, 2006
GOOD IDEA. NOT SO GOOD MIC?
THE CAPSULE DISTORTED ON ALL BUT WHISPER QUIET SOURCES NO MATTER WHAT INPUT ATTENUATION SETTING OR INPUT GAIN SETTING. MAYBE A QUALITY CONTROL ISSUE? IT SEEMED TO BE OF SUBSTANTIAL CONSTRUCTION.
I MIGHT HAVE THE ONLY ONE OF A THOUSAND THAT DID THIS. I RETURNED THIS ITEM THE NEXT DAY. SWEETWATER SERVICE WAS EXCELLENT.
Donald shott
from Jacksonville, FL USA
December 1, 2005
Perfectly designed with the consumer in mind!
I bought this mic when I first got into DAW based recording a few months ago. I was expecting a USB Mic to not stand up to a proffessional studio's sound, but it turns out this thing is amazing. If you're starting out with recording, or DAW based recording, this mic is a wonderful way to experiment with things before you go out and buy an expensive interface. Props to Blue for coming up with something inexpensive, and comparable to studio mics twice the price.

It's also great when on the road with a laptop. When an melody pops in your head, or you don't want to have to walk out the door and forget a catchy lick you just thought up, you can easily scratch track it without having to mess with interfaces, and powering up equiptment.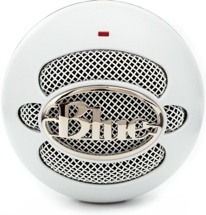 Condenser USB Microphone with Cardioid and Omnidirectional Pickup Patterns, 10dB Pad, and Included Stand and Cable - White