Sort By Date
Sort By Rating
Customer Reviews
QUALITY PRODUCT!!!!!!!! AMAZING SOUND!!
This was purchased by myself as a gift for my husband, who happens to write, produce and performs his own music. He was amazed at the quality and absolutely loves the set!! You are getting very high quality equipment as well as the customer service on this website is outstanding, which was what made me so happy as well! THANK YOU SWEETWATER
Awesome Bundle!
You're really buying an awesome audio interface and getting headphones, microphone and cable as a bonus.

I was using USB condenser mics before I bought this bundle and WOW!!!! The CM-25 really brought out the midrange in the vocals allowing them to sit perfectly in the mix. The interface has direct monitoring allowing you to hear exactly what is going into your DAW. The halo light really helps get the gain settings right on as it lights red when clipping and turning the gain down until it no longer turns red is as simple as it gets.

Overall, if you're looking for a starter interface that sounds awesome and don't need lots of connections for routing, I highly recommend picking one of these up.
Awesome
This product is great for starting out because it still give awesome claritiy. I use this to record vocals and they are very clear and crisp, and with reducing the natrual vocal bass. Very easy to set up and very low latency. As for the headphones they have a great sound but I would not recomend for mixing ans mastering. work great for the musican to listen to instrumental while laying down vocals. For the price you would have to be a fool not to try in you are in the market for a audio interface.
Great starter
This is a great product for the home studio musician who has absolutely nothing to record with. I am personally blown away by the scarlett interface. The preamps in that thing offer some amazing sound.

The microphone captures some great sound as well. I have primarily used it as a vocal mic thus far because it has a very warm response up close.

The headphones are fairly impressive as well. They have a very flat response and have a frequency range of 10hz to 30Khz so you're gonna catch the full spectrum. One little drawback to the headphones is that they actually do bleed a fair amount of sound out of the (closed) back.

The software is pretty bare bones but it is a great place to start and it allows you to capture sound with some minor audio editing capabilities.

Overall I am very impressed with this package.
Great starter interface!
If you are new to the game, this bundle is the way to go. You'll be amazed at how much you get for your buck. This in my opinion is the most affordable way to go if you are a beginner, with still having quite decent equipment.
PROS: The microphone is sensational! The Focusrite 2i2 is a pretty good little machine and warns you of your levels, so that's a major plus. Cubase LE 6 is a pretty darn good program, especially for a beginner artist. It'll have all you need and maybe even more.

CONS: The drivers on the 2i2 are horrible! It took me ages to get the thing up and going. The product is great, the drivers, not so much. Cubase LE 6 is a bit limiting when it comes to recording, but if you're a beginner it'll be perfect for you. Lastly, I was not very impressed with the headphones. They are to quiet, but they sound pretty good.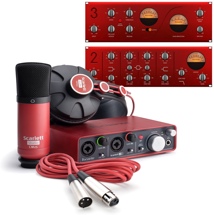 USB 2.0 Audio Interface, 2-in/2-out, with 2 Mic/Instrument Preamps, 24-bit/96kHz, Scarlett Plug-in Suite, Condenser Mic, Headphones, and Cubase LE 6