Sweetwater Advice
I was a classical guitar player and cut off my nails because of this instrument! I LOVE this bass! Just look at it: the grain and the finish, its understated class. The pickups are pretty hot and the tone circuit is great. The neck is pretty small and is really easy to get around on. Loads of different tones come out from dark and dubby to growly and aggressive. I highly recommend getting the Ibanez SR600... and make sure to get a case or gig bag while you're at it!
Sort By Date
Sort By Rating
Customer Reviews
I love my Ibanez SR600!
I just started playing bass this year, and play at church for our worship team. I wanted a bass that would be better than an economy beginner, but did not have the money to pay $1000+. This guitar is great for the money, and I have a lot of people comment on what great sound it has. Our lead guitar player says it "growls" like a bass should! I love the thinner neck, as I am female (smaller hands than most guys) and have arthritis, so this works very well for me. I also like that it is not as heavy as some guitars. It came ready-to-go from Sweetwater! They helped me pick out the right case,stand and accessories, but did not try to oversell me something I did not need. I also get lots of compliments on how nice the guitar looks. I really like the wood grain and that it is not a glossy finish (though some people prefer a glossy finish). I recommend this to anyone who wants a handsome, well built, great sounding guitar without spending thousands!
Great Bass
Having been a keyboardist and guitar player for years, I thought I'd like to try to learn bass as well. A salesman at my local music store told me his favorite is the Ibanez sr-500. This being after I had looked at an American made Fender Jazz. Well, I had read some negative reviews on the 500 in that the wood easily chips, shows wear, etc. I upgraded to the 600 and couldn't be more pleased. The bass came setup pretty well from Sweetwater, althought I tweaked the truss rod, action, and intonation to suit my needs. I love the variety of tones that can be achieved with this instrument. It plays great and has a good finish. I have mine paired with the Ampeg BA115 amp. I would recommend this bass to anyone looking to get into bass playing or even for experienced bassists.
Ibanez SR600
Couldn't be more pleased with my purchase from Sweetwater. The guitar is a joy to play , great neck, well put together, sounds great with Jazz 77s.The most oustanding thing about the purchase was the service after the sale. I had a small issue with the guitar as shipped and sweetwater ( Robert, Marty, thanks again ) quickly cleared it up. Quite refreshing in this day and age. I would give more stars if possible.
extremely happy with my sexy new bass
played it fo over a month and sometimes i just don't want to set it down. in addition to just being great looking, it is the best balanced bass i've ever played.

and i can't say enough about sweetwater and their personal attention. would that all businesses were run as well.
Tone machine!!!
I was very satisfied with this bass when I received it..I looked and made sure there was no major aesthetic issues. It came set up perfect. I later plugged it in and the tones that came from was amazing..it already sounds good without an amp because the woods are very resonant...I play a lot of jazz,funk,gospel,and neo soul and this bass does the job. The combination of the eq and pickups and weight makes this bass highly playable and efficient without the sacrifice of your tone..For the price the sr600 is well worth the money
Ibanez sr600
For the price this thing is great.Sure blows away my old Gibson G3.
The tone choices .The feel.The looks.the weight are unreal.
This guitar should be worth a lot more.
Great Bass, Great Service
This is an amazing bass! My first two basses were a Fender and a Squier (one acoustic, one electric), and my six-string is a Fender as well. That being said, I felt like going out on a limb and ordering something different...I'm glad I did!

This bass is phenomenal! It's my first active bass (has the active preamp) and I really enjoy the Bass/Mid/Treble controls, as well as the Pickup Blend function. You're able to get a lot of versatile sounds out of the bass, which is a plus for people who play several different styles (like me). I can't say enough about the neck either; my Kingman has a "slim" Jazz neck that feels downright chunky in comparison to the SR600! The satin finish is also a plus, as it makes playing very comfortable.

Sweetwater was a joy to work with (my first time working with them), and their techs sent the bass out with a perfect setup!

Like I said, great bass, great service!
Great Tone,... But A Few Issues
The tonal possibilities are endless, the look and feel are great. The only issue I had with it is the knobs are all up in your way. Picking for about two minutes I realized my volume was about half of what I started with. Volume knob was getting turned as I was playing, for it's about an inch from the G string. Also the knobs don't allow your fingers a place to go when palm muting. Just need another 1 1/2" of space to work with. This is the only bass I've ever seen like this. It is a trade for the tone you get from it. Still no regrets. Also, if you are a fan of ample treble in your bass tone, the sr600's treble knob will almost shatter your teeth if you want it to.
Loving It
The only reason this doesn't get a five star is because that one means blown away. I love this bass and get lost in players bliss every time I pick it up. Being able to choose my bass with Sweetwater's excellent service made buying online a personal experience. I have to admit, slightly easier access to the 24th fret is the only thing I have missed with this bass on those few times my playing trance has taken me up there. If I ever get another top line bass. it will be something for me to keep in mind.
The sound and control of it are very easy with this bass. As for playability, it lamost plays it self. I am delighted with my purchase.
The guitar came set up by the team at Sweetwater, which gets 5 stars form me. The customer service by Wayne is first rate. Sweetwater blows me away.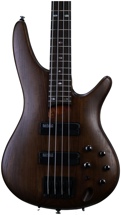 4-string Bass Guitar with Light Ash Body, Jatoba/Bubinga Neck, Rosewood Fingerboard, and Two Humbucking Pickups - Walnut Flat