Sweetwater Advice
Ibanez has discovered the magical 'price to performance' ratio in the SR506. The Bartolini pickups and active electronics allow for a depth of tonality that is unheard of in basses in this price point. The mahogany body is rock-solid, but light enough for long gigs. You would expect a 6-string to be difficult to play, but the beautifully shaped neck is comfortable enough to dig deep without having to ruin your hands. If you want a solid 6-string that sounds great, plays great, and won't break the bank, this is the one.
Sort By Date
Sort By Rating
Customer Reviews
"Best High End Bass for a Lil Money"
I have owned and played one for the last 5 years. No regrets, no problems. The Bartolini Pups are GREAT!! You can dial in any sound you want. I own Tobias, Yamaha, Schecter, G & L, and Ibanez Basses. As a matter of fact, I own two of this same model. I manage and play for a R & B, FUNK, and Jazz in a 12 piece active band. I'm a 57 yr. old active musician and educator. Depending on what you are looking for in a bass, you can't go wrong with this one. You can dial in the same sounds as any $5000 bass in my opinion and I have owned and played other major brands than the ones I currently own. Play one and see what you think. Your desires may be different from mine, but to each his own. We have several bass players on our group and they all love the feel of the neck, the voicing and sounds of this Ibanez..
GREAT AXE FOR THE MONEY
I have owned this model for 2 years. Best $630 six-string I've ever seen. I play mainly classical bass guitar. This instrument is very playable and light weight. Electronics are solid and allows for tons of tweaking. A good setup was key. Read the directions make all measurement accurately and by all means use a strobe. Your reward will be a fast, smooth, and clean (no frett buzz) playing instrument. Weather playing the most complicated Bach or the simplest blues this instrument represents hard. I am currently looking to purchase two more for different tunings.
Great bass.
I've been playing bass for five years now, and am currently majoring in musical performance. I was the recent recipient of this bass as a Christmas gift(The buyer, my mother bought it off this site according to her). I feel that while I've only had this bass for a very short time, I feel that aside from long term issues this bass might have, I can give a good review off of my first impressions.

I'll start off with sound. Very versatile. I use a Hartke 410 Bass cabinet with a Hartke 2000 head. Its very easy to dial in whatever sound you want, and it all sounds very good. I can imagine using this bass for any style of music. Great deep tones, for jazz / hip hop. Nice meaty mid range front pick up tones, that will work great for standard rock and punk. Mid pick up is nice and crisp, great for slap tones. The crispness works well for metal as well. The rear pick is less corky sounding than I expected it too. I personally haven't decided if this is a good or bad thing as of yet. The strings have a great balance in volume. Its a fairly punchy sounding bass. Everything is well defined sound wise. It also shipped fully intonated, which is nice. There is some minor fret buzz issues on the D string, however.

This is easily the best Extended Range bass I've played. The action is quite low, and fast. The neck is very thin and fast playing. Transitioning from Four string to this didn't feel like that much of a hurdle because of how easy it is to play. The high frets are perfectly accessible. They playability is probably the best thing about this thing. I feel its just that good.


Cosmetically, this bass is kind of bland. Not important to most but I do think it warrants a mention. I looks fine, the mahogany looks good, and the hardware looks fine and uniform with everything. I do wish it had a bound fretboard and some other cosmetic frills. I suppose to get an instrument that plays and sounds like this at this price you have to make some sacrifices.

I do wish I could comment on the short and long term durability of this bass. Every single one of my Ibanez basses have had to have their wiring fixed at some point and time (Usually just after the first year, they work fine after that), so I'm a little worried about that regard. It certainly feels solid, though others comment on the soft wood body wears down rather easily.

The only real complaint I have is that there are some fret buzz issues on the D string. I also dislike the strings it was shipped with(Elixers I believe).

This isn't just "a great bass for the money". Its a great bass. If you're looking for to move from four or five string to six, I would really recommend this bass to you. Great tones, great playability, great bass.
SR506
I have been playn bass for over 3 years now and by far this is the best I have played for such an incrdible price. any other six string in its league comes close. Great quality, the feel, sound (damn those pickups and eq are crazy)and its nice and balanced. I got this for churchn hooked up to an 18" and a gallien kruger i rok the house with this thing. Get it than youll know that im talking about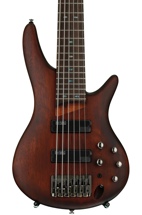 6-string Electric Bass with Mahogany Body, 5-piece Jabota/Bubinga Neck, Rosewood Fingerboard, and Bartolini Pickups - Brown Mahogany