Sweetwater Advice
I LOVE this thing! I wanted to add a 5-string to my arsenal, and I can't put
it down. It plays so smoothly and feels great. The Bartolini pick ups give it
a broad tone range. It is so good it has become my main bass. Exceptional
value for any level player.

Sort By Date
Sort By Rating
Customer Reviews
great bass!
For the price..solid deal and a great sound! Even better with the Ibanez 18 month no interest deal on right now too
SR505
DUDE! Just got this baby and jammed with the boys for a good four hours. The tone is fantastic with good range. Worked well with rock, country and the songs we wrote ourselves. Thanks to Mike at sweetwater, I got a gigin bass for a lifetime! Thanks bro!
Great playing and great sounding bass at this price ...
After being away from music for several years, I recently bought this inexpensive Ibanez bass thinking that I would try to get back into it and if I did, I could always pick up a better bass along the way. Well, after plugging this baby in and playing it extensively, I am so overwhelmed at the quality and the sound and the ease of play, that I'm not sure I need a more expensive bass guitar. Instead, after looking extensively for an adequate bass amplifier to handle the low end Hertz of a of 5-string, I decided to put the money into a pair of powered 400 watt JBL subwoofers instead. I discovered that most bass amplifiers only provide a low end frequency response of around 45 Hz to 50 Hz. The low E string on the 4-string bass vibrates at 41.2 Hz and the low B string on the 5-string is right at 30.87 Hz. So, even though you will still hear those two strings you are really testing your speakers and the sound you get will be more like a thud than a clearly distinguishable note. No wonder it's hard to tell when those 2 strings are in tune. But, my JBL ES250P subwoofers are providing a frequency response of 25 Hz allowing me to tune that B string down to an A (27.5 Hz) and still have adequate head room (or bottom room as the case may be) which results in one of those bass sounds that you feel and that seems to just spill out into and surround the people on the dance floor. And I can clearly hear all those beautiful sounding low notes coming out by my Ibanez bass and I can tell that it's still in perfect tune. If you select this bass, and support it with adequate amplification, you are going to get a lot of comments on the great sound your putting out from the other bass players in the crowd.
AWESOME TONE
This is the FIRST product review I've ever written, mainly because this is such an awesome deal. I played about 40 basses before I bought this one, from $500 to $1000, and this easily blew them all away. Great clean, punchy tone, and great neck. At several gigs I've had other musicians tell me that I have the best live bass tone they've ever heard (running straight into a Fender Bassman 2-10). I'm not here to sell basses, but if you plan on spending less than a grand (or more?), try one of these babies out!
Best Bass Under a Grand
I never give 5 stars to anything, but this bass deserves all of them. Something about the combination of the tonewoods and the Bartolinis in this thing combine to make it a killer instrument.

The first thing I noticed when I played it is how well the strings resonated through the body. That resonance is translated by the pickups as a warm, "woody" sound.

The funny thing is that I bought this bass for the smaller neck and not the sound. Even after I bought my MusicMan Bongo, I kept this around for its wonderful tone.

Turn the volume up and set everything else at the center detent and you will be good to go.
Guitar players looking for a bass?
STEAL THIS BASS
Do you play guitar, do studio work, &/or play live?
Do you want a great bass with tons of tone control & playability & not have to break the bank to get it?
This model is a great start.... As a guitar player, studio/live performer,,, the first thing I needed was playability & tone control.....
In short folks,,, if you're in the same boat, don't hesitate to drop the 7 bills for this sweet piece of gear... I say go out & do your homework,,, you have to find what's best for you of course,,, but make sure you check this bass out last before buying.... She's a fantastic mid-road bass for beginners or for seasoned players...A great bass for guitar players looking to expand, she's wonderfully comfortable & easy to get used to,,, well balanced, fantastic tone control, with a fast comfortable, smooth neck...
Scale & modes are a breeze when you get used to the fret spacing...
So if you're in the market for a sweet addition to your gear,,, look no further,,, she's a quality investment....

& make sure you talk to Jared here at Sweetwater for further details & a great deal....
I,,, for one, am very happy with the Ibanez SR505 5-string Jared hooked me up with....
Thanks to Jared & the other Gents at Sweetwater!
SR 505
This is my second Ibanez SR 505 actually. They are good basses, but do have some issues I would love to see worked out. The frets were pretty good, but a couple high ones keep this bass from it full potential, this being said no company sends mass produced instruments out with perfect frets. The electrics are improved with the mid cut switch, but are noisy, especially when the treble boost is set above flat. The big thing that is bothering me is how soft the body is, also contributing to its lightness (7.8lbs) and a big reason I wanted this bass. The front strap screw has needed tightening 3-4 times in a month of having the bass, not good as it feels like it keeps loosening, I am worried it might fail during a gig. Now I really like the bass, but with theses issues I find it hard to give it 4-5 stars, but if theses issues were not here that needed attention it would get 5 easily, so if you want to spend a little on fret work and some shielding of the electronics, you will have a bass that plays and sounds amazing.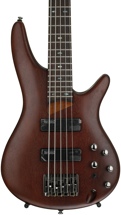 5-string Electric Bass with Mahogany Body, 5-piece Jabota/Bubinga Neck, Rosewood Fingerboard, and Bartolini Pickups - Brown Mahogany