Sweetwater Advice
This is a great addition for any drummer looking to incorporate electronic drums into their acoustic kit. It takes everything that was great about its predecessor, the SPDS, and improves upon it. You get more memory, increased USB functionality, better display, and great feeling pads. Roland had a winner with the SPDS, and the new SPDSX is even better!
Sort By Date
Sort By Rating
Customer Reviews
so much fun
so much cool stuff to do with this. your own samples and then easy transfer makes creating unique and cool sounds a breeze. the effects really turn it up for the live game.
Awesome Drum Pad
I bought the SPD-SX as an upgrade for an older SPD-S. I've used a drum pad as part of my live kit for at least seven years and I went with the SPD pads because I absolutely have to have the ability to load my own samples. So far the SPD-SX is performing great. The pads do have a slightly spongier feel than the SPD-S, but It didn't take too long to get used to. I really like the ease of the metronome feature and the expanded size of the sample memory. It's easy to program, and the sample management software (Mac & PC Compatible) makes it a snap to get your own sounds loaded into the unit and assigned to the pads of your choice. I knocked off a half a star because of the power cord. I'm just not a fan "lump-in-the-line" power cords. Overall though the unit is everything I expected.
Easy to use and can sample any sound bytes
I use this as an accessory to my V Drums for live shows. This is the missing link. The only reason I didn't give this a five star rating is the controls are near the playing surface, which is a little intimidating if you're playing hard and want to strike a sample to play, I usually assign them to the top row so I strike with the side of the stick to play. I also purchased the MIDI cable to connect my Roland TD-10 and can play the sampled bytes by striking a V Drum pad or rim. (I'm surprised their isn't a shatterproof cover that folds down over the controls, one bad hit and it would be game over).
Great
I just received my SPD-SX and I am very pleased out of the box. The onboard sounds are great and the sampling capability should meet most player/composer needs. It is light weight, yet very sturdy. The pads are soft gum, quiet and have a nice feel. I have feeling I will have to work very hard to exceed the capability of the unit. Clearly I will need to leverage external storage at some point.

My only reason for giving 4 stars versus 5 is ease of use and control layout. This is not to suggest that the product is not easy to use, but I think we have become very use the Steve Jobs/Apple model of simple, easy and intuitive. For example, I immediately was looking for a start/stop button. I pushed start, but it controlled the click track.

My comments are meant not to discourage people from purchasing the product, but rather to encourage Roland and other companies to aspire for amazing simplicity and ease of use.

With said, I think Roland has set the new standard in this category and I imagine Alesis and Yamaha will not be far behind.

Thanks to Ryan Murphy and the team at Sweetwater for the great customer service!

Peace, love and drums! David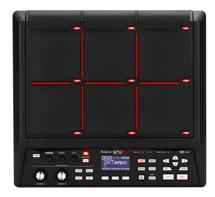 Sampling Percussion Pad with Nine Velocity-sensitive Pads, 900 Sounds, Effects, 2GB RAM, External Audio Inputs, and Trigger Inputs