Sweetwater Advice
The KSB-PS-8 pedalboard is the most cost-effective powered pedalboard on the market. Fits six stomps and a wah!!! PERFECT!!!
Sort By Date
Sort By Rating
Customer Reviews
Great Product
Nice quailty powered pedal board. Only the best products and prices from Sweetwater. Best customer service in the industry. Thanks
SKB Pedal Board
You can't beat it for the price. A very good pedal board. You will not be disappointed with it (I have 2 of them). All positive..............
SKB-PS-8
It Is a hevy duty made board.and i would have gave it a 5 if it had a on off switch on the board itself im old and lazy and having to plug and unplug it. thats the only reason this didnt get a straight 5
if you dont have a pedal board this is a real good place to start.
Frank D
very good value
Bought this for my son, tired of always looking for pedals, power supplys and cords. The quality is much more than the price reflects. Now when its time to go, zip up the bag and go. In the bag its not much bigger than a laptop bag, but has enough room for a wah, proco rat, tube preamp and four boss pedals.
Real Good
It does what it's supposed to do, and does it well.
Nothing too fancy? Perfect.
I've been playing guitar for about 3 years, and my playing has always been centered around effects. My favorite band had their pedalboard's made for them specially. So when the time came around for me to get one, I didn't no what to look for. And I found the SKB PS-8 Pedalboard. It could hold more than enough pedals (8) and was very affordable. When I finally got it for Christmas, it was everything I hoped for. Nothing fancy. Just a board that powered pedals, on a wall charger and a case. That's all I was honestly asking for. And to me, 100$ is a hell of a bargain for this spacious, sturdy pedalboard. I love it.
SKB-PS-8
Needed something for all of my pedals so I order 2 of these. 1 board holds all front end pedals the second all of my through loop pedals. The board is nice and stiff, no give when you are stomping away. The included bag is great. I can leave everything plugged in and just flip the cover over all the pedals to keep them clean and dust free. Comes with velcro for bottom of pedals, power supply, and power slave cables. The only reason this didn't get 5 stars is the included power supply if hugh. I swapped them them out for a couple of Godlykes I had laying around. Will keep the included supplies for bacakups.
Get it
I've been toying with the idea of getting a pedal board for some time now, but the fact that I only use a few pedals, and the cost of the pedal board kept me from going forward but a great sale price motivated me to get it. Flat to the floor, quiet power source, and a nice simple design.
Inexpensive and Effective!
The PS-8 is a simple-to-set-up board that offers more room than I actually need. The only drawback is that the cables don't hide under the board itself, but you can easily wrap them with ties to make it neater. I didn't need anything fancy and this fits the bill nicely.

When I got this home, I discovered the bag had a broken strap holder. I called SKB and they sent me a replacement within a week - I didn't even have to bother my Sweetwater rep! Terrific service from both ends!
great pedalboard
This a great powered pedalboard. I just use it for stuff at home, but it seems to be pretty durable. I use a pedaltrain for shows.
Not fancy but does the job.
It's like this: I needed a pedal board, this goes on sale, problem solved. I don't really have a lot of pedals(being mainly a keyboardist) so this works great. If you play out a lot or on a tour or something, you may need something better. But for me, it works fine.
Great board, worst bag ever
So far I really like this board, but I can't give it 5 stars because the very first impression I had when I unwrapped it was that I shouldn't trust the skimpy handle on the gig bag. I attached my pedals to the board and put it in the bag to leave, and I slung the strap over my shoulder while holding onto the handle. As soon as I put weight on the shoulder strap for the first time, it immediately broke. Because I also was holding the handle, it didn't fall to the floor. If you are planning to buy this, then factor in the price of a Gator bag or road case for it, because you will need it. If I had it to do over I would have bought a board with a better gig bag included. I'm not happy about having to buy something else to carry this pedalboard, but for the price I probably should have expected it.
Great value
The only drawback is the pedalboard power supply input which is a bit loose it seems like. Sometimes, if you kick or move your board, it may disconnect and your pedals will go out. You have to tap the cable power supply into the pedal board agai to restore power to your pedals. A quick fix is to run tape over the power supply inputs and you're good to go
Howie reviews the SKB-PS-8 pedal board
I have needed a pedal board for quite some time, but budget constraints and the need for other gear kept me from buying one, until now. At Sweetwater's Gearfest 2011 they had an amazing stack of great deals as a "thank you" for coming. i spotted the pedal board at a price I couldn't pass up.

The board is made of that heavy 'space age' plastic that they say wears like iron. It'll have to because I'm on the road most of the time. I came with a variety of wires for my pedals, a velcro pad and strips for keeping pedals in place, a row of plug ins and a wall wart for power. What a nuisance to have to plug in each pedal, or worse: batteries! This board takes care of all that, helps me arrange my peds in order, with heavy duty velcro that keeps even my Cry Baby in place - and all at a phenomenal price. I would definitely buy one at regular price, but am thankful I went to Gearfest 2011. Oh, the gig bag. Glad you included that. It keeps everything tidy so I just unpack at the gig. It even has a good sized pocket for chords, etc. Nice job you guys. I'll upgrade, one day, to a road case variety, but for now - I'm VERY satisfied. Thanks for the great workmanship SKB, and thanks for the "thank you" pricing to my friends at Sweetwater!!!
Pedalboard is fine - gigbag is pretty cheap
I'm happy with the board, it's tough plastic and has stout velcro on it. The gigbag seems flimsy. The carrying strap came apart and the board fell to the ground. Fortunately, nothing was broken, the pedals didn't even move off the velcro. Also, why do the 9v power wires have to be way longer than needed?
good board,so so carry bag
It does what it's supposed to.Cut down my setup time considerably.Face it,its gonna be heavy with 8 pedals.The plastic ends on the shoulder strap broke and the nylon is ripping by the handle.The"ballistic "case won't last long,but the zippered pouch is handy.Lookin for a suitcase/briefcase to put it in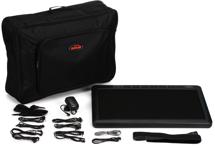 Powered Pedalboard with Power and Space for Up to 8 Average-sized Pedals with Gigbag