Sort By Date
Sort By Rating
Customer Reviews
Awsome Guitar !
I received this guitar a couple of months ago and I was immediately impressed. It was set up perfectly, and the finish was imaculate.
I have very small hands and this guitar has one of the best necks I have played on ( I also own a 1989 Strat Plus and a Taylor T5).
The pickups sound great and with the coil tap cover everything from Fender single coil to Gibson Les Paul Sounds.
I found the strings were getting slightly higher so I adjusted the Truss Rod and everything is back to factory condition. PRS sends instructions with the guitar on how to adjust the truss rod. So far this is the only adjustment I have had to do to it.
I haven't seen anything in this price range that can compete with this guitar. PRS is to be commended for making this quality of guitar available to the average guitar player.
PRS SE Custom 24
I already own several other PRS SE guitars and I was not disappointed with this one right out of the box. Eminently playable, perfectly intonated, with beautifully dressed frets. The paint job was immaculate. Hard to tell that the finish is a veneer. Tremolo set to slight float, which is nice. The PRS SE whammy holds up well with understated tremolo work, although it will slip out of tune with repeated dive bombing. The whammy socket grip is adjustable with a little allen wrench that comes with the guitar. Loosen when you first put the bar in and then tighten to suit your taste and whammy rest position.
Pickups sound a little dark for my taste. The neck pickup especially seemed to be boosted in the low frequencies. I use a Marshall JCM 2000 head and usually set my tones at 12 o clock across the board. I had to boost the mid-range of these SE pickups substantially to get comparable clarity from them. (My other guitars use Seymour Duncan Jazz/JB pickups which are higher output. The bridge pickup on the SE has nice articulation and cuts through nicely. The coil taps work well, sounding like a regular single coil. If you are looking for that out-of-phase in-between position on a Strat, you are out of luck here. However the coil-tapped pickups on the SE Custom take distortion nicely.
The guitar is a pleasure to play like all PRS guitars I have played. The workmanship is outstanding and the finish would put many higher priced guitars to shame. My guitar was quite heavy compared to my SingleCuts. I believe 8+ lbs. Individual guitars in this series vary. I believe Sweetwater lists the weight of individual guitars they carry. Nice touch.
This is a beautiful instrument, well balanced and absolutely playable and tonally adaptable. It is an outstanding value compared to other instruments in its price range.
Amazing guitar
Best guitar out there in this price range. You can literally get any sound you want out of this guitar. This guitar can sound mean and dirty with gain to it but then it's so warm and crisp on clean. Almost feels like I'm playing a top of the line prs guitar.
Best guitar for the money - period.
I really cannot say anything bad about this guitar. The finish is gorgeous. The new carve is a great addition. It feels wonderful, and plays even better.
One surprise for me was that it has a slight acoustic tone to it. Perhaps the strings they used. You actually get a little steel-string guitar sound.
The purchasing through Sweetwater was also second-to-none. Being able to pick out the particular serial number from the pictures is amazing!
Worth The Wait!
I have played the Maryland made PRS Custom 24 and always thought it was a fantastic guitar. As a hobbyist who loves to play and write but doesn't make a living playing guitar, I couldn't bring myself to spend thousands on one of the USA instruments. The 2012 PRS SE Custom 24 is less than 1/4 the cost of the USA made instrument, but once set-up has 100% of the playability.

The finish on my guitar is flawless, and the flame veneer and the beveled top look outstanding. There are some little details, like the nut being just slightly narrower than the fingerboard and the pickup bezel near the fingerboard being just so slightly miss-aligned (details that you would likely never see on the Maryland made guitars), but overall the SE is well built, especially where it counts. The fret work on this guitar is perfect! The string height at the nut is perfect. The truss rod adjustment was perfect for the string gauge, and I only had to adjust the string height at the saddles (to accurately reflect the fingerboard radius) and set the intonation to get a set-up that feels excellent!

The pickups sound great, with enough power to get those classic rock tones, but they have a very articulate sound - not muddy at all and the coil splitting with the push-pull tone pot gives this guitar reasonable Strat/Tele sounds as well. This is a versatile guitar! Also, the PRS trem bridge is the best in the business IMHO, and is buttery smooth. I will probably switch out the tuning machines for Schaller M6 2900 locking tuners as I have done on a couple of my other guitars, but the stock tuners are pretty smooth and exhibit good tuning stability for a standard tuning machine.

Of course the Maryland made PRS Custom 24 has the beautiful carved top and is a finer instrument, but this 2012 SE Custom 24 has seriously closed the gap! If you buy one (Jared made my buying experience very pleasant) you won't want to put it down!
Outstanding. Just simply outstanding.
Right out of the box, this guitar plays like a dream. The carved top makes my arm feel almost cushioned as I play. Once I changed the stock tuners for Grover locking tuners (HIGHLY recommended, even by PRS techs!), the tuning stability became completely rock solid.
Appearance-wise, this guitar does not look like what I paid for it. It's simply GORGEOUS. Friends and bandmates have given nothing but compliments in that arena. The classic PRS bird inlays give an extra bit of class and style.
In terms of sound...just fantastic. WAY beyond what you'd expect for a sub-$1k guitar.
And, a big tip of the hat to Nick Schenkel, who went above and beyond to get this beast to me quick and easy!!
Getting closer
I have an older SE CU24 with flat top and although that is in itself, a great guitar, this one is superior in every way. The finish is richer and thicker looking, the veneer book-matching lines up perfectly, and the coil tapping makes it capable of some single coil, almost strat-like tones. the slight bevel to the top really adds to the look and feel of this guitar, making it look much more expensive, and making it much more comfortable to play when resting your forearm on it it while picking. I have a USA McCarty, and while there are obvious differences in the construction and hardware of that verses the SE models, the SE models are getting closer and closer to giving us all the great things we love about the US guitars, but at 1/3 to 1/4 the cost. There is no shame at all in gigging this guitar.
Unbelievable Value, Awesome Guitar!
With the new beveled top, this guitar looks and feels like it's in the same class as the Maryland made guitars. And the addition of the coil tap make it a truly versatile instrument. With the pull of a knob you can go from LP style chunk, to Strat style tone and back again. Hard to believe these were supposed to be "student edition" guitars. Definitely worth waiting for. Plus you can't beat being able to select your guitar from the gallery and get the one you want and not one someone else picked out for you. Sweetwater makes buying so easy and secure that you know that you can trust them every step of the way. Ordered my guitar on Thursday and was delivered on Saturday, safe and secure and free shipping. Great company and incredible people to buy from!!
My First Impressions
I'm very happy with the Custom 24 SE. I've seen a lot of comments about the Santana SE and the Custom 24 SE. I can answer this because I have both. This guitar is equal in the sound quality, plus you get an additional split pick-up sound that the Santana does not have. I believe this articulates the PRS Custom 24 SE to another level. The thinner neck is a personal choice. I certainly don't see it as a negative. It does not effect the tonality of this guitar. I really like the pick-up switch on this guitar. It makes sense for the way I play. The pick-ups are surprisingly good! You won't be unhappy. The trem is really great. Far better than any I have had on other guitars. It actually stays in tune no matter what!!! If you are looking for the ultimate first guitar or a great back-up, this is it!
Se 24 custom
My experience with Sweetwater was excellent. The guitar was double boxed. They called to check on the order. The guitar was set up perfectly. The guitar itself was flawless, not a scratch. I love the neck and the tone is very good. I highly recommend this guitar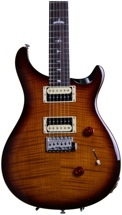 Solidbody Electric Guitar with Maple Top, Mahogany Body, Maple neck, Rosewood Fingerboard, and 2 Humbucking Pickups - Tobacco Sunburst