Sort By Date
Sort By Rating
Customer Reviews
Awesome Earphones
The service I received from Sweetwater was amazing. As soon as I placed my order with them, I got a call and an email from a representative within an hour. Great customer service.

The earphones are amazing as well! I was using some over the ear headphones before with our monitor system and decided I needed to get some in-ears and for the price I don't think there is a comparison in quality. I hear everything so clear now and they are also very comfortable.
Great in-ears!
I have been using some of my own personal ($14) ear buds when leading worship with a wireless in-ear monitoring system. When I got these and put them in, I found out what I was missing--a clear, crisp sound. A huge difference!
A great buy for the price
I have been looking at in ears for a while, and almost spent $ 400.00 on triple driver IEMs, but these are great, plenty of low end, I think the key is experimenting with the foam inserts, once you get the right fit, WOW, you better be sitting down. And Hey can't say enough about the service and speed of delivery you get from Sweetwater.
Excellent Value!
Use them playing a set of Roland drums on our worship team. The set offer excellent base response and clarity for the cost. If you are looking for an affordable in-ear monitor you must give them a try. Compared to others that cost much more it is a great value!
First Time Buying- Great Product!
I have never bought anything like these before; however, they work great! I don't have anything to compare them to, but everybody that I sing with has these and loves them. They fit very comfortably and stay snug!
Shure Monitors
Ordered my Shure in ear buds a few weeks ago and i am totally satisfied with the product. The customer service was top notch before and after the purchase. I will be a returning customer for sure.
Customer Service
My purchase was insignicant however, the staff at Sweetwater doted all over me and my concerns. I highly recomend this co on any purchases. They are Fab!. Jack Inserra NJ
Quality Product
Fantastic quality, easy to set up and start playing.
Shipped to my house way quicker than expected;
will definitely come here for all of my equipment needs!
Shure SE215 In-Ear Monitors
I am so loving my new Sure SE 215 In-Ears!!!! They have a big, loud sound and a great sense of space. Sweetwater is by far the Best! Their customer service is unmatched! Thank you Sweetwater.
Professional In-ear Monitors....
I use these on stage at church and I can tell you that these sound great. Excellent clear bass response without any muddiness. Vocals, keys, guitars all come through the mix crystal clear. It will take a few minutes to fit these to your ears so take the time and experiment with the included Fit Kit and make sure that you have the right and left on the (ahem) right and left ear as it is easy to get these mixed up if you don't look closely at them. The R/L markings are small and hard to see in dim light so make sure you fit these on before going on stage. Once fitted though, you will have no problem hearing what you and your band are doing during the show.
Shure SE215
These are great! They are worth the money and isolate very well. I was blown away.
Great Set
This is a great in-ear to start off using. It even comes with an accessory kit. Well worth the money.
huge improvement
I spent several months on and off trying to find an inexpensive upgrade for the Sennheiser IE4 earbuds I had been using for leading contemporary-style music in worship. When I found these for under $100 and read the great reviews they were getting, I knew this was the way to go. I've been using them for around two months now and the over-the-ear design is a huge improvement for keeping my guitar strap from pulling them out of my ears by the cord. The clarity of sound is also a huge improvement for hearing what everyone is playing in more detail through our Aviom monitoring system. I couldn't be more pleased with the purchase!
A Great Buy. For real.
These headphones were exactly what I was hoping for. A great pair of headphones for that 100-dollar price point that I could use both on stage and in the car. I didn't want to sacrifice quality, but I definitely couldn't break the bank when I bought these. Fantastic.
So clear makes you think twice about your favorite band
I'm use these about 2 times a week in a live setting with aviom personal monitors in a full band(guitar,bass,drums,keys,2 lead vocals,3 back vocals, and everything comes through with such fullness and clarity that it has made me seriously consider the quality of bands out there. I think musicians are just throwing crap together in songs cause they know most people have bunk speakers/ear buds or something. These in-ears stay in your ear nicely with the foam sleeves that compress and fit in your ear then expand again! Great bass! Great Buy!
Excellent!!
These are great earphones. I am a Broadway pit guitarist and need quality, durable phones. Plugged into the Aviom mixer we use everything sounds great through these. I'm ordering a second pair.
Awesome headphones
These headphones are the greatest! Nice quality and sound is awesome!
So Good!
This is my first higher quality set of ear buds. They're amazing! Though the headphones aren't noise cancelling they do a great job of blocking out the noise with the foam pieces. As a drummer that typically uses a drum shield the volume can be very overpowering. These ear buds block out enough sound to be efficient!
Shure SE215
I have been looking a long time for a good set of earphones that would not break the bank. Good does not do these justice. The sound from the SE215s is amazing. They may not be of reference quality but for the price these are the best I have ever tried or used.
Shure SE 215
These are great. Good fit, amazing sound.
And of course, Sweetwater got them to me quickly so I could use them at my next gig.
Great earbuds
I've had these monitors for a few weeks and really like them. The sound quality is great, and when I play in the band, they block out the painfully loud drums almost entirely. I also use them for my computer and phone. In fact, using them makes me want to get a better audio card (so I can use them to their full potential). They are low impedance, so I usually have my volume down at 2 or 3 out of 100. I also use the smallest foam earpieces (they come with three sizes of foam, and three of plastic/rubber/silicone stuff), because they are the only ones that fit into my ears. In fact I would prefer some even smaller ear pieces. These really work great in general though, and I'm glad I bought them.
great buy, great sound
The sound in my ear is clear and natural.
Best Value
Just buy them already. I researched IEMs for months and made the best decision of my life by buying these. I've had them for six months now and I'm 110% satisfied.
Awesome Sound Quality!!
I am an experienced vocalist, gig quite a bit, and can personally vouch for the awesome sound quality of these single driver in-ear monitors. I was skeptical at first until I tried them and WOW am I impressed. I was eventually going to buy some custom triple driver in-ear but decided, why bother? These are so clear that I don't really need to upgrade. I can hear every little detail in the band mix and they save my voice (from shouting) and my ears from blasting floor wedges and loud stage volumes. The stock ear buds (black foam) are perfect and block out 98% of ambient noise. I will NEVER play a gig without these again. I'm super impressed! Shure did a great job with this product. You won't be disappointed.
If you need to hear
If you need to hear and hear it clearly, look no more. Unless you have more money then buy the next levels. You will enjoy everything about these in- ears...
Buy these!! There's no better way to spend $100!
The short version of this review is simple: if youíre on the fence about buying these phones or youíre just trying to keep a $100 budget, stop hesitating and buy these. For the price, you simply wonít find anything better.

My first impression of the SE215ís was quite disappointing. But then I discovered that I wasnít wearing them properly, and after correcting the problem my ears were launched into a state of pure sonic bliss. MAKE SHURE YOU ARE WEARING THEM CORRECTLY BEFORE DISMISSING THEM!! If the buds arenít properly seated in your ear, or the foam earpieces donít completely seal off your ear canal, they will sound horrid, with sharp shrill highs, over-pronounced mids, virtually zero lows, and a very thin, bright sound overall. Not to mention they will be fairly uncomfortable. I have a hunch that some of the low reviews were a result of improperly wearing them.

However, once you figure it out, make sure youíre close to a chair, because you will get knocked off your feet! I can hear details in my music collection that I never knew existed. I conducted a frequency response test by sweeping a pure sine wave across the sonic spectrum and the SE215ís did not disappoint. They faithfully reproduced everything from 20Hz to the upper limits of my hearing (about 17kHz, but Iím sure they go much further). Iíll be using these to do most of my intricate mixing from now on unless I decide to upgrade my monitors. These in-ear monitors can fully produce lows that my monitors canít even touch.

Honestly, I was skeptical about buying these and I was also considering similarly priced products from other brands. I ultimately decided to get these because their frequency response is more flat and I wanted to use them for mixing and stage use, in addition to everyday listening. However, they still throw down enough bass to satisfy even the most demanding bass-happy rap fanatic. Another point worth mentioning is that they didnít move a bit after a solid 10 seconds of heavy head-banging. Of course, more expensive earphones like the SE515ís will sound even better, but weíre talking about a $100 set here!

Seriously, what are you waiting for!? BUY THESE EARPHONES!!
Great buds
Great fit, sound and sound quality. Bought these to listen to my iPod while I'm on my motorcycle and as a back up to my tripe driver in ear monitors.
Save your hearing and improve your singing
This was the answer to all of my problems hearing myself and the mix on stage! I wish I hadn't put it off for so long. My hearing wouldn't have suffered so much.
Great bang for the buck!
This is my first set of in-ear monitors, so I really can't compare these SE215's to anything but over-ear or buds.

My band has been struggling with monitoring for over a year, and part of the solution is in-ear monitoring. Once we got personal monitor mixing (Elite Core DM-16, IM-16, and several PM-16s), we were able to get personal mixes to each member, but the drums (acoustic) still filled the room and made it difficult to hear the main mix and individual channels.

So we all went out and got in-ear monitors. WOW!!! A couple of us got the SE215's due to the low price. It's truly a night and day difference. After you get the hang of it, they're easy to put in your ears, loop over your ear so the weight is carried by your ear, can run down your front or back, and don't pull loose. Actually, everyone has been forgetting they're in, walking around, and having our heads yanked back when the slack runs out, and they don't pull out even then. The drummer has a different model that doesn't go over the ear, and he's had problems with them falling out.

As for sound quality, I'm pleased. I can hear the bass guitar, kick drum, floor tom, bass vocals and low keyboard notes no problem, which is an issue with ear buds or even over-ear monitoring head phones. The higher frequencies are clear. I'm not a sound engineer, so I can't speak to fidelity and the like, but if you want to hear the monitor mix and not what's "outside" in the room, these are a great deal!

One word of caution...be careful when you're tinkering with your monitor mix. Your band mates won't appreciate when you turn up a channel and (accidentally) blow their socks off. Feedback can be a cause for near panic, too. We rely on our personal monitor mixers' head phone output compressor option to save us.
Shure SE215 in ear monitors
I recently switched our church from stage monitors to in ears. I started with cheaper in ears & received complaints from the entire worship team (10 people). They wanted their speakers back, but after I purchased the Shure's, they are all happy as can be. I don't think you can beat them for the price. The advice I received from your Bart Good was right on.
Great Value - Great Product
I use these live in a bluegrass and acoustic seting. They are very clear across the frequency ranges and give me exactly what I need. I have no inclination to go to more expensive sets. I'm actually looking at buying another set or two to keep in various guitar cases (I use them "wired" so I don't have the receiver) - they work great this way.

The only drawback is that if you have never used this design, there is a very specific way to get these to fit in the ear, Get that down pat before trying them on stage

And Brandon Eden got them to me in short order! He's great!
Wonderful In-Ear Monitors
Great, high quality pair of in ear monitors for the price. They are well made and very comfortable. The pouch that is included is very nice as well.
If you sing, you need these!
My band has the Audio Technica M5 in-ear monitor system, but the earbuds are pretty shaky. We bought these based on reviews and wow! They sound great, and seal so well that I can walk out front and barely hear the mains unless I take one out. Then I hurry and put it back in because the sound is too much! The ONLY reason I don't give a 5 is because they will distort a bit with all four guys singing and if we crank up the bass.

The thing is this... you hear everything, everywhere you go on stage. No more blaring stage wedges. No more feedback. No more volume battles with the guitarist. No more straining to sing over the noise. I sing Journey, and with wedges I struggled to get through some of the tunes and even through the night. No more. My pitch is better and I never strain to get the notes, because I am not singing nearly as hard.

The AT is a good system, but these buds are a necessary upgrade. Your throat will never give out again. Your ears will never ring again after a gig. You will never struggle to hear what you are singing or playing. I was going to get Alien Ears triple drivers, but these are doing the job for me. If you are in a band, and especially if you sing, go with in-ears NOW! It's worth every penny. And if you have in-ears but aren't happy with the buds, this unit is a huge bang for the buck. Plus they sound great with ipod and seal out noise well enough you can mow the grass and listen to music. Like the other reviewer said... just do it already. You won't be disappointed.
New Shure Earbuds
Typical Shure excellant quality. Very good quality for an inexpensive price. Thanks to Shure and to Sweetwater both companies taking care of us musicians.....
great value
for the money, these are great. They're single driver, but the fidelity for onstage monitoring is fine. Well worth the investment.
Great sound for $99!
The SE215 produce the quality sound I'm used to from the previous two pairs of Shure earphones I've owned in the past. For $99, this set has good bass, solid mids, and non-overbearing highs. The quality of the cable seems much better than the older (and more expensive) Shures I already own.

These are a great buy, especially for anybody looking to upgrade from their cheap Apple earphones.
Superb phones... at any price
There is so much to like about these in-ear phones that it's hard to be succint. I listen to a wide variety of music but I'm more critical of the reproduction when I am listening to classical and opera because it gives the phones a hard time. Not with these. I have a pair of SE535 and these guys are not embarrassed by them, which is saying something considering the 535's are over $400. On 'regular' music and I would say anything that is not very bass heavy like Hip Hop, Reggae et.al they are really superb. If you listen to the bass heavy stuff and you want even more then either adjust the eq on the ipod or get something more suited to that (Dr. Dre etc).

The SE215s manage to avoid the vices of cheap sound reproduction; uncomfortable treble, flat sounding and rolled off or exaggerated bass without being bland. The phones are pretty much neutral but they have a way of letting you get into the music without constantly noticing them. They are involving and comfortable to listen to for long periods of time which is somtheng most people who have used the standard or low end earphones may not relate to. Let's put it this way. If you have tried the standard iPod phones, and who hasn't, then migrated to a $40 - $50 pair you're going to breathe a sigh of relief because you can actually listen to the music. With these it goes about 3 steps farther because you WANT to listen to music. It becomes fun not just a background filler. The sound isn't just better by miles it's more involving and you wind up looking for things to listen to and there's this annoying desire to let other people hear what they are missing. They are very very good

Now the other side, and it is minor - for me. When you listen to these guys you probably want to look into the white flanged ear tips. These are the only ones I found that sealed well, were comfortable and did not let the phones fall out. Why would the phones fall out? The cables are replaceable which is fantastic! Anyone who has used phones that fit into a small pouch thing will know that, after a while, the cable get's worn, usually on the inside. Replacing it meant a phone replacement. Not so anymore. That means the cables are a little heavier and that means they drag at the phones a bit. The regular ear tips are all good but may, stress may, not give you the security you need. The white guys solve that issue 100% and really let the phones shine in the sound department. that is the only negative I have found and it is the same for all the Shure SE range and probabaly half a dozen other phones.

Lastly the kicker. The warranty. Shure offer a 2 year unconditional warranty for these guys. When I got my SCL5's back in 2005 or so I used them for 18 months and then broke on of the tip things by not using the superb little case. Shure replaced them free with a brand new pair. About a year later I did the same thing (I don't learn) again they replaced them. After another year I wore them playing sports and shorted them out from sweat, yep they replaced them again. Finally the cord gave out and I thought...that's it I am done. Not so. I sent them off and although they were out of warranty Shure charged me just $150 and sent me the latest version of the SE535! Superb service. I do not think any company comes close. Buy these phones you won't regret it and also you can buy them as a gift knowing that the recipient will have no problems...ever (I don't even have to say 'for the price').

Competition? I've compared then to Dr Dre and Bose; the bass over powers the Shure's by a fair margin. Klipsch 4i, which are cheaper but more fatiguing are closest I suppose so if $100 is a bit much look at them. The Etymotics 4pt are really for those people who like super analtical sound and I would not recommend that at this price point since the otehr equipment becomes an issue (iPod for example - you'll need a head amp with the Etys). I also compared them to my own reference the SE535, like I said they were not embarrased.

Two last comments. There are some super head amps for iPods out there like the Fiio E7, Icon etc. These phones LOVE them. For the money they are a no brainer. Also try, just try, ripping your CD's lossless onto the iPod, you'll be amazed at what you have been missing. Enjoy!
Very impressed!
I really wasn't expecting a $99.00 pair of earphones to have superb sound but the sound quality of the SE215's really impressed me. They come VERY close to my $250.00 dual driver earphones of another maker. They do take a bit of finesse to find that 'sweet spot' in my ears (hence the 4.5) but once I picked the correct size tip and found the right spot, the frequency range was excellent. Smoothe response from low-end (not overly punchy or distorted) all the way to the high-end (not harsh). Very comfortable plus they sit flush with my head, unlike my other in-ears. For the price, I would highly recommend them!
Squeegee Your Tympanic Memebrane.
I had been using a headphone beginning with S that sells for $150, and these buds smoke them!!!! Much more clarity and warmth. Old jazz recordings suddenly bloom to life as I can now hear the brushes across the snare!! Nice airy quality.
Best set of Ears for $100
After having used the Shure 315s for a year I was in a pinch and needed extra ears to support an artist coming in. I bought 4 pairs of these because of the price point. Comparing the tech specs against the 315 the only major difference on the 215 model is a lack of a bass port and a slightly lower high end. I think they stop like 1k less than the 315. Needless to say I was super impressed by these ears. Incredible ears for the price! If you are just starting out I highly recommend getting a pair of these until you can afford a higher end custom molded set.
Great in ears for the price!
I don't think you'll ever beat these in ears for the price. Of course triple driver in ears sound better but are MUCH more expensive. These are built great and are VERY comfortable to wear. I have custom molded ones being repaired right now and they just may become my second pair! Lol! I've been using these on stage lately and they seal better and stay in place better they my expensive ones. If your looking for a good solid in ear for a great price you can't go wrong with these!!!
Excellent Quality
After reading many reviews, I was a tad skeptical when purchasing these headphones. Most stated they felt different frequencies were boosted too much. After using them, I completely disagree.

I get a great tone from these. Granted, I upgraded from a $20 pair of in ears so I had a lot to gain.

My Setup:
AVIOM into a Shure wireless pack (not sure which one... pretty old). Then into these.
Excellent value!
I use the SE215's as a worship guitarist at Low Country CC, a church of 1200+ people near Hilton Head, so we're in a very large room. We use an Audiom system and my mix consists of click track, lead vocal, acoustic guitar, 2 electric guitars (one of which is mine : ) a bit of keys & bass & a tiny bit of kick drum. Even though my position on the platform is right next to the drummer, the isolating shape of the SE215's really keeps my mix from being muddy or drowned out either by the drummer or the FOH mix. That's pretty impressive performance for any ear buds.
Like every other Shure product I've owned since the 60's, the design is outstanding. For example the Kevlar reinforced leads are detachable/replaceable & the selection of sleeves makes finding a comfortable fit very easy. I could have spent a lot more money without getting performance as good as the SE215's deliver. I don't think you can go wrong, especially at this price point.
BTW, the Sweetwater rep was really helpful in answering a lot of questions and making a recommendation, as I was considering a couple of other brands/models. Thanks, Matt!
Great sound and very good noise isolation
With these monitors I'm hearing the group better than I ever had before using traditional on stage monitors. They also reduce the overall volume tremendously to protect hearing. Could tell a significant difference the first time I used them.
Shure SE215, quite a step up
Shure SE215

These are my first pair of > $60 headphones and I can safely say that adding the extra $40 is more than well worth it.

The SE215 are classified as reference monitoring earbuds but I use them as my everyday headphones (on the bus and while at work) and I'm incredibly happy with them.

They are not bass-killers. If you want "boom boom boom" then get something else.

What you'll get here is an extremely accurate reproduction of the music as it was recorded and supposed to be heard.

Taking them for a test drive, I heard moments in songs that I had been listening to for years and years and didn't know certain arrangements actually existed in the mix. I even heard extra parts in electronic music such as Autechre, which is pretty incredible.

Everything's very detailed in these earbuds.

The fit is very comfortable. It comes with many different sets of fitted earbuds. The sponge earbuds are fantastic. All you do is squish them between your thumb and index finger before you place them in your ear. After a minute the sponge expands to fill your ear cavity, providing a very nice isolation.

The over-the-ear cables took a little bit to figure out and get used to but, after that learning curve, everything was great.

They are built as solid as a tank. The cables are rock solid.

Even the carrying case it comes shipped in is nice. It's not too big and not too small. Trust me, you'll want to keep the case with the earbuds. The last thing you want is to just throw a $100 pair of earbuds in a bag and leave them banging around with other stuff.

In short, these are very very nice. I'd recommend them to anyone who wants to step up to a semi-audiophile grade of earphones.

I'm terrified that since I made the plunge into the $100 range that my next earbuds will be even more expensive. And when that happens, they will be the higher Shure models.

It's only getting four out of five stars because I'm quite sure these aren't the best headphones out there but, for the money, these are really quite nice.
Great Great Great
Wow! I put these on and was amazed at their clarity! I have an pair of custom fitted triple drivers also and I have to say that these buds come really close! Shure has always delivered quality products and again they did not disappoint! Good Job!
Great Sound, cable is short and too heavy
Excellent sound quality across the spectrum. Not the most practical though - a little difficult to put in your ear though you get used to it, cable is short and its own weight alone pulls down uncomfortably at your ears. I've found that I have to tape the cord to my clothing to avoid this, as well as any accidental pulls.

Once you get used to these minor hassles, you'll love these phones. I am a drummer and use them as monitors and they block out (most) of the db's coming off my kit and allow me to hear what's going into the board.
Great for the Price!
For only $99 these create a great seal in my ear. I can barely hear anything with them in. The sound quality is far better than my (other brand) monitors.
Great value surprise
Needing some spare In-ears for rehearsal and not wanting to drop a lot of cash, the Shure SE215's seemed intriguing. I'm always skeptical about something advertised as a great item with a low price. I have to say that for the money these are excellent buds for anyone wanting to test the world of in-ear monitoring. Also, they make any iPod sound so rich and clear, very pleasant on the ears. I've owned dual driver buds in the past and I honestly have to say that for a single driver bud, it does the job and does it well.
The customer support from Sweetwater has been very pro and genuine.
great sound
got these in today, and they feel great and have a nice fit. The cable is longer than I like, but it looks study enough that it should be able to hold up over time. The sound felt even and more then loud enough for my taste.
Almost Like A Silent Movie
Please understand, at the low price, these couldn't earn more than a 4 (you do "get what you pay for").

Sweetwater almost always gets a 5 for it's BBB A+ service, which is why I chose them to be my primary supplier. Jeff Barnett is wonderful, kind, patient, [too] tolerant [of my lengthy, over-frequent e-mails].

The SE215s get a 3. Averaged (the way I did it), the total for the purchase is a 3.5.

I'm allergic to the black, latex foam rubber tips (sleeves). So, I tried the large orange foam, which would not hold the SE215s securely in my ears. So, I'm now using Shure EATFL1-6 white, flanged sleeves.

If I grab my pinnae (fleshy part of ear) and pull, while pushing hard, the Shure SE215s will fully insert and not stick out. As I clip the cord to my shirt collar, run the joiner on the cables up to the back of my head, and leave a small loop in between, the 215s stay securely in my ears for hours at a time, unless I hit the cables with my hands.

The SE215s serve their primary purpose very well, playing backing tracks while I'm practicing vocals.

For walking, using the SE215s is scary. It doesn't take very much level for them to almost completely drown out the quiet cars, which just "whisper" by. A little more level, and only the noisy trucks occasionally intrude. More level than that and I'd have much worse tinnitus and earlier hearing loss. It's somewhat surreal, like watching an almost silent movie. But, dangerous!

The 215s are, however, a bit "mix-specific"; with a good mix, they sound good, with a bad one they don't sound quite so good. (But, remember, they're low cost.)

While the bass response could be better (and probably is in the more expensive models), it is sufficient for my all my needs, including on-stage/in-ear-monitoring where additional bass will be heard from stage monitors or mains speakers. Those critical of wireless transmitters' and IEMs' bass response might avail themselves of loudness contour curves and an increased understanding of the non-linearity with which our ears/brains perceive pitches relative to each other; at low levels, we simply don't hear the bass and treble as much as the mid-range.

The replaceable cord was an absolute necessity as I regularly have had the 215s predecessors fail from cord-breakage. No more! I ordered a spare cord when I got the 215s.

Overall, I love them! They work so well, that Shure's competitors will have difficulty getting me to not use the SE line exclusively (including, eventually, as rental IEMs).

(A note about hygiene and tinnitus. One should always clean their ears out daily, using a soft, "baby's" bulb to gently rinse out the inner part of the ear, never inserting the tip of the bulb deeply, squeezing gently so as not too damage the eardrum by intense direct water flow nor by intense sound. One should always clean the sleeves. While loud sound or noise will cause tinnitus, so will the use of aspirin and other substances. The presence of tinnitus doesn't always presage eventual hearing loss. Still, an annual hearing exam by a qualified audiologist is essential for those regularly listening to loud music or other loud sound. Furthermore, consulting and abiding by daily noise-exposure charts is suggested.)
Great product for the money
Used these in ear monitors with my band and they worked great. Very clear sound, Helps with vocals so i'm not straining my voice.
worth the money
I had the m audio in ears before these and o l like these better.nice fit in your ear and clear yet a little too " scooped" in the eq.but overall worth it
Shure SE215
So far I've only used the SE215 for listening to mp3 music on planes; but I'm really impressed by the level of stereo detail and sound quality. I clearly hear things that I've never heard with my previous in-ear monitors and those had two drivers!

Also, I'm just an amature engineer, but, even I can clearly tell where everything is in the songs on my mp3 player. The SE 215 also does a great job of blocking out plane noise and conversation allowing me to listen at a comfortable level and still be isolated from the noise around me.

Since I don't play an instrument, I hadn't planed to use the SE215 in the studio. Now that I've heard them, I want to give the SE215 a try for mixing and compare the mixes made using the SE215 with mixes made with near field monitors. My home studio acoustics leave a lot to be desired and I often resort to headphones for balancing EQ, levels and panning. I'm thinking given the clarity I've experienced from the SE215 might allow me to expand their role in mixing and improve my mixes at the same time.

On the down side, the first pair I received were defective. The cable connections were intermitent and the cables would often pop off the ear pieces. I consulted Arend Raby, my Sweetwater salesman for advice. Luckily Arend has a SE215 that he uses each Sunday without problems. So, I requested a replacement pair and I'm glad I did.

One more minor downside, I use my mp3 player to listen to radio when I'm traveling. It appears that the grounding of the SE215 shield interferes with the mp3 player using the in-ear monitor cable as an antenna causing intermitent radio operation. I found that poking the SE215 audio plug through a piece of plastic wrap solves that problem. The SE215 is the only headphones that have that problem.
A step backward
I bought the Shure SE115s a couple years ago. I loved them, even though the neck slide broke only a few weeks after getting them. Recently, the left bud stopped working, so I replaced them with these. Compared to the 115s, these are a pain to put on and actually hurt my ears--the ears themselves, not the eardrums--to wear, especially because of my glasses. The old design on the 115s was simpler and more streamlined; the 215s are more twisty and complicated, take longer to put and take off, are uncomfortable for long periods of monitoring, hover at times within your ear (creating poorer sound quality), and cannot be used without running the wire up and behind your ear, whereas the 115s could be used this way. You could just stick them in your ears and go.
All that said, when they are in well and tight, and not hurting my ear cartilage, they work well. Also, using them while drumming works well because they are very secure in your ear. Lastly, if the wire was to break, the buds are removable so the wire can be replaced.
I should have done more research. I'm sending the 115s to Shure for repair. You should buy from that older line instead; these newfangled deals are too needlessly complicated.
Se215
Thay are ok. They do not have the best bass response but they are a sturdy set of earbuds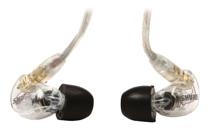 Single-driver In-ear Monitors with Detachable Kevlar Reenforced Cables and Accessories Kit - Clear