Sort By Date
Sort By Rating
Customer Reviews
Great choice
I got the fender rumble 75 bass combo to go with my Ibanez SR400QM Bass. It provides all the sound and effects above and beyond my needs. 100% satisfied!
Wow,Wow best little amp
I got this for my birthday , and I can not believe the power it has . love the features . Ihighly recommend this amp , great for small gigs. She is a sexy unit. Ilove mine more than my bigger amp. Can handle five string basses too. Go on youtube and check out the demos.Wow!
SONIC SUPERSTAR
I purchased my Fender Rumble 75 to replace my big stage rig which I sold as I am no longer giging. I needed a good solid bass amp with good sound for personal practice, and occaisional jams with friends. I have had my Rumble 75 for 7 months now and it has served me very well. The tone is excellent, and the controls offer supurb tone sculpting ability. Way beyond what you might expect from a small inexpensive bass amp. The 12" speaker really puts out a very full round; tight and punchy sound. Plenty of lows & highs. No need for a horn or tweeter. It handles the low B with ease. This amp is surprisingly LOUD! I am very happy. :) Fender Rumbles Rock!
Good amp, good price
I'm happy with this amp. I've played small gigs with it and it handled the job well - the kickback feature helps project the sound throughout the room. It is also very useful as an everyday practice amp.

Pros: inexpensive; surprisingly loud for only 75 watts; plenty of flexibility in the eq to tweak your tone to where you'd like it to be; decent overdrive circuit can be blended with a clean signal to produce a warm, light OD, or can be maxed for more fuzz than I will ever want to use; aux input is useful for connecting an MP3 player; sturdy construction.

Cons: A bit too heavy and a little too awkward to be carried around easily. Fender could improve upon the design my making the amp and cabinet more compact and lightweight. Mounting the amp vertically in the cabinet the way Ampeg and Carvin do with their combo amps would be an improvement.

The foot switch should come with the amp as it makes using the OD circuit easier.

Conclusion: If you're looking for a small amp that will give you a good clean tone as well as a useful OD tone and you don't plan to move it around very often, this would be a very good choice. You can use it on small gigs if your drummer and guitar player are not neanderthals (bass players - you know what I mean). If you're looking for something that you'll be carrying around with you frequently this ill not be your best choice.
To Bassey
I've had a chance to work with it a few times and I notice it's way to Bassey, needs a Horn. It has plenty of Power, but I don't like the EQ section, it doesn't do very good at fine tuning your sound. I even backed off the Bass & Mid Range control, not much difference.

I wish I would of bought the model up from this one, which does have a horn.
Fender Amp
I bought this for my son and he loves it. The amp can really shake the windows in the house and that was what he was looking for.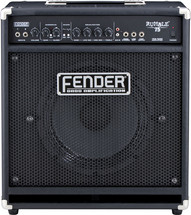 75W 1 x 12" Bass Combo Amplifier with Overdrive and EQ Settings