Sort By Date
Sort By Rating
Customer Reviews
Fishman Rare Earth Blend Acoustic Pickup
I wanted a pickup that made an acoustic guitar sound like an acoustic guitar. I also wanted a pickup that would be transferable from guitar to guitar. I am already a fan of Fishman products (I use a Fishman On-Board Prefix Permium Blend on another acoustic guitar), and the Fishman Rare Earth Blend pickup had all the features I was looking for in a pickup for my new guitar.

I installed the pickup on a Martin HD-28 (installation is easy - just make sure you have a really nice drill bit for installing the end-pin jack). When I plugged into my acoustic amplifier, the sound was incredible. After a few adjustments on the amplifier, I had a sound that, in my opinion, captured a true acoustic sound. The sound was well balanced between highs and lows, and the ability to blend between the internal microphone and the humbucking pickup allows the user to tweak the pickup to get just the right sound. The internal microphone location also is adjustable to tweak the sound even a little bit more. I have used the pickup in live settings and have not experienced any feedback problems. I highly recommend this pickup.
Excelent
Very accurate acoustic sound that can be mixed between Mic and Pickup. It is a "non invasive" pick up, that can be used in your vintage instruments that you do not want to make any hole/permanent damage.

The mic can produce a bit of feedback in some circumstances, but nothing to be really concerned.

It is pricey but I would say it worth every $!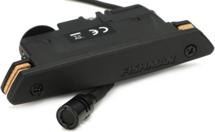 Acoustic Guitar Pickup System with Humbucking Pickup and Internal Microphone