Sort By Date
Sort By Rating
Customer Reviews
EXACTLY WHAT I EXPECTED
I have bought a couple of defferent models of Eminence speakers in the past few years and I have never been disapointed. This one is no exception. I was looking to get a nice booming low end out of my SuperChamp and this speaker delivers the goods while also providing sparkling highs to die for. I would recommend one of these to anybody.
The best 10" Replacement 8 OHM Speaker Out There Today !
I got one of these just the other day, to put in a brand new Fender Frontman 25R combo I had gotten. Not that the Frontman is a bad amp because it really isn't, but the stock speaker on them aren't really anything to write home about. Installation only took a few mintues and as soon as I was done, I plugged my guitar into the amp and right away the change in both sound and volume was immediately noticeable. The sound in my FM 25R is now more clearer and much louder as well without breaking up at high volumes. Plus the Gain on it now sounds really great, which it didn't before. This definately turned my amp into something I could use for gigs with no problem at all. Thanks Eminence.
This is meaty! Perfect replacement in vintage Princeton
I replaced the original oxford 10" speaker in my 1969 Princeton Reverb with the Ragin Cajun.

Wow. Smooth, deep, as well as sparkly - not harsh at all.
Perfectly balanced all around. Nice heavy magnet and well built.
Gets rid of the flabby bottom and adds a TON of punch to the amp.
Box up your old speaker for the purist...but PLAY this one.
SMOOTH AND LOUD
I put this in my 1993 Fender Pro Jr to get a little more volume and bottom end and it does exactly that ! Smooths out the top end as well.
Almost sounds as full as a 12 inch- and Made in USA too!! I use delay
in the effects loop in my other amp setup,But this speaker in the PJ
stays more focused even using delay up front. A definate improvement!
Ragin Cajun
This is, in my opinion, the best vintage american sounding 10 inch. better bass response then the Jensen C10Q and 5db more efficient. Better top end then the 1058 and 2db more efficient
Very Satisfied!
Bought this to use with a Mesa Mini Rectifier head (also purchased from Sweetwater) to use while I was saving for the matching slant 1x12 cab. Installed in a cabinet I had laying around from a Fender B15 bass amp. Cut a new baffle board for it (the original speaker was 8") and now have a nice ultra portable little cab that sounds great, has more low end than I would have thought for a 10", and gets plenty loud to practice with in our "garage band" situation. Also great for camping and tailgating. I have bought 10-12 of the Eminence Patriot/Red Coat speakers in different flavors, and all have been great. Made in USA!
THE replacement speaker for a Super Champ
If you have a Super Champ XD/X2, this is THE replacement speaker to get for it. Just about everything I didn't like about the Super Champ was fixed by replacing the tinny/honky speaker that comes stock. Smoother highs, much improved low end and smoother mids. And the high sensitivity means the amp is a little louder now as well. I got the Super Champ as a grab 'n' go amp for practice, jams and possibly a tiny gig here or there. Now it's a grab *grunt* and go, since the speaker nearly doubles the weight of the amp, But, put up on a road case or chair, it covers much larger rooms than you might expect. My bigger gig amp (a 55 watt Rivera) is getting lonely. Don't play speaker replacement roulette. This is the one.

Also recommended for a Pro Junior. It does the same good stuff and the amp gets louder before breaking up.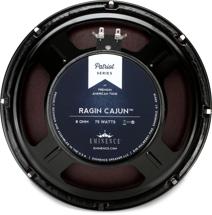 10" Guitar Speaker, 75W, 8 Ohms, 70Hz-5kHz