Sweetwater Advice
I have a set of these to go with my JBL LSR4328. It's incredible how much something like this can improve the sound quality of my speakers. These pads are not your typical foam pads. They're incredibly heavy and robust. If you have studio monitors and they're just sitting on stands or on a desk, you must consider buying these. It makes a world of a difference.
Sort By Date
Sort By Rating
Customer Reviews
Phenomenal!
Based on reviews from professionals and semi professionals alike, I have long since been wanting to add these to my studio arsenal. After putting these to use in my studio, my decision to switch has proven more than sound, it has me wondering why I didn't switch sooner.

I'm formerly a MoPad user (which are not at all a bad product, especially for their price range) - but I am completely blown away by this product. The Recoil Stabilizers have enabled me to mix much more easily and effectively than I have prior to utilizing them. Frequency response from my monitors is now exceptionally tight and defined across the spectrum, imaging is MICRO-pinpoint in accuracy, transients are as sharp (or as dull) as I want them to be - in short, I'm able to really hone in on my mixes without having to THINK about honing in, the truth of my mixes are just THERE, enabling me to make good decisions without occasionally having to guess. I'd recommend this product highly to any engineer, regardless of environment or experience.

I also want to take a moment and thank my sales rep, Chris Lewis, for always providing the best level of customer service I have ever had from any gear retailer - he's truly amazing, transparent as can be and is the main reason why Sweetwater is my choice for studio gear. Thanks, Chris!!
Fantastic focal point enhancer
Was skeptical at first...always been satisfied with my mopads. Had a wonderful experience at Sweetwater's gearfest this past summer, and was sold the second i talked to the nice reps at Focal about the best monitor/low end isolator for my Focal CMS 65's. Was about to purchase the CMS sub and tried these as a last minute mix fix. Blown away by the stereo field enhancement and low end tightness. Knew I'd tell myself they sounded better than the cheap mopads, so i put my hand under my mix desk to feel for low end rumble...before (w/ mopads) and after (w/ recoil stabilizers) --and it was night and day. The metal plate absorbs all low end clutter and imaging benefits immensely! Highly recommended!
Unbelievable - 50% better monitoring instantly.
Despite hearing very credible people say these were great I put them off for a long time and was somewhat skeptical though open minded as to the glowing reviews of all these greats including Bruce Swedien! Now I'm thinking "why did I?!" These have instantly improved the sound of my monitoring by at least 50%, in some ways I feel 100%. Like a new set of monitors that perform hugely better than the "old" ones. You can use a lower volume as you can hear everything very clearly. If I listen at the old levels, my ears start to hurt after a while - I realized I needed to change my usual range of listening and turn it down because I can hear everything that much better, it's not muddy but crystal clear and right there. Who knew! Absolutely insane what a difference these make. An absolutely indispensable piece of gear. If you can't afford them in your budget, get cheaper speakers and get these instead - you'll have better monitoring in the end and that's what it's about. Monitoring for me is now 3 stage process 1. Professional monitors 2. Bass traps and acoustic treatment 3. Primacoustic recoil stabilizers Miss one and you are missing 30% of the mix as far as I'm concerned - these are literally THAT important - as in, bad monitors, no acoustic treatment, no stabilizers - either one or more and you're on crutches. There is no more struggling to hear the mix anymore, it's just THERE. It's like you are hearing the sound of the music / source and not the speakers. Incredible. Get these. Do it.

A note to buyers, I was given some wrong advice about the size I would need, and told I should get a RX9 for my S3A's, but I emailed Primacoustic and they were very honest and told me actually a RX7 would do the job just fine, in both horizontal or vertical settings (at the moment my S3As are vertical). You do need a larger size if the weight demands it but as for surface area contact on the bottom of your speakers Primacoustic said this is not really a technical issue as they will still isolate (within reason of course) but people get the larger ones for aesthetic reasons (so the isolator is the same size as the speaker). But for the extra cost of the larger one (quite a lot) unless you've got money to burn or the aesthetic is that important to you, I got the RX7 and for my speakers they are great. To me what's most important is the functionality. So to be clear the main thing is the weight support and not so much the surface area, you can't get the smallest size for a huge heavy monitor - everything within reason - but by the same token you don't need to get the *same size* as your speaker base unless you want to. In my case this saved me a lot of money ($200 odd). In my case having my S3A's horizontally later will be fine on the same stabilizers as well, they will take the weight as they already do, they just won't be the same size as the speaker base - but for me that's fine - stands aren't like that either I don't see the point in spending so much more money (unless your monitors are that much bigger and heavier that they need that of course). If in doubt check with Primacoustic in my opinion.

Incredible incredible difference not only in bass but across all frequencies - has even sorted out things I thought were lingering room treatment problems - but since I can listen at lower volume I'm not pushing the room, and for that reason alone everything is clearer. Hard to describe but all over you can hear everything much much better. The difference was startling and instantly noticeable. An Absolute must have essential for any studio large and small. Makes good speakers great, and great speakers do what they promised in the first place.
Recoil Stabilzer is great!
Does what it says. Was recommended by Bruce Swedien in his work shop In The Studio With Bruce Swedien. Bruce is recorded Michael Jackson Thriller...so he knows what he's talking about!
Keep the rumble down
These stabilizers make such a difference in keeping the low end rumble down while mixing. They are awesome! Thanks Sweetwater!
Unreal how much of a difference these make!!!
I am completely amazed how these clean up the lows and low mids. Everything is so much more detailed. These are worth every penny, and more!!! I was skeptical at first, but I'm SO glad I got these. My monitoring just went up another notch.
More than worth the price for the results!
I can absolutely recommend buying a pair of these! It is well worth the money. I certainly noticed a "defined" difference in detail with my nearfield monitors after placing them on top of these, and I use passive Event 20/20s in a small bedroom/turned project studio.

But let me also say that if you are not at the point yet where your ears have developed enough to mix professionally, then it really won't matter even if you buy a pair of $5,000 monitors. These are not going to replace a persons' lack of knowledge and experience when it comes to effectively using eq, delay, compression, reverb, panning, bussing, and etc.

But if I could use an analogy, think of using the RX7s as the difference between seeing a movie played back on a DVD, verses playing that movie from a BlueRay DVD on an HD TV. You will see some definition not noticed before.

These things have made my monitors and mixing easier to listen to, and easier to achieve fequency placement. The lows on my 8 in. woofers don't sound muddy but defined, and the imaging is placed exactely where nearfield monitors should be. These RX7s replaced my Auralex MoPads within 2 minutes of testing them out, easy.
The RX7 Recoil Stabilizers are amazing
I respect the past but heres the future. I used these Stabilzers to replace my Mo Pads by auralex. You can not compare the Stabilizers to Mo Pad. I could not believe the difference in the Dynaudio Monitors. The Dynaudio BM5A sounds good but the Stabilizers makes em sound way better.

Theses pads let you hear more lows and mids in you monitors no matter the cost of your monitors. If you got $1000 pair of speaker theses Stabilizers would make em sound like $1500 speakers. My Alesis passive monitors ones sounds like expensive monitors. Eventhough Alesis monitors are cheap you'll notice the difference in seconds.
Does what it says!
After putting these under my monitors I noticed the difference right away!
The low end was knocked clean off and there seemed to have a cleaner sound helping the mid and hi range. It's a great buy if you move you're monitors on different surfaces as it will treat your speakers as if they were floating depending in the room your in so this varies.
I would also suggest these if you have a subwoffer.
I gave it a 4.5 because if you don't move around often and are already accustom to your monitors, then you really don't need them.
A Cost-Effective Speaker Upgrade
Since humans are notorious for having terrible hearing memory, any sonic gizmo that can't be A/B tested should be greeted with a healthy dose of skepticism. But I've listened to my speakers on the same stands in the same room for 5 years now, and using the same reference recordings, I quickly came to the opinion that these things do noticeably improve the sound.

They're heavy! Which could cause problems on flimsy or top-heavy stands.

They're not expensive, for what they do. I wish they came in more "custom" sizes, but that might ratchet up the price. No snake oil here - these are for real.
Primacoustic RX7 Recoil Stabilizer
Work as described - definite improvement with monitors but a bit pricey - if the selling price was for a pair instead of a single pad they would be a 5-star plus product
Solid, does its job
These are great and have definitely improved the sound of my listening environment, but I question the quality. Fresh out of the box, the foam top is peeling away from one of the corners and I have to superglue it to fix it. For a $100 slab of plastic, foam, and rubberized foam, I expect better quality control!
Primacoustic RX7 Recoil Stabilizer
Well made, solid and makes a difference. The regular foam wasn't cutting it. I needed something to really help isolate my monitors. This was it. I noticed a real difference right away. Low end frequencies tightened right up. A little pricey but worth it in the end. Logo stickers on fron tend to fall off easily.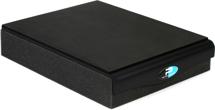 Flat Monitor Isolation Pad with Multi-layered, Anti-recoil Design (ea)