Sort By Date
Sort By Rating
Customer Reviews
Well they are RotoSounds......
My brother is the bass player with RS, in the family and played stand up in high school. So when I got my bass guitar there was no other string to even consider. The sound of these strings make any bass a classic. Chris Squire and I have something in common. These are the strings to have. A little pricey, but well worth it.
77 4 string jazz bass guitar strings
excellent strings great service!
Very impressed
Our order arrived so fast and the quality is perfect we were so impressed we took a road trip to your headquarters and were given a tour of the facility by our rep. Matt and am more impressed than ever.

Keep up the good Work
Rotosound RS 77 Flatwounds .045-.105
Rotosound's RS 77 Flatwound bass strings have a rich and full body sound. They help give my bass that deep sound which rounds out the mix quite nicely. They are also easy to play due to their smoothness. Try them, you won't be disappointed!
Solid Sound For Flats
I picked up a Squier fretless j-bass just to get back into it, and a guitar-playing coworker told me to get RotoSounds. Grabbed this set and they are amazing. Not dead or muddy like most of the flats I've played in the past. Only downside: I want them for my MTD 5-string now, but they don't have this set in an extra-long scale. Going to try True Bass 88s for that, because I'm SOLD on RotoSounds now. I'd recommend these for every bass out there.
strings
love these strings , put them on all my basses
The for that deep sound
Why buy anything that gives you less, quallity for purist.
flats for recording
When I mentioned that I was thinking of going from Roto rounds to flats, Jeff sent me some Roto flats. I really can't compare these to other flats because I have no experience with others. What I will say is that if the goal is a punchy (Beatles fat) bass sound that sits well in the mix, you have got to rediscover flats!!!
Not for my bass.
I got these flats because I saw that they had pretty good reviews. I must say, I'm not impressed. I've got a Schecter Stiletto Custom 4 and they just don't seem to work with the EMG HZ pickups that well. I'm sure they would work better on another type of bass, but they just seem to lack character. They also brought a new deadspot into the light that I now need to fix.

That said, they feel pretty great and the tension is just what I was looking for. They are stiffer than a lot of other strings, but I also play upright and I like stiff strings. I'll probably be switching to nickel lowriders or possibly chromes for my next string swap.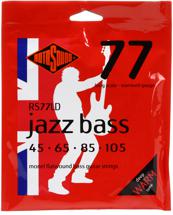 .045-.105 Bass Guitar Strings, Flatwound