Sort By Date
Sort By Rating
Customer Reviews
Yes Please
I need about 4 basic sounds to gig: clean, voxish, crunch, and mesa modern. Even without downloading any rigs, I pretty much found exactly what I needed. I've been looking for something that I could use in my current project (weird hybrid of techno and rock) without having to drag a heavy amp to the show. My usual pedal board is pretty basic (whammy, compressor, dist+, chorus/flange), with this amp, all I need is a ground control and an expression pedal, I can even emulate my mesa lead boost with an X EQ or a Pure Boost (I like the X eq a bit better). I updated the firmware to 1.8 so I could get the whammy and now You Make Me Feel has all the crunch it needs without the Digitech sucking tone while it's in the loop... wow! I just got the silly thing yesterday and I'm pretty much ready for rehearsal tomorrow, it's really easy to set up and the amps are just amazing. I plan on profiling my favorite Vox, Marshall's and Mesa's this weekend. Instead of lugging my 100 lb Roadster to the gig, I can put this sucker in a gig bag and carry my whole setup in one load with the added benefit of no too loud amps on stage to p*** off the club owner. YAY Beer!
Hit and miss for me
Ok, I'm sure I will catch some flack for being critical of this, but here's my experience with the Kemper:

Pros:
-The profiling is incredibly accurate. It's very dynamic and responsive, behaving very much like the actual amps. Don't mistake that with forgiving though, if you put sub-par sounds in, you will get the same out. The sounds that are captured well are REALLY good. There are some clean tones that came on it that blew my mind.
-It seems to be built very well, I haven't heard any horror stories. All of the knobs feel solid.
-Being able to adjust your modulation and reverb/delay without going into the menus is a plus if you're using this live.
-The 3 light tuner that is always on, that's awesome, I love it.
- I think the unit as a whole is pretty cool looking.

Cons:
-Ok, I read the manual, and I understand how to navigate it well enough, but it is not a simple piece of gear to use. The AxeFX II (although it had numerous tiny menus) was much easier to navigate than this.
-Performance mode, still not working. What's the hold up?
-No computer interface (why have a USB connection if we still have to put sound files on a USB flash drive, there is a port for this to connect via cable that is unusable at this point). Also, no software for editing on the computer. I'm sure the Kemper will improve with these things with time, but people have been saying that since it came out in 2011, and here we sit. Still waiting.
-Unless you have access to the amps you want, chances are someone else's profile will never sound right to you. At this point, you are relying on someone else to capture sounds for you.
-On every high gain or modern amp I've gone through (50-60), the gain knob should be labeled "Fuzz."
-I wouldn't rate the effects as great. They do the job of the effect they should, but they are far from great. I noticed especially that the overdrives had almost no adjustment...

I guess I was expecting something a little different, and I hate to compare this to the Axe FX II, but that's just what seems to be happening.
So, if you are trying to decide between the two, know what you want most from your gear. The Kemper will be just awesome for you if you have access to a lot of amps you love, but do not want to put wear and tear on them, because you can capture all of those tones and take them anywhere on this thing!
But, if you're wanting to create new tones and unique combinations of amps, if you're an effects junkie, if you want something that is continually and rapidly being updated and improved, something that does a vast majority of things incredibly well, I would point you towards something from Fractal Audio.
Or you could go back to basics like I'm doing and go get some tube amps, analog effects, real speaker cabs, and crank those suckers!
Not
The Kemper can profile amps and any lagging in the quality has to do with an imperfect profiling process by the profiler.

There are free and commercially available (Amp Factory) "rigs" which are profiled amps and their effects chain tweaked in the Kemper that make for such a huge variety, you have more amps than professional studios at your fingertips.

Setup is a breeze. Takes minutes. Profiling is a breeze. Takes minutes. This EQUALS more PLAY time as a Musician, and the Engineer in you can take a break.

Kemper has finally achieved the level of Amp parity that the digital world has been seeking for decades.

In Summary, few pieces of gear have made me truly happy and smiling for weeks and months on end. The Kemper continually makes me go "WOW" since my brain expects a large head and stack, or expensive Boutique Amp, and it all comes in a device no larger than a Lunch Box.
The One To Beat
I've owned every serious modeler out there: POD HD Pro, Eleven Rack, Axe-Fx Ultra and Axe-Fx II, and while all of them do some things very well, none of them can do what this unit can. When they say it captures the soul of an amp, they're not kidding. But the secret of all of it is to have great profiles to start with. This unit is Garbage In, Garbage Out. You capture a profile poorly or use someone else's poorly captured profile, and you're going to have a bad time.

But with some amazing free and commercially available profiles out there for the having, this unit will out perform the competition on the amp tone front. My first adventure was to download a profile for free (which I eventually gave a donation for) of a Friedman Marshall. Instant Van Halen Unchained tone. Stunningly close. Never got that close before even with the big boy competition. Just awesome. Took literally 15 minutes from turning the unit on until I had that tone, including the time it took to learn how to use the box.

I even made some profiles of one of my Mesa amps that floored me. Sounds identical to the real deal, and it's not difficult to do so long as you know how to properly mic an amp.

The effects, while somewhat limited in quantity, are of awesome quality. I was afraid that I would be left wanting, but it honestly has more than I really need. So easy to tweak in with the front panel knobs. I initially balked at the layout, but once I got to using it, it all made perfect sense. It is an exercise in great UI design.

This is the first modeler (profiler) that I've used that actually feels like a real amp. Even the Axe-Fx II was missing that last little something. This has it.
WOW Worth a try
I own over 50 guitar amplifiers, most are vintage from the 50's and 60's and a few are higher end boutique amps. I recently purchased my Kemper from Sweetwater. The amp comes with hundreds of profiles and several websites including the free user group offer downloadable profiles.

The unit performs as advertised... profiling versus modeling is BETTER! I've owned a Line 6 X3 Live pedal, a Line 6 HD 100, and other software based modelers... (Liquid, and Garage Band)... they are all good, but profiling is more authentic and simpler/more intuitive for the guitar player.

Running it through a PA with cabinet emulation on, or through a 4x12 HiWatt High output cabinet with a 1600 watt solid state power amp... both approached create tone and dynamics like the original amps... INCREDIBLE.

Read the web site to learn more about the features and tweak-ability. I'm unloading all my modeling gear, and looking forward to profiling my vintage amps to share with other Kemper users.

Brilliant engineering!
Amazing.
This Unit is Amazing. I love that I can have basically any amp that I want at the flick of a switch. I take this thing over to friends houses and profile their amps! Being a songwriter for various styles I need a lot of different tones. Its nice to be able to play a nice country tone on a Dr Z and then start playing some punk rock with a JCM 900 and Dual Rectifier. Its super easy to add on more tones from the community on kempers website. super hard to delete them. What i mean by that is that you dont want to delete them! However, the more amps you have on it, the longer it takes for it to start up. I use this amp alot for songwriting as well as Reamping in my studio. It has brought new life to many mixes. The reason that I gave this 4.5 stars is that there is no software to manage your amps yet. Naming amps and filling in all the information takes forever! If they could make a software that can hook up to the kemper via usb and let you edit with a keyboard, this would save so much time! Also they previewed the new power amp for the kemper at Namm and to be honest i think its super steep price wise (700$) Ill just stick with a regular 1U power amp. Sounds great in the studio or live.
The Best
I have owned the AxeFx Ultra and AxeFx 2. *For me* the Kemper is better. I'm not a tweaker. Not interested in scrolling thru menus, downloading the latest firmware every 2 weeks etc.

If I want to adjust the treble, I reach down and adjust the treble. No scrolling thru 3-5 menus to get there.

To my ears, the Kemper sounds better. Much more amp like. The Kemper makes me want to play.

Why not 5 stars? It's not 100% done yet. No foot controller on the market from Kemper. The "perform" feature isn't active yet. The effects are not quite as good as the AxeFx, but they're good enough for me. [all I need].

Highly recommended.
Great Studio Tool
I've been working with this unit for 5 days now. I had ordered a reamping unit from my sales rep because my amp plugs were not getting me what I needed for recording and he mentioned the KPA to me and I gave it a shot.

First off I have to say that the amps that come with it did not do much for me. I went to the amp factory and downloaded many more models. After that I was happily blazing through the presets spending a lot of time on the Bogner Goldfinger model because I own a Bogner and I love his sound.

This is the first modeler I've heard that really gets the harmonic structure of amps as well as getting those just breaking up sounds that are so hard to find. As I went through the CD I'm currently recording I was able to find the right amp sound for each part very quickly. I had been messing with amp plugins and they just weren't nailing it but the KPA did.

Then I hooked up the reamp device out of Pro Tool and started recording all my guitar tracks with the KPA. The fit in the mix is astounding to say the least and I'm finally comfortable with the guitar tracks. I saved the presest on the KPA to let me know which ones I used.

I haven't tried to model my own amps as I'm fine with what's in there (with the ampfactory models). All I can say is that it fixed up my recorded guitar parts with great sound. One thing that was cool is that as I reamped the parts back into Pro Tools I could control the gain on the Kemper in realtime so I did so on a few parts where I wanted the gain to drop a bit and then come back up. Worked like a charm.

It's a great tool for what I'm doing but it's expensive so you may try other things before you lay out for this.
Kemper profiling amp
If you are looking for a portable powerhouse of real amp sounds look no further than the kemper. It is really cool when you hook it up to a couple of speakers (even computer speakers because it sounds great. Very clean with no hum or other background noise. This eliminates the need for a big amp combo. I have also ran it through my line 6 spider amp and you can combine the sounds for tons of cool tones. Thumbs up whether you play clean or heavy. You will spend a lot of time jamming!
IT REALLY IS THAT GOOD (but make sure you get more profiles)
I have had almost every famous amp out there and am a tone freak. I have hated every other attempt to model amps up until this little guy. I will say it is not 100% but probably 96% there. I run a commercial studio and have major label credits to my name and in the 4 months I have had this I have mic'd up an amp twice, and both times still ended up using the Kemper tracks over the mic'd tracks. I have sold a few amps now and still have a few for those times where I may want to do some crazy micing with multiple mics and what not, but honestly this thing can do whatever you need it to do.

I will say however that the built in profiles are pretty good but I was not blown away until I started profiling my own amps and really seeing how close it is. I have found my favorite profiles are the ones I have purchased from the amp faktory. I do have a few I use from the user base but the amp faktory stuff has everything you really need.

They need to develop a midi based on screen editor for your computer however because trying to manage a 1000 profiled amps on the little built in screen is a waste of time. That will come in time though.

Buy it if you can afford it and you will not be disappointed.
Lives up to hype and exceeds expectations!
If you're looking at this, you are probably skeptical like I was about whether or not the unit can actually do what so many claim it can do... whether it can legitimately sound just like the amp it is profiling.

Let me ease your doubt and tell you emphatically YES!! This has been one of the truly FEW products I've bought that not only lived up to the insane amount of hype but shattered my expectations of "close but not quite".

I am a HUGE tone freak and obsess over even the smallest nuances but this unit has 100% impressed me. Not only does it faithfully capture the tone and FEEL of a cranked tube amp, its controls allow you to manipulate and tweak the sound in ways that the actual amp would not. This lets you, dare I say, improve upon the existing amp's abilities in a recording environment.

With a full featured effects selection, built in re-amping capability and plenty of professional quality profiles available for either free or for a small cost online, the possibilities are near limitless.
Meh
I had both the Axe II and the Kemper. The kemper, although it sounded good, had a low fi, mid range bumped kind of sound. The Axe II in comparison was much more hi-fi. There wasn't a thing the Kemper could do the Axe II couldn't so I sold the Kemper. Nice unit for those who just want vanilla sounds though.
Axe FX II Gone & the Kemper Black KPA Way Lives On!
I have waited a couple of months to do this review to be certain that I was not in the Honeymoon Stage of acquiring this new gear. In a word this piece of equipment is STELLAR! I sold the Axe FX II before getting the KPA. I was tired of constantly tweaking to achieve acceptable tone. I do not regret that sale. With the Kemper right out of the box I was able to get that guitar tone that I have been chasing for decades & have spent $1000's of dollars on. With very little tweaking the Kemper tone is flat out amazing. I have never been an amp man so I cannot tell you if it sounds just like the amp that it has profiled. What I can tell you is that the pick response & the way it cleans up with the volume knob is amazing. It excels in every area. From Clean, Crunch, Drive, & High Gain, all sound fantastic. The effects and stomp pedals are excellent as well. It seems like a lot of buttons & lights on the front panel, but this is one of the most intuitive pieces of equipment that I have ever used. With just 2, 3, or 4 simple tweaks I am in tone heaven. Those tweaks take only a couple of minutes to make & then the fun begins. Time spent playing the guitar & not tweaking. I have been a playing / giging guitarist for 47 years, been a sound engineer, recording engineer, singer, & song writer & I can confidently say that my quest for guitar tone is finally over. I have the Kemper & it will only get better with free firmware updates. Do yourself a favor & put an end to your search for guitar tone. Buy the Kemper now! You won't be sorry. Also, Sweetwater rocks! Dan Van Amerongen is the best! Super Fast Shipping. Excellent Customer Service. Sweetwater has earned my continued business!
PS: I have not even profiled with this unit. There is no need because of all of the free profiles inside the Kemper, free profiles on the Kemper rig exchange, & there are awesome profiles to purchase through the Kemper forum. This KPA is truly THE game changer. Axe FX II Gone & The KPA Way Lives On!
Above and beyond anything else out there.
I was skeptical. Really skeptical but I unpacked it, plugged it in, updated the operating system from the kemper website and scrolled through the 200 plus amp profiles that come with the unit...

It sounds, feels and plays EXACTLY like the amps that are profiled. I don't mean "almost there" like most modelers, I mean EXACTLY!
I've had a AC30 for years, no difference between my AC30 and the AC30 Profiles in the Kemper. I then downloaded from the Kemper website some new profiles to try out and found the LEGACY amps of Steve Vai fame...again WOW!

Everything else is a cheap toy now. There is absolutely no unit out there that can beat the Kemper. I really don't think the sound can even be improved on as there is absolutely no difference between the Kemper and the real amps it profiles.

Unbelievable.
Needless to say, my new album is being entirely recorded with this.
Game changer!!
This is the first piece of gear I've ever wrote a review on. The KPA will forever change this industry. It is the first non-processed sounding pre-amp that actually sounds like a real tube amp. It even acts like a real amp when you turn your guitar volume down. STomps are incredible.
Pleasant surprised
I wasn't sure what to think of the Kemper at first. Their demo videos released a few years ago didn't impress me all that much. I'd been an Axe-FX Ultra user for years, and I also ended up picking up an Axe-FX II when they were released. A few metal musicians I trust told me this was worth picking up, and they were absolutely right.

This unit is VERY easy to get great tones with right out of the box. There's a vast community of Kemper users making exceptional profiles and uploading them to the Rig Exchange site. It takes less than a minute to download a new profile, put it on a flash drive, and add it to your unit.

I quickly had an understand of tweaking and navigating. Despite the wide array of controls on the front, it was never overwhelming. There's an intuitive natural to the layout.

The absolute biggest advantage of this over the Axe-FX in my opinion is the dynamics. I really love my Axe-FX, but there's a slight lack responsiveness when picking lightly using high gain simulations. The Kemper really feels like the maintains that tube sponginess and response. It's pretty incredible.

The reason this is the 4 instead of a 5 is the way the power works. It takes roughly 45 to boot up fully. Even when I deleted most of the rigs in the unit, I was still looking at around 30 seconds. Also, when there's a quick power failure, they unit doesn't boot itself back up. The capacitors in the unit need to fully discharge, it needs to be switched off, then the power can be set to the on position again. If you're using this only as a studio tool, then you don't really care about that. For live use, that would really make me nervous.

These are things that can be fixed with firmware updates in the future. Kemper seems to really be on top of responding to the community for things like this. I'm absolutely hanging on to this. I can't wait to see how they improve it down the line.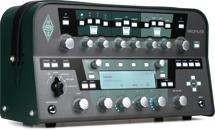 Guitar Amp System for Playing and Creating Custom Profiles of Real Amplifiers - Black