Sort By Date
Sort By Rating
Customer Reviews
Follow up to earlier review
I havent changed my review but i'd like to respond to the complaint of "no good dont buy"'. Im not sure a about a "splat" sound, but i would bet a months pay that the "problem" you are describing is the result of Fender shipping these amps with a 5AR4 rectifier tube. I'll grant that The 5AR4 IS an odd choice for a 15 watt vintage Fender combo. The only thing I can guess is Fender wanted the amp to have more compression and a "modern" quick response to try and compete with the super triple-recto-bonecrusher-5 channel-modeling combo on sale at the Big Box store, and thats providing any "splat" your might have heard. Its a shame you sold the amp because simply intalling a 5U4G type or even a 5Y3 ,as the originals used would "solve" it for you. Sag and "Touch dynamic distortion" restored.....Its a shame some people are going to read that lousy review and maybe miss out on buying a great American amp,at a decent price.
A Beautiful Amp
This Fender reissue is IMHO far better than even the original. This Princeton Reverb behaves quite a bit more like an old original Deluxe.I dont know why the guy who left a 1 star review for this amp did so, except that maybe he thought this amp was going to be like the 70's silverface Fenders that were so "'clean' they could have been used (and often were used) for Bass amps.This little Princeton Reverb is an anachronism (which i hope Fender has the good taste to keep building).It has the voice of early and Brittish Invasion rock n roll , bluesy riff based rock n roll. The long spring reverb alone is ebough reason to have one. But I like to Jump the channels with an ABY box, a Good vibe effect and maybe slight clean boost to heat'er up, for my favorite liquid guitar tones. Its amazing how guys will go on and on about Soldano,Buddah or Bogner, who have copied original Fenders so closely, and dump on Fenders. Maybe Fender should charge $3500.00. NO! forget I said that.
CLASSIC FENDER TONE
This is absolutely the best small amp you can get that has the classic Fender sound you know and love!!!
Princeton Reverb
Let me just say I've had one of these for only a few months and have been nothing but impressed. The reverb and vibrato on this is amazing. Also it comes with a great fender warranty. The drive knob on mine got bumped and I sent it in under warranty and fender fixed it at no cost with little hassle. The tone on this thing is great to but if you need that extra crunch or lows to your guitar tone I definitely recommend picking up a overdrive or distortion pedal.
not good, don't buy!
this amp is almost good, but NOT! i grew up playing a princeton reverb so after playing it for over 15 yrs, i know how they should sound. a decent princeton reverb is absolutely one of the best amps ever made. fender came close with this reissue and completely blew it.

this reissue amp sounds wonderful with vol on 3 and tones on 5. just like a good orig princeton, the reissue sounds great up to that point. but a princeton is also supposed to sound touch-sensitive gritty on vol5 and have the most amazing touch sensitive distortion up to vol10.

the reissue ALMOST does it, BUT there is a horrible "BLAT" sound that accompanies what should be that incredible touch-sensitive distortion. this problem is written about all over the various forums on the web. people refer to it as 'cab rattle', but it's not.

believe me, i really did not want to give up on the reissue because it is almost(but not) great, but it was unfixable. people write about changing the tubes, the spkr, the baffle board etc. i was almost going to go that route because i really did want this to work. of course i resent having to rebuild a brand new $900 amp from the ground up!

anyway, i decided to test if it was the spkr, or cab as alot of folks who are modding this amp on the web seemed to think, so i plugged into into various spkr cabs i have that work well. it turned out the same problem occurred with perfectly good spkr/cabs. i tried several.

i contacted various people who did mod their prri's. several did extensive mods, but then sold them anyway!

sorry, but this amp has a design flaw. it's all over the internet. buyer beware. this is a dawg!

save your $ and get on orig princeton or one of the clones out there-fender really messed up this chance.
Disappointed, just not for my use. Otherwise OK.
I ordered the 65 Princeton Reverb as soon as they were available. I've owned many Fender amps over the years and used those that I haven't owned. I own a Blues Jr. that I love.

I was greatly disappointed in the new 65 Princeton Reverb from the minute I first plugged it in. It just doesn't have the power that I felt it should. My 15 watt Blues Jr. does a decent job in nearly every venue the you could imagin, even on outdoor gigs, (un-miked). If you need any more power than the Blues Jr. gives you, you will most likely be playing in a setup where everything is miked. Also, our rhythm player uses a 15 watt Fender Pro Jr. for practice, (very small and easy to transport). Like the Blues Jr. the 15 watt Pro Jr. also blew away the 65 Princeton Reverb.

I actually felt the new Princeton was defective. Maybe a weak pre-amp tube. You could detect initial signal break-up with the dial set at just 4.5, and obvious distortion at 5.5. The Blues Jr. has a 12 inch speaker and the Princeton has a 10 inch but didn't feel that should have made that much difference in the volume. Maybe it does.

I attempted to use it at our next practice session the day after it arrived. By the end of our first warm up song (Eagles - Take it Easy) I was unplugging it and hooking up my Blues Jr.

I drove the 90 miles and returned the amp. They took it straight to their tech department and checked it out. Low and behold, no problems existed and it was putting out just over 15 watts on the scope.

This amp was just not going to work for me so I upgraded to the Fender Deluxe Reverb. For the 50 bucks difference in price, I should have bought the Deluxe Reverb to begin with, but wanted the 8 pound lighter Princeton after having two back surgeries. Also I wanted the foot switchable reverb and tremalo/vibrato that the Blues Jr. didn't have.

If you don't need more than small room volume, the Princeton could do the job for you. I will say the reverb tank sounds much better than the Blues Jr. Overall, it's the typical Fender tube sound. It just doesn't have the guts for my use.

Again, I would highly recommend the Fender Deluxe Reverb for just a few bucks more. The 22 watts isn't too much to get a lower volume for practicing, the 12 inch speaker over the Princeton 10 inch is an improvement, and the Reverb tank sounds even better yet.

I'm still perplexed over the volume difference of the Princeton compared to two other 15 watt Fender tube amps. But, I'm absolutely happy with the Deluxe Reverb.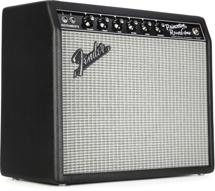 Single-channel 15-watt, 1 x 10 Tube Guitar Combo Amp with Reverb and Vibrato