Sort By Date
Sort By Rating
Customer Reviews
Rock Solid
Did exactly what was expected, built like a tank.
Great Value
It is well worth the price and looks sleek,definitely would replace it.
PICK THIS ONE UP !!
Easy to use , easy to read. Easy to set up .. you can power a few pedals and a daisy chain offa it. But what takes the cake i think is its true bypass so when you are tuning ( or changing instruments) you click this baby on and absolutely no signal goes through. Have one myself, bought one for a friend !
pitchblack tuner
so far so good , needed an inline tuner without interfierance , really enjoy the bypass . no turning off or unplugging .
Perfect tune
I've not seen one of these on any friends' boards, but came across it on an internet search and looked perfect for my needs. And...

.... it is perfect for my needs! And I haven't even looked into any other display modes, which it has, I love it right out of the box. Never thought I'd be so excited about a tuner!
Solid
This pedal works great. Quick and easy to tune with true bypass. I've used it on several stringed instruments without any issues. The price is much lower than comparable tuners. This pedal does it's job and does it at a bargain price. It is plastic, but is solid. I expect that it will last as long as comparable tuners.
Great tuner, great price
Works flawlessly, easy to see in any light. Fits easily on a board or in a guitar case. Very stable. Housing is solid and seems like it will give years of service. The switch is easier to push than most of my pedals and doesn't have the "Cachunk" that I've grown used to (but it's obvious when it's turned on or off.
Pitchblack Tuner: Our bass players love it!
Compact, easy to read, "hears" all of the bass notes. Mildly concerned about the strength of the box...we'll see...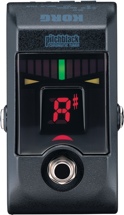 Compact Chromatic Tuner Pedal with Four Display Modes, True Bypass, and LED Meters - Black Chrome