Sort By Date
Sort By Rating
Customer Reviews
Perfect
Love this amp! Love the retro look and works great. Exactly what we were looking for.
Excellent "small" amp
For what you pay on the Vox Pathfinder 10 Bass amp, it's a really good buy.

First, it is simple. [Why do they even include an instructions sheet with it?] This is what more electronics should be--straightforward and providing everything you wanted without having to wade through a lot of technical stuff.

Second, for its small size and specifications (i.e., a 10 watt "practice" amp), it actually is suitable for playing small rooms. The sound is clean, and I enjoy using it with my Hofner 500/1. Tweak the knobs in the right direction, and it gives you the sounds you wanted.
Fun Little Amp!
I got this for guy bass practice, and because it's really cute. It's pretty good for bass, but a bass clobbers the input so hard if the guitar volume is up too high that it clips. With some adjustments you can get some good stuff, tho. The tone is toppy, and the bottom isn't too bad for a pair of 5-inchers.

Then I plugged a PRS with soapbars into it and let it rip. OMG! This thing's a weapon! It tore my head off with only 10 watts! Typical of the Pathfinder series, this amp is really loud for the rating, and it sounds tremendous with a guitar ... really VOXy!

And it really IS cute. Get one! You'll love it!
Vox Practice Amp
Very good amp to practice with
For what it is...
It's great for what it is. But that's it.
Use it to record with the line out (that's what I got it for) or to mess around by yourself at a moderate volume. If you do those things, it's a fantastic amp - especially for the money. Expect much else, and not so much.
Bass amp ?
Bought 2 of these GREAT looking little amps, but when i plugged in a Fender P-Bass was astounded at how bad this amp sounds for bass. The input distorts no matter what you do, and it is virtually impossible to get a clean bass tone out of it at any volume or input strength. Have tried Rickenbacker, Danelectro, Burns, J-Bass - all sounding like a bad fuzz-tone. Also- the open back seems to be a big mistake for bass??????? A real dog. Get something else.
ps The Pathfinder 10 guitar version is great for guitar !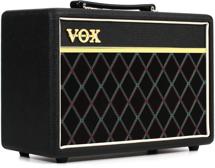 10W, 2 x 5" Bass Guitar Practice Amplifier with Headphone Jack