Sweetwater Advice
As a long-time user of Reason, no keyboard controller I've seen has even come close to the integration and ease-of-use as the new Nektar Panorama P4. Nektar has built it specifically for use with Reason 6! When I have some precious time in my home studio, the work and creative flow is extremely important to me. The P4 takes that flow from drip-drop to full-blast!
Sort By Date
Sort By Rating
Customer Reviews
The Search Has Ended! This Is Your Next Midi Controller!
Where do I start?!!!

Well, how about a little background on previous keyboards I have owned? Im primarily a drummer but over the last few years I had started to dabble in the computer recording world of using a DAW.. I have been using Cubase, recently Cubase Artist 7, for sometime and recently got hooked on Propellerheads Reason 6.5. Both are remarkable programs but both have their own bragging points. So I use both. Maninly Cubase due to my use of VST instruments and Reason due to the Rack Extensions.

I owned an Akai MPK 49 for a while and recently was using the new Akai Max49. Both are great keyboards but I was looking for the next step. Something that would give me better integration and workflow with my DAW of choice.

Well, I FOUND IT!

The Nektar Panorama P4 is superb in every way! Here are the key points I feel set it apart from the rest.

1) Build Quality
This unit has substantial weight and feels very rigid in its construction.
Although no metal is used all the plastic parts are heavy plastic with much thickness. Especially the top white area of the unit. I was very surprised at just how well it was built. Easily the most well built keyboard in this range. The Akai product was a good build as well but this is a step above in my opinion.

2) The keybed
Now this is subjective but let me say that the keys are not at all like the Akai MPK49 or Max49. Those keyboards have a very heavy spring action which can be fatiguing over long playing periods. The Nektar Panorama P4 has a very smooth, medium weight. The action feels equal from top to bottom of the note. Personally, it took some getting use to after using the Akai since it is so different but I now prefer the P4 and I now see how it helps you play more naturally. The black keys are a matte finish and not shinny like regular piano keys. I like the feel of this. Seems more tactile. If you have seen reviews of the keybed being cheap it is far from it. It is just different than anthing else out there. Ive seen where other have had a hard time explaining it and now I understand why. Its definately unique. Which a very good thing.

3) Faders, Knobs, Display, Pitch and Mod Wheel, Motorized Fader, Soft Keys.
I grouped these all together since its the main hardware control area of the board. This is where I am very picky. I hate loose faders and knobs. Like the Novation Impulse, especially their knobs. Wow, just junk.

The faders on the P4 have a very nice resistance to them. I would say it is medium but in no way is it loose. Feels solid to the touch. The caps are higher than most and have a little side-to-side play but its normal. The caps on the faders have a rubber type coating and feel great to the touch.

The knobs have a slightly less than medium feel but they are not loose. They also feel good. They have a smooth rotation but do not have the click marker feel to them. They also have the rubberized coating. A great feel.

The pitch and mod wheel are the best I have used. The pitch wheel has a nice tightness to it and the mod wheel is just a tad bit looser than the pitch wheel. They both light up red as well. Very cool.

The overall control and transport keys feel wonderful. They are a nice size and are made of very good dense rubber. Most of your main buttons have lights representing their current state. The transport controls are back lite on the play, stop and cycle buttons.

The display is gorgeous! Its not to big and not to small. Extremely clear and bright with great colors. It is also adjustable in brightness. The amount of information they have on the display is crazy. Several times when I play my monitor goes to sleep when working with my DAW. It is that integrated!

The motorized fader is a fun, nice touch. It follows the track you are working with and each time you turn on the unit it will self calibrate (move up and down) to find it correct position. The motorized fader is slightly loser than the standard 9 faders but has a nice resistance to it as well. I believe the cap is made of aluminum. Its definitely not plastic. I'm not 100% sure though. I just know its generally cold when I touch it. So i assume its not plastic. :) It has a nice concave cap which fits well into your thumb or finger tip for adjusting.

4) Integration with Reason and Cubase
I've included Cubase because I use it and Reason mainly. Nektar is currently working with a beta testing download for Cubase. Once you buy and register this keyboard on the Nektar website you too can be part of the beta testing. So far the beta testing is very in depth in regards to its integration with Cubase and they continue to improve before final official release. Since I use Cubase Artist 7 all the included VST instruments are mapped. Hopefully we will soon see the officially release for Cubase. I'm hearing possibly early May of this year. They are definitely on the right track. Its works great even in beta testing state. In regards to Reason, its simply astonishing! Works so very well. Its just all there, on the screen in front of you. Gives you completed hardware control of the DAW. Its so much fun!

On a side note. I have exchanged emails with Nektar and their customer service is incredible. I was in retail sales and management for 18 years and Nektar knows how important customer relations is to a successful business. I know if I have an issue, problem, or question in general they will be there to help. That's a comforting to know!

In regards to Sweetwater. WOW, WOW, WOW!
My sales engineer Carson was extremely professional and personal for that matter. Very knowledgeable and helpful when placing this order! Thanks Carson!

In closing, I know this was a lot to read but I hope this review was helpful. I hope I didn't leave anything off that was important to you in making your purchasing decision. If you do have a question with this unit I have included my email below .

There is honestly nothing like this keyboard on the market in this price range. So look no more. This is your next midi keyboard!

I have included my email for anyone who has questions about the Nektar Panorama P4. Please don't hesitate to contact me. I'm more than happy to help.

Great job Nektar & Sweetwater!
Nice...
This controller is amazing. Allows for maximum productivity and exploration of Reason, and now, Cubase.

Thanks, Tharon, for helping us out and hooking us up with this piece.

My son is the main user and loves it.
Perfect!
Seriously the best keyboard for reason hands down. I've owned quite a bit of keyboards but none ever integrated with reason like this one has. The nektar site also updates the firmware often so it also integrates with the latest rack extensions. Buy it, trust me you will not regret this.
Amazing
This is a great midi controller when using Reason, its the best that you can get for this program everything is all matched with the program and i find myself rarely looking at my computer screen, I recommend this!
pandora4
This 49 key midi controller rocks, great investment, cuts the work in half!!!
Really enjoy this Toy.
Wow This product is awesome.It is something I ve always wanted to have.I think P4 is a must for all REASON user because everything becomes comfortable combining them. Also the interaction between software - hardware is excellent and the work flow is easier now.I really love this toy!.
Thanks SWEETWATER for being all time worried about delivering were done correctly.
It doesn't get any better than this
I won't rehash what all the other reviews have said, except to say...this is IMHO the perfect integration between software and hardware...my workflow has increased to warp speed! I rarely even look at the screen of the computer while I'm creating...the build quality is excellent, the key bed is just right...this is heaven in controller...well, it's not actually a controller it's now part of the Reason app....there is no line between the two
WOW...NOTHING SHORT OF AMAZING...
I WILL NOT ADDRESS THE SAME THINGS LISTED IN PREVIOUS REVIEWS BECAUSE THIS CONTROLLER DOES EVERYTHING THE PREVIOUS REVEIWS RAVE ABOUT...THE EASE OF USE AND WORKFLOW YOU ACHEIVE WITH THIS CONTROLLER MAKES YOUR TRACKS FUN, AND ALLOWS FOR MORE TIME TO DETAIL...AND THE ABILITY TO EDIT YOUR VOCALS AND INSTRUMENTS FOR 499 IS UNHEARD OF....I HAVE A 1299 DOLLAR MACKIE UNIVERSAL PRO, AND I HAVENT PLUGGED IT IN SINCE I RECEIVED THIS....NEVER USED A REASON PRODUCT UNTIL THIS CONTROLLER AND REASON 6 ARRIVED....TOOK AROUND 10-12 HOURS OF LEARNING BEFORE MY SKILLS WERE SHARPE ENOUGH TO NAVIGATE AROUND, BUT IT TOOK ME WEEKS IN SONAR...SO, WELL DONE
The year of Reason!
First came Reason 6.0, then 6.5 with Rack Extensions. Now, the Nektar Panorama P4 arrives and carries on with the innovation! As a long time Reason user, I've composed two of my albums and countless remixes using that incredible little DAW. With the Panorama, the line between hardware and software blurs even more! From it's nicely weighted keyboard with aftertouch, to the easy to read (and use) screen, and the motorized fader, this is one piece of gear that every Reason user should have. Also, it's an excellent controller for any other DAW, as well as for all physical rack gear. The only way that my self-proclaimed "year of Reason" could get better is if they suddenly introduced native MIDI support. Excellent job, Nektar!
This allows creactivity and inspiration to flow
Man this keyboard is nice.. want an even better experience attach a mini 7 in touch screen monitor to the back of this thing.. you'll forget you even have a computer..
Above&Beyond
I love this controller,my work is so much faster. I think anyone who wants to take their skills to the next level,should invest in the P4.
Nektar Panorama P4
This keyboard controller is truly AMAZING! I can record,control, mix and master in Reason 6.5 without ever touching the mouse. Pairing this with Reason 6.5 is a truly great experience!!
Simply THE BEST controller for Reason!!!!
Rock solid quality, great action on the keys, and the motorized fader is AWESOME! But the best part is the 3.5" TFT LCD - the feedback and information allotted is simply amazing. Also, macro commands are super powerful - create instruments, tracks, save projects, open favorites - whatever you want! Highly recommended!!!!
Wow, The ultimate reason midi Keyboard
I had been waiting for someone to utilize Propellerhead's ReMote protocol and it is finally here.

The keys feel great on this, they aren't weighted but feel a lot better than most midi keyboards I've played. The pitch/mod wheel and the keys all feel very similar to moog's little phatty.

The real treat with this keyboard is I no longer have to look at my laptop live. with the screen and the controls it provides I have access to anything I could want to use at all. This means I can rack mount my pc and not have to worry about the druken/insane crowd surfers knocking down my laptop and ruining the show. The motorized fader is a nice touch to the keyboard but the fader itself has a great feel to it when doing swells and general mixing.

I had a small problem on the installation but I called support and they fixed the problem within minutes. Such great service by the way. The guy I talked to was equally excited about using the keyboard as I was.

If you use Reason you will not be saddened by this keyboard.
Nice Controller!
This is a real nice controller! The only thing that I didn't like was, that it was somewhat false info on XP compatible, Because the guy from Nektar told me they meant to make it compatible with every window that Reason 6 used, but they didn't, but I also had windows 7 so its cool. But you can't find another keyboard so easy to use with Reason 6. The feel is good, and to be able to use without a mouse is also great. I also like the mixer!
Enjoying It More and More
This is an update to my previous review. Now that I have windows 7 rolling I've had sveral long sessions working with the panorama and I've noticed an instant productivity bounce. Something as simple as scrolling through Line 6 patches while holding my guitar without mousing is great. I'm liking the keyboard and control feels more and more. Everything is well built and feels solid. There's a little bit of a learning curve which I'm still ascending and the documentation is scant but that's part of the fun I suppose. I'm finding myself getting more organic sounds because I'm more inclined to move and push the sounds in ways that are difficult with a mouse and keyboard.

I was a bit disappointed with the pad respoonse and I reached out to the company and it was a pleasure to get a response written by a real person, appreciating my concern. They seem to be committed to making the controller better. I still may try a mod we'll see.
Verdict Still Out
This is going to be a work in progress review primarily because I can't leverage the controller as with reason yet!

First things, first. Despite all the press and reviews of this product it doesn't support windows XP. It does say on the product website at the bottom in the specs that it does not, so shame on me. But every review and press piece on the controller clearly says otherwise. So big disappointment when I go to start tweaking knobs in Reason.

So while I wait for the new drive and windows 7 to arrive I've had a chance to use it simply as a midi controller without the tight reason integration. This is my first real controller with knobs, sliders, and pads and I will say it was exciting to have the extra creative control, even if still limited. The knobs, wheels, sliders, and fader and feel nice, smooth and chunky the way I like them. The keyboard will take some getting used to as it seems to have a little more resistance than the more synth like action I'm upgrading from.

However, the pads are a little disappointing. I'm started as a drummer and am still a drummer so this was a big deal to me. Pads are not sufficiently sensitive. If you want to do anything more nuanced than four on the floor the pads won't detect all your hits. Something like 16th's on the hats at a normal tempo just isn't going to work. The kicker is that apparently the for the P6 they made them more sensitive. Googling around it looks like this a common problem on other controllers and there is a fix on these other controllers, but it involves opening up the case, hacking the physical pds and voiding your warranty. Really? I can't imagine anyone wanting the pads to be this insensitive, so why ship it this way.

I'll update this once I've updated to windows 7 and had an opportunity to play with more of the feaures, maybe I will have voided the warranty by then too and I can report if the hack works for this controller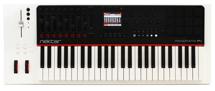 Control Surface For Reason 6 with 49-key Keyboard, 12 Pads, 16 Encoders, 9 Faders, 1 Motorized Fader, and LCD Screen