Sort By Date
Sort By Rating
Customer Reviews
the best
Amazing and easy to use. The recording quality is very high as well.
Great Value
I am amazed at this package. I have waited a LONG time to migrate to an all-digital domain and continue to be amazed at how much Pro Tools will do. It is great to have all the recording, midi and instruments in a one-stop format instead of 400 lb stand-alone tape machines. racks of sound boxes other 'stuff'. I can also buy additional 1 TB discs for less than 1/3 the cost of one roll of 2" tape. The ramp up also been faster than I thought it would be.
You Get What You Pay For!!!! Sometimes Better!!!
i'm coming from the saffire series and before that the delta 1010 pci. i can tell you that with each upgrade is sounds as if a veil is being lifted. i was never truly a fan of the mbox series of interfaces but this one is truly fantastic. The detail in the mix comes across very well and sounds true to what i hear when i listen in other environments... in other words the mix translates very well
Great Quality & Bang for your Buck!
Can't beat having Pro Tools 10 included and though there are better interfaces, it would cost a lot more to get better quality than what you get here
MBox Pro + Protools 10
The converters and preamps work great. Every one that has heard the results have been blown away that the recordings are being done in the corner of the dinning room! I still have not touched all of the features included, but I don't need to when my results speak for themselves. Play back of recordings sound great and stand up to comparison to any system and recording.
Never Recorded on my own before. This was definately the right way to go!
I've barely scratched the surface of what Protools has to offer, and I'm already glad I went this route. Very impressed with the Mbox too
Recording The New MboxPro & PT9
Sounds so much better than Mbox2 Pro and PT7. Amazing difference.
Actually sounds reasonable natural and smooth. I know the pre and converters are different, maybe the software algorithms too.
Whatever. It's pretty nice.
A great way to start a home project studio!
Build quality is solid. Setup was a snap. The revisions made to the software are fantastic.
Mbox Pro with Pro Tools 9
Mbox Pro with Pro Tools 9,What can you say,Avid went all out on this Bundel, pair it up with the MC Control and you have a professional Home Studio. The MC Control is sweet all the keys are maped for you right out of the box. I also use The Mbox Pro with Sonar-X1 Producer with the Roland VS-700c. And sometime Pro Tools 9 with the RME Babe Face works well together. The Mbox Pro and the RME clock sync together perfect. I have Pro Tools and Sonar-X1 Producer in sync together for the best of both worlds. If you wan't the best sound for your home studio pick up this Bundel. I buy all my Gear from Sweetwater they are the Best, Tom Maxwell is my goto guy for all my orders. When you need to get up and runing fast, Sweetwater is the place to go for all your recording needs, Thank You all at Sweetwater for your Commitment to Excellents.

Sincerely: Todd
Purely Amazing
Protools 9 is bringing the heat to the DAW scene with impeccable attention to detail. you don't even have to have the box connected to finish or continue editing on the go and for me thats Amazing worth every single penny
Pretty Darn Awesome
Huge upgrades. I had the Mbox and Mbox2 and this just blows them both away. Spend the extra money and get something that you can create something great with.
Good sound
Driver for mbox to work with newest Mac OS took a couple of hour but once installed sound was clear and open with full natural bass. In this price range you would be hard pressed to find a better sounding system
Pro tools & Reason
Reason - great product
Pro Tools - great product / horrible support

Sweetwater spoke with me directly, sent me a quote and shipped the Pro tools and Reason to me by the end of the week. They personally accepted several personal emails concerning installation. They walked me through a stressful set up for a non tech head, and got back to me in a short time.
I wish I could say the same for Pro Tools - though still a cool product, the experience of getting it up and running without Sweetwater would have been impossible. There is virtually no way to just ask a simple question on the Avid website. It just routes you in a downward spiral with no contact with a single human being. I'd spent a thousand dollars and I wasn't allowed to ask 1 simple question. Again, this is where I give credit to Sweetwater for the email tips - thanks again. - bob
Good Deal, Great Interface
I purchased this unite to upgrade an M-Audio Fast Track Ultra. I will not discuss the Ultra's shortcomings here... save that for another review.

Drivers:
The MBox Pro (Gen 3) drivers are rock solid. I have them installed on a win7 Pro 64bit system and have not had a single problem or issue. Installation was smooth and the interface is mostly self-explanatory. Pro-Tools 10 interacts seamlessly and reliably. Sometimes when Pro Tools gets too overloaded during a mixing session, the interface will get stuck on a specific sample and repeats it over and over until PT responds again. I am assuming this is an issue with PT and not the MBox.

Setup/Use:
The Mbox allows for a separate mix to be generated for each of its 6 output pairs: Stereo 1 (Front L&R), Stereo 2 (Center & Sub), Stereo 3 (Rear L&R), S/PDIF, Headphone A, and Headphone B. Effects can be mixed in with any output pair but the per channel effect sends are global. The effect returns are independent for stereo 1, 2, and 3 out but grouped for S/PDIF and the Headphone outs. There is a single global effect consisting of delays and reverbs.

The setup and front buttons allow for either 5.1 channel operation or 3 sets of stereo speakers.

The MBox operates in 44.1, 48, 88.2, 96, 176.4, and 192 sample rates with some limitations. If you go above 96k you can only set up two stereo mix channels. The other mix outputs on Stereo 3, s/pdif, and headphones default to using the stereo 1 mix. They can always be set to directly follow the inputs or returns as well as mix 1 or mix 2.

Front and Rear Panels:
The MBox Pro has 4 mic pre channels. Each has an optional 20db pad, limiter, and direct (hi-z) option which skips the mic-pre circuits. The jacks for channel 3 and 4 are on the rear while 1 and 2 are on the front. The limiter works nicely and is reliable. You will the limiters if you use this interface in situations in which a second take is not possible such as in live events or radio. There is a single global phantom power of/on button. There is a button that will allow you to switch between three sets of stereo outputs and another that lets you listen in mono. These are not functional if you run in 5.1 channel mode. There are two headphone outs each with its own volume control.

On the rear there are 6 balanced monitor out channels and 4 balanced input channels. There are two additional rca type unbalanced input channels. There are also 4 insert jacks. There are two firewire ports and a footswitch jack that can be used with PT to control punch-ins or playback start and stop. The MBox uses a power supply that is in-line with the power cord (as opposed to a wall wart type). There is a switch for +4 or -10 input levels.
Clock MIDI and SP/PDIF are on a breakout cable.

General Build:
The MBox Pro Gen 3 has a heavy duty aluminum case and all components appear solid. The volume control has a nice feal and is large enough to find easily. In my environment, I am currently experiencing problems with static electricity. I regularly shock myself when touching the MBox (as I do with other devices in this environment.) This does not cause any problems with the MBox. I have other equipment that will reset when shocked, the MBox is not one of them.

Sound:
I have found the sample rate conversion to be trouble free within the limits of my setup. The Preís have enough headroom to handle my dynamics and condensors and are clean. At the top of their range they do start to introduce self-noise but this is at the very top of the range. While this is definitely an upgrade in sound quality from the M-Audio interface I had, I currently donít have anything else to compare it to. I use this unit to produce radio programming and do mixdowns of remotely tracked sessions or performances. It is more than up to the task. The audio coming through the preís and into the PC is clean and doesnít have that odd ďsparkleĒ sound present in the M-audio Fast Track Ultra. I see no evidence of noise or DC offsets when I expand the waveforms. And I donít hear any coloration of the sound coming in or going out.

Conclusion:
Good price, solid unit. Unless you have a need for more than 4 outputs operating at 192k sample rates, this would be a good addition to any project studio or radio studio system. Donít forget to consider bundling ProTools 10 with your purchase.
Well worth the wait
Purchased the first Mbox years ago and Boy how things have changed in the past 5 years.! Also have owned the Firepod. The Mbox Pro is by far one of the most solid put together units. The Pre Amps sound great and I love the durable way it is built. One warning if your operating Lion 10 7.2 don't use the drivers that come in the box go to the website and use the updated one that Avid have posted. I used the ones that came in the box on my iMac running Lion 10.7.2 and it crashed when it booted up. After which I started have this ugly white noise! Sweetwater the Pro's that they are replaced it right away and wallow! works Great and I am like a kid on Chrismast Day!
Amazing !
I love this new update so much, and have no complains about the M Box pro, this is coming from someone who used to use a 888/24 before hand , but I am very happy with this package overall. GREAT JOB AVID !
Pretty Solid
I've had this MBox Pro for about a month now and it's been working well for the most part. The one complaint I have is that the communication between my laptop, my external hard drive, and the MBox is fidgety. I have to start things up in a particular order...and even then, every once in a while it doesn't recognize the MBox, which is frustrating. I also learned that my 4 GB 2.3GHz i5 isn't quite powerful enough. To try to save on processing, I set up 2 aux tracks--one reverb, one delay and I bus audio tracks to them, but I still constantly get buffer overload/CPU overload. I asked several sweetwater reps if this computer would be okay to run pro tools and they reassured multiple times.....I think they just wanted a sale. So warning: have a beefed up computer if you are planning medium to large sessions. For the most part a great product, but for how expensive these Pro Tools systems are, you think they would be glitch free. No complaints with the hardware yet. All the jacks work fine, and looks/feels durable. Has everything I need to make great recordings in a home studio.
Mbox Pro and Pro Tools 10 with Lion OS
I spent a long time weighing the features between the 3rd generation Mbox Pro and the Focusrite Saffire Pro 40. After consulting with engineers and the excellent tech team at Sweetwater, I went with this bundled package. I wanted plug and play functionality with an all-Avid system. The cost was about the same but the plug in bundle that was offered as a promotion at the time also swayed my decision, mostly for the Strike and Eleven LE apps, though Velvet also nails the vintage wurlitzer sound. Be aware that this is a new Lion OS for Mac, coupled with a new Pro Tools 10, and the installation took several calls and emails to Sweetwater who then dealt with Avid for me. If you are dealing directly with Avid, they start charging you per call after the first two. Another plus for Sweetwater, which is why an engineer friend of mine recommended them. Excellent service, and full support on everything. One last thing, this Mbox is really not like an Mbox. It's all metal, built like an old Fender chassis and head, and is more like a Digi unit. High, high quality throughout. Recommended, just don't expect it to be up and running as soon as you put the install discs in if you're running a new Mac with Lion. Give yourself a week before you book the session. New Sweetwater convert, great service. Thanks guys.
Noticable improvements
I upgraded from Pro Tools 6.5/Digi002 using a Mackie 802-VLZ3, to the Mbox Pro with Pro Tools 9. After purchasing I upgraded to PT10.

The MBox Pro has all the ins and outs required for home studio work. The pre-amps do pickup more highs and low than the Mackie. When using an SM-57 you do have to raise the gain quite a bit but it seems very quiet. I use the Mackie only to work with external midi keyboards since a midi track needs to be in record mode to hear it in PT. It's easy to send a signal out of the Mbox to the Mackie.

Pro Tools 10 has made some great improvements in many areas. I find it easier to comp tracks together. Midi tracks offer more options for faster work. The sound processing plug-ins are better. The stock instrument plug-ins are useful and the ability to buy and use high-quality sounds is a big plus over PT6.5 which didn't have this ability.

The sound quality of this combo is noticeably better.
Avid Pro Tools + Mbox Pro Review
I upgraded from Protools 8 and an earlier generation of the Mbox hoping to receive a far superior product. I was generally disappointed. I was pleased with some of the improvements (better latency control, peak limiting, suitability for use with other products, overall flexibility, etc.), but was disappointed with the sound quality. There's a lack of clarity in my recordings with this package which is very difficult to mask. I've tried using brighter-sounding effects, eq, etc., generally to no avail. If you can afford it, it's best to go with AVID's top of the line product or some other product which can deliver great sound quality.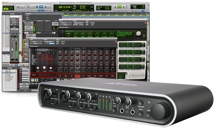 8-channel FireWire Audio/MIDI Interface with 4 Mic Preamps, DI, S/PDIF, Softclip Limiters, and Onboard DSP - Includes Pro Tools Software