Sort By Date
Sort By Rating
Customer Reviews
awesome
I have Pro Tools 10 on my Flash Drives,and i think its awesome.I can for example use it for multi-track music recording,compose music for tv shows,promos,commercials,feature films,web videos and videogames,
and do audio post-production for indie feature films,TV commercials,episodic and reality Tv shows,web videos and videogames.
Protools 10 Upgrade
Little tough because I had to download from the site with a slow internet connection. I had a little bit of a learning curve to re-associate my plug-in libraries and sound interface function. Avid offered assistance but I figured it out before they could assist. The New Protools 10 is awesome I was not fond of software recording because you could not get the dynamics from computer recording without other third party mastering software. Now with the built in channel strips for EQ and other features I am achieving the same stereo punch, dynamics and can now do mastered mixing and mastering without as much effort with Protools 10.
Avid Pro Tools 10
Wonderful Software Program. A bit intimadating at first glance, but the learning curve gets steeper as the hours of practice grow. It's going to take you a LONG TIME to get into all aspects of this program.
Now don't get confused about what it does, it's forte is post production editing and mixing. Yes, you can record and you can sequence, but sequencing is not what it's really about. If you want simple "sequence recording to multiple channels with great ease" then go with something like StudioOne-2.5. Very easy and quite impressive. Then if you need to, pull your tracks over to Pro Tools 10 and edit away . . . forever and forever . . . to whatever degree your ability allows . . . it's endless. Abit pricey, but very COMPLETE as far as mixing and editing goes. It is the bench mark in this regard.
Money well spent, if you are really going to get into heavy post production and mixing.
PRO TOOLS 10 ROCKS!!!
Man, what can I say that has not been said. Anyone that has pro tools 9MP and wants to upgrade, go ahead and do it. At some point you will anyway. This upgrade is very stable. So glad I did. Now I can really go to work!!
You guys at Sweetwater are fantastic!! Keep up the great work doing what you do. Thank you Avid also.
Pro Tools 10
Dealing with Sweetwater was a great experiance. They are extremely helpful and I never expected such great follow ups. THEY are the ones callin me about if and what problems I might be having. So far, none and I know they are going to be there IF any develope. Best experiance I've ever had with any company.
Pro Tools 10 Upgrade
I had to work out the few minor kinks that always appear when you do an upgrade (like updating my iLok driver), but it was nothing like the troubles I experienced in previous upgrades. I am very pleased with the overall stability and performance of PT10 product. The increased stability and performance in itself made the upgrade worth the effort and expense.
Superb Upgrade for Pro Tools
After talking with colleagues and hearing reviews of Pro Tools 10, I decided to upgrade my PT9 set-up (I'm usually not one to "chase" software upgrades). And while I'm happy with all the new features so far, the Channel Strip is, by itself, worth the price of admission. It has taken hours off my time by simply selecting this amazing plug-in. It sounds absolutely incredible and will give you the results you need for your projects. Simply amazing!!
Another Great Discovery - 32 bit Floating
Don't mean to babble on, but I just salvaged an old sesssion recorded in another DAW a couple of years back that was tracked way too hot (my ignorance at the time) - brought it into PT 10, coverted to 32 bit and the headroom I needed was there. Session will now be going on a CD. It could not have used before.
Upgrade from Protools LE8 to Protools 10
I held off doing this for a year. I wish I hadn't. I completed a project in the fall that I now wish I had version 10 to complete. Once your are in the flow of 10 (which takes no time if you've used PT before), the edit and mix processes are just so much quicker. The channel strip plug-in is excellent and I love the new clip gain and real time fades. Everything is just - well - faster and cleaner. And I really liked version 8.

My Sales Engineer is Brandon Eden and he never steers me wrong. It was all he said it would be. I did need some new drivers for my 003+, but one call to Sweetcare took care of that and I was up, running, recording and mixing the same day I gave Brandon the go ahead. Sweetwater is the best CS company I've ever dealt with!
Great!
I really like PT 10. I had 7 for years (& even started on 5). The mix engine with delay compensation actually SOUNDS better than previous versions. And the new features like clip gain, Auto Delay Compensation, multi-track quantize, etc. are great.
Great Update for Pro Tools!
I used Pro Tools 9 and then I upgraded to Pro Tools 10, what an upgrade!! PT10 is much faster and stable, the new clip gains are amaing!!! I'm really glad I bought this!!
Awesome
hands down the virtual instruments I'll be working with sound nothing short of phenomenal!
Pro Tools 10 out of 10
I have used Pro Tools for the last 11 years and this is the best one yet. It was very easy to install and everything worked right away. I even got the midi set up easily, which I had struggled with in the past. Thanks Avid!
Caomparison with Digital Performer
I have had both Pro Tools and Digital Performer for quite a while. I just upgraded both. I am starting to use Pro Tools 10 a lot more than 7.3. First I find that the studios are using Pro Tools and sometimes I write orchestrations and send them. I had used Pro Tools just for editing but now use it for a lot more. I still use Digital Performer for mixing and effects but will be converting to Pro Tools over time. I really like this new version a lot.
ProTools 10 and Sweetwater A++
Leave it to Avid to make an awesome product even better! Was not able to finish mix due to drive performance and system performance with ProTools 9. Purchased the 10 upgrade and it did as described. My mix is now finished with no issues! Sweetwater is the best by far for pro gear and pro attitude!! Thanks again Keith S. !!
sonically superior to LOGIC
With 32 bit float point processing, I noticed a big difference in sound quality vs. LOGIC pro studio (noticeable from PT 9 as well). I like the the simple workflow of LOGIC, the plugins and sound library that you get with LOGIC however the sonic difference is night and day. I record mainly acoustic instruments, and getting guitars and ukulele instruments to sit well in a mix can be a challenge.
I am currently using the apogee DUET 2 as my interface and PT 10 (trial version). I have 30 days to upgrade for $299. I use a neumann TLM 49 for vocals and an AKG C1000 for instrument and the the two together in stereo.
PT 10 is the best DAW you can get for the $ IMHO, compared to PRESONUS studio one PRO and LOGIC pro studio. I've had a love hate relationship with PT, however we are back in love!
Pro Tools 10
Been using these products since Session 8. Bit of a steep learning curve for the average user...but well worth it. Since the purchase of DigiDesign by Avid...Support has become lots less snobby. A good thing.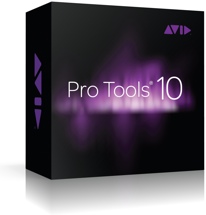 DAW Software with 96 Tracks, Open Interface Support, Over 70 Plug-ins/Effects/Virtual Instruments, Music Notation, and Automatic Delay Compensation - (Mac/PC)